You're running a business with an awesome product or service that customers love, congrats! Now you're looking for more ways to generate leads online to grow your sales further, but there are so many methods that it seems overwhelming. After some time and research, you've narrowed it down to two options to get more leads – using a website landing page, or running Facebook Lead Ads.
Suggested Read: Facebook Lead Ads: How to Generate More Leads in 2023
All are great options, and you can always try both if you have the time. But what should you start with if you need to pick one?
In this article, we'll cover the basics, benefits, and downsides of collecting leads on Facebook Lead Ads vs landing page to help you understand which one suits you the best.
Table of contents
Collecting leads through a website landing page
Collecting leads via Facebook Lead Ads
Don't forget, collecting leads is just the first step
Collecting leads through a website landing page
Websites are one of the most important marketing tools for many businesses today. They can be highly effective for sharing details of a business and also promoting its products and services through content, graphics, and ads.
A landing page is a page in a website specifically built for a particular purpose such as product promotion, limited offer sale, or product launch. Its primary purpose is to make the visitor take a specific action like clicking the CTA (Call-to-Action button) or filling in their details on a contact form.
If you're looking to collect leads through your landing page, you can add a contact form in it so interested people who visit your page can leave their details. Let's suppose you're a real estate agent who has great property offers in your area. In that case, you'll create a new page within your website that focuses on showcasing the incredible properties you're offering. Then you'll include a form at the bottom that requests your visitor's contact information and preferences. Interested visitors who like your offer can then fill out the form to submit their interest.
Benefits of using a website landing page for lead collection
Landing pages are great If you're looking to promote your business for the long term. The page will remain on the web as long as you decide to make it live. It also has a chance of attracting visitors who search for products and services like yours online, especially if you've invested in SEO (Search Engine Optimisation). Some of the benefits of landing pages are:
Landing pages serve multiple purposes. They are not just useful for collecting leads but also for showcasing your product or service and publishing your business profile.
Landing pages are fully configurable, meaning you have full control over what you want to add. You can easily change the content of a landing page whenever you think is appropriate.
With landing pages, you can provide as much information as you think is needed for your target audience to convince them to give you their personal details. It makes a landing page an excellent tool for creating and optimising funnels.
You can combine and use a landing page across various lead sources and social media ads, such as Facebook Ads, LinkedIn Ads, TikTok Ads etc. You can even promote it on your own through email newsletters, message blasts, and more.
Downsides of using a website landing page for lead collection
While landing pages are great for long-term promotions, they can be hard to manage and you may need to use multiple tools and platforms to make them visible in front of your potential customers. Some of the downsides of landing pages are as follows:
If your primary intention is to collect leads online, setting up a landing page to collect leads can be a time and effort-consuming process. If you don't already have a website, you need to create and manage one which includes buying a domain, managing hosting, choosing a design theme, updating content, and much more. Furthermore, if you have complex requirements, you may need a professional developer to build an effective landing page – which is both time-consuming and costly.
Collecting leads on your landing page is not comparatively easy if you examine the approach of landing page lead generation vs traffic Facebook ads. You need to focus on optimising the content, design, messaging, and placement of forms. A bad user experience or confusing message may make users uncomfortable sharing their personal details.
Landing pages don't attract leads by themselves, you still need a way to drive traffic to your website. You need to combine them with digital ad platforms, such as Google Ads or Facebook Ads, or invest heavily into SEO to make your message visible in front of your leads.
Collecting leads via Facebook Lead Ads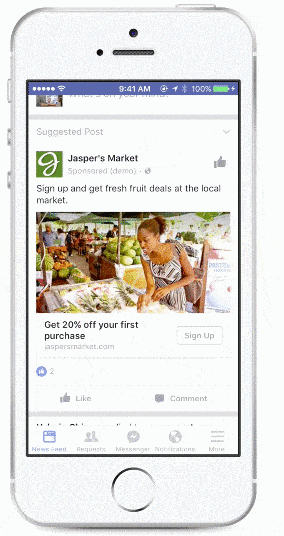 Facebook Lead Ads is a specific format of ad designed by Facebook to generate leads for businesses. When an interested person or a lead clicks on a lead ad, a form appears so the person can fill in their details including their name, email, phone number, and other information the advertiser needs such as budget and specific interests.
Facebook Lead Ads are easy to set up and quite effective in capturing lead information. You can create a lead ad on Facebook in minutes without any technical knowledge. Furthermore, since the lead form and ad are combined into one system, you don't need any extra tools or platforms to start generating leads.
Benefits of using Facebook Lead Ads
Facebook Lead Ads can be perfect for small businesses or solopreneurs looking to grow their sales. Some Facebook Lead Ads benefits are as follows:
Facebook Lead Ads come out on top in terms of simplicity if you compare how you capture leads in Facebook vs outside Facebook. Facebook Lead Ads are easy and straightforward to create. You just need to add an image or video and a description, and you're done!
Facebook lead forms automatically populate lead details, meaning interested parties don't need to manually add their contact information. Submitting interest takes just a few seconds, minimising effort and improving the chances of getting leads.
You don't need a separate website or contact form to run Facebook Lead Ads.
Facebook Lead Ads is a one-stop shop to advertise and collect your leads. You don't need extra tools or platforms to support any lead generation activity of Facebook Lead Ads.
Downsides of using Facebook Lead Ads
While Facebook Lead Ads are incredibly effective for collecting leads. It does have some downsides and may not fit some businesses. Here are some of the downsides of Facebook Lead Ads:
Facebook Lead Ads is specifically built for collecting leads. If you want to run ads for other purposes, such as eCommerce transactions or brand awareness to gain followers, it might not be very useful. In such cases, you may need to create other forms of ads or use other platforms such as a website, a Facebook page, or an Instagram page.
Facebook Lead Ads offer limited configuration options. The general format is fixed, and you can only upload limited content. It might not be useful for creating complex funnels or promoting multiple products or services.
You can run Facebook Lead Ads only on Facebook and Instagram. It won't work if you want to run ads on Google, YouTube, LinkedIn, or TikTok.
Conclusion
Lead generation is essential if you're looking to grow your sales. However, there's no one-size-fits-all method to collect online leads. Therefore, there's no clear winner between Facebook lead form vs landing page. The best way to collect your leads will depend on your requirements.
If you're a large business with a savvy technical team, lots of time, and a decent budget looking for a long-term marketing strategy, a landing page might be a perfect pick for you. It can help you capture leads and also promote your product, your business, and your brand for years to come.
However, if you're a small business looking to grow your business fast, you may need a method that collects leads from the get-go. In that case, Facebook Lead Ads might be your best bet. You can create and publish them within minutes even without any technical knowledge. More interestingly, Facebook will make your ad visible in front of your target customers right away, so you can start receiving leads as soon as possible.
When it comes to comparing a landing page vs Facebook Lead Ads for lead generation, you should know that they work on totally different platforms and can benefit you in their own ways. So why not incorporate both of them side by side in your plan? This way, you can expand your reach to a wider audience across different platforms.
Don't forget, collecting leads is just the first step
Collecting as many leads as you can is great, but it's just the first step to growing your business. After all, leads are useless if you fail to convert them into customers. So what should you do next?
While landing pages and Facebook Lead Ads are effective in collecting leads, these tools aren't built to help you contact your leads and kick off your sales process effectively. If you really want to convert more leads and increase sales, you might need a tool that simplifies how you connect and communicate with your leads, saving you time and helping convert more leads.
Privyr is a mobile-first CRM that helps small businesses grow their sales at an incredible rate by helping them manage their leads more effectively. Privyr automatically imports lead information from landing page forms and Facebook Lead Ads on all your devices and helps you connect with them through phone calls or your preferred messaging apps like WhatsApp, SMS, and iMessage. It helps you skip all the manual processes that take hours to complete and smoothens your sales process.
Access and contact your leads within seconds, from wherever you are. Try Privyr for free today!