Typeform is a highly versatile form builder known for its clean, responsive layouts that work well on both desktop and mobile devices. It comes with a user-friendly interface and has a wide range of templates for surveys, registration forms, payment collection, feedback forms, and many other uses.
However, while typeform is a great form builder, you may want more customisation options and better data protection with your forms, especially if you have the technical skills. In that case, you should look into open-source alternatives to Typeform.
This post is for you if you love Typefrom but are looking for open-source alternatives for different reasons, such as cost, data privacy, customisability, integration, and long-term security. In this article we'll touch on five Typeform alternative open source and how you can make the most of each one.
1. LimeSurvey
LimeSurvey is an open-source survey tool that lets you develop and publish online surveys and data collection studies. It's written in PHP and uses a MySQL, PostgreSQL, or MSSQL database.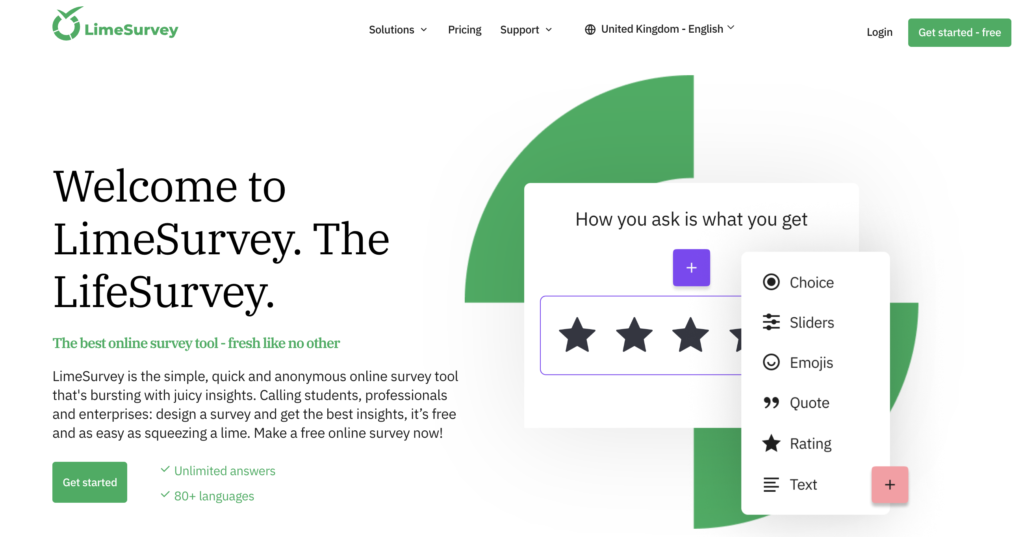 Features
Unlimited surveys: With LimeSurvey, you have an unlimited number of surveys, only limited by your database.
Wide survey options: LimeSurvey offers a wide range of question types, including multiple choice, text input, numerical input, and more. You can organise the questions into groups and use conditional logic to control the flow of the survey based on a user's response.
Multilingual Surveys: LimeSurvey supports over 80 languages, allowing you to create multilingual surveys.
Customisation: You can customise the look of your survey using a variety of built-in templates. If you're an advanced user, you can create your own design using HTML and CSS.
Data Export: LimeSurvey allows you to export survey results in various formats, including CSV, Excel, SPSS, and PDF.
User Management: With the user management system on LimeSurvey, you can control who has access to your surveys and what they can do with them.
Pros
LimeSurvey is incredibly flexible. It allows you to create surveys for almost anything and any way you want.
As an open-source tool, you can use and modify it without paying anything.
LimeSurvey supports over 80 languages. This makes it highly useful if you're looking to build multilingual forms.
The platform allows easy data export in multiple formats.
Cons
You may not find the user interface as intuitive as Typeform.
Creating complex forms can be difficult if you have limited technical expertise.
While there's basic analysis and survey results, the LimeSurvey doesn't offer advanced analytics features.
LimeForm's customer support may not be as effective as Typeform if you're using its free version.
2. OhMyForm
OhMyForm is a self-hosted open-source alternative to Typeform. It allows you to create forms according to your preferences with ease.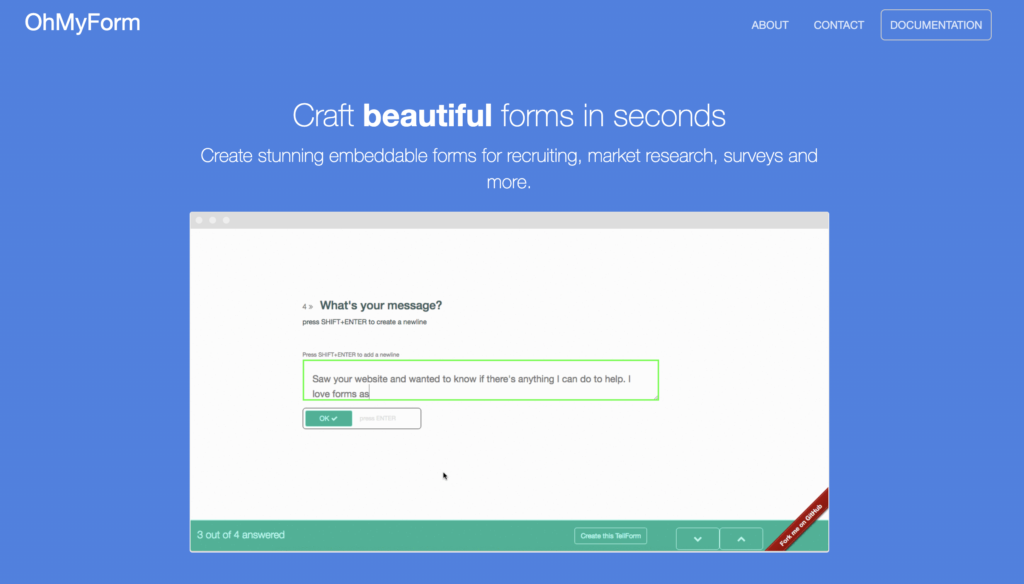 Features
Intuitive Form Builder: The drag-and-drop form builder is easy to use and allows you to create and distribute forms quickly.
Wide variety of questions: The form builder supports various question types, including multiple choice, dropdowns, open-ended questions, and more.
Custom form design: You can easily customise the look and feel of your forms with custom themes and colours.
Response analytics: The basic analysis of form responses provide insights into the data collected.
Data export: OhMyForm supports data export in a variety of formats. It also provides email notifications if you wish to receive email alerts for each new submission.
Software integration: OhMyForm API allows you to integrate your forms with external tools and CRMs easily. The transfer of data is quite straightforward.
Pros
The platform's design makes it easy to use, even for those without a technical background.
As an open-source project, you can use it for free. It also means community customisation is possible.
You can easily create aesthetically pleasing forms for a more engaging experience for respondents.
The form builder allows easy data export options to your local destination. You can also integrate it with external tools to transfer data.
Cons
OhMyForm may not have the same breadth of features as Typeform.
As with many open-source projects, user support mainly comes from the community, which may not always provide you with immediate or comprehensive assistance.
OhMyForm provides only basic analytics which may not meet your needs if you're looking for a more advanced data analysis.
3. TellForm
If you're looking to create forms that can be embedded, TellForm can be an ideal open-source form builder alternative to Typeform.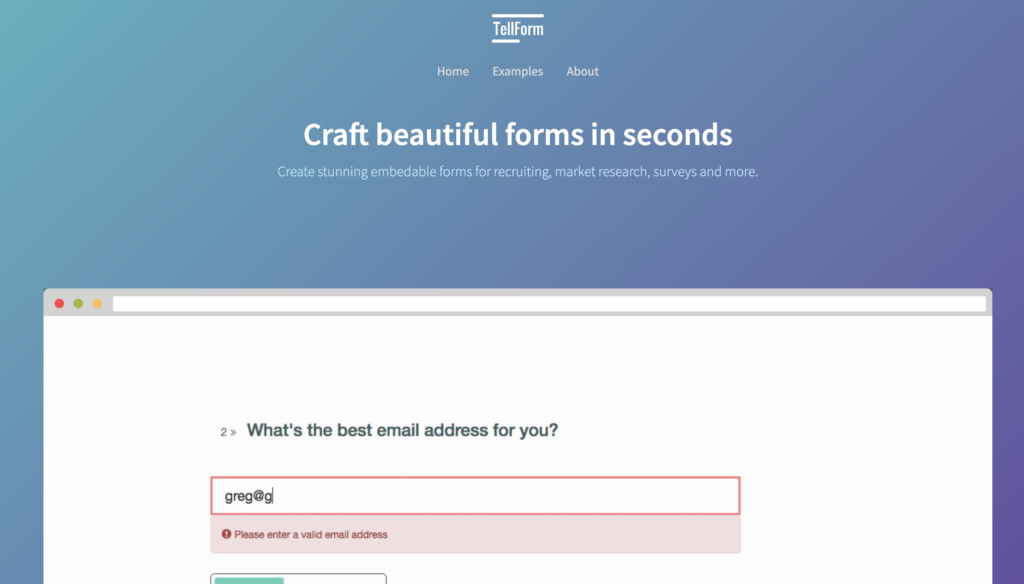 Features
Wide range of form Templates: TellForm offers several form template options, ranging from simple contact forms to complex survey forms, allowing you to create forms faster and easier.
Highly customisable: With TellForm, you can customise forms according to your needs. This includes changing the form fields, design, and layout.
Data export: You can export form data in various formats such as CSV, XLS, or PDF.
Embeddable Forms: Forms created with TellForm can be embedded on any website or shared through a URL.
Self-hosted: TellForm can be self hosted, meaning your data is better protected.
Pros
As an open-source tool, TellForm is free to use, which can be a significant advantage for small businesses and individual users.
TellForm can be customised to a great extent, allowing users to design forms for almost all needs.
Since it can be self-hosted, your data doesn't need to leave your server. This means, with TellForm, your data is more secure.
Cons
You'll need some technical knowledge to make the most out of TellForm.
As an open-source tool, TellForm may not have as extensive customer support as commercial tools like Typeform.
As a user, you'll need to regularly update and maintain the software by yourself. It can be time-consuming.
4. FormTools
FormTools is an advanced open-source PHP/MySQL framework you can embed on your website and manage your forms and data. It can be a good open-source alternative to Typeform if you're looking to create forms on your Website.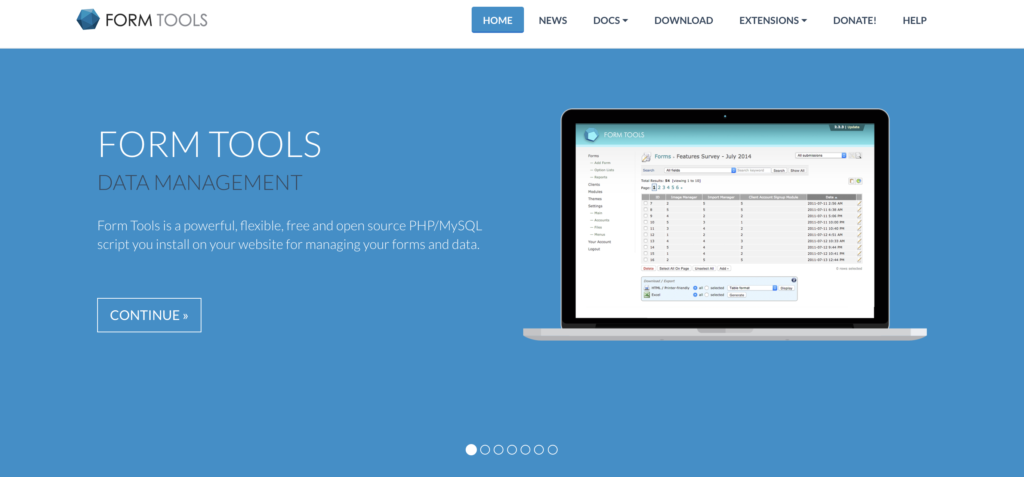 Features
Intuitive form builder: Along with a user-friendly form builder, FormTools' interface offers a range of form field types, validation rules, and customisable designs.
Export options: FormTools allows you to export data in various formats such as CSV, XLS, and XML.
Multiple user accounts: Multiple user accounts feature allows you to create various user accounts with different permissions. You can easily use FormTools with your team.
Templates and theme choices: FormTools offers different theme choices to customise your form appearance. It also provides templates to help you get started fast.
Pros
FormTools is free to use, which makes it a cost-effective option for small businesses and individuals.
FormTools is highly customisable, both in terms of form creation and data management. This makes it an ideal form builder for a variety of use cases.
Multiple user accounts with different permissions can be pretty useful during internal and external collaborations.
Cons
Installing and maintaining FormTools requires technical knowledge. This makes the platform less accessible for non-technical users.
FormTools is an open-source tool. Therefore, it might not have as robust support as Typeform. You'll need to rely on community support or your troubleshooting skills.
Unlike other form builders that are entirely web-based, FormTools needs to be installed on your server. This adds an extra step to the setup process. Also, it requires a server with PHP and MySQL to run.
5. Form.io
Form.io is an advanced form builder and data management platform. It provides developers with a robust, serverless backend to build complex forms and manage the data they produce.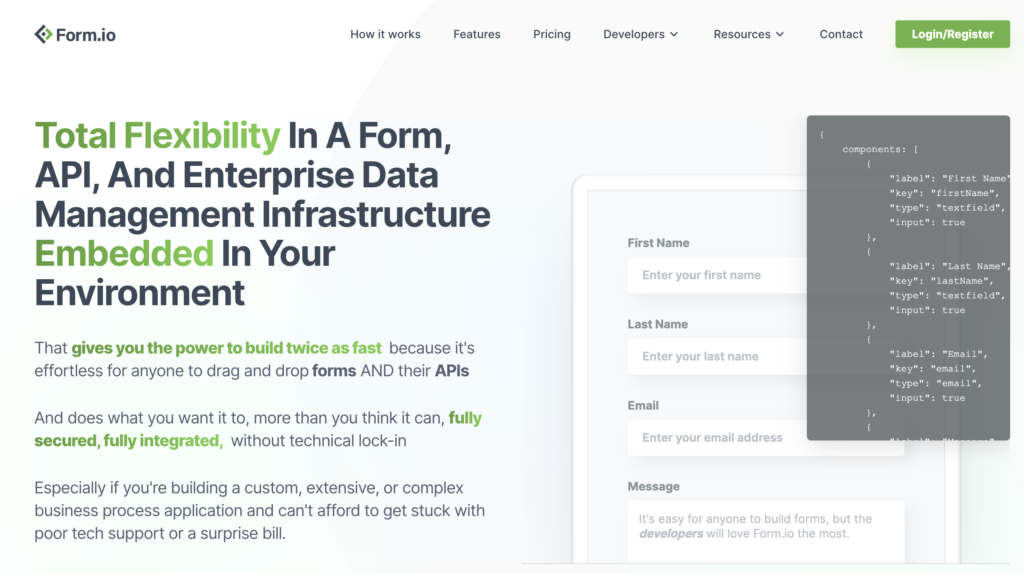 Features
Simple form builder: Form.io offers a user-friendly, drag-and-drop interface to build complex forms. The interface also allows you to create nested forms and dynamic form logic.
API integration: One of the unique features of Form.io is that it automatically generates RESTful APIs for each form created. This simplifies the process of integrating forms with other applications.
Role-based access control: Form.io allows you to manage user roles and permissions, so you're able to control who can access and manipulate your form data.
Form templates: You can find a wide range of pre-built form templates to speed up the form creation process.
Multi-language support: Multiple language support makes Form.io a suitable option for international usage.
Pros
The drag-and-drop form builder makes it easy for even non-developers to create complex forms.
The automatic API generation can be quite useful to integrate your forms with other applications, saving a lot of time and effort.
The form builder supports complex form requirements, including nested forms and dynamic form logic allowing you to easily create complex forms.
Cons
Unlike most other open-source form builders, Form.io is not free. While there's a free tier, you can only access its best features at a cost.
Form.io, despite being user friendly, can be somewhat intimidating for beginners if you're looking to create complex forms. And there may be a steep learning curve for API management.
Despite offering many customisation features, Form.io lacks customisation options compared to popular form builders like Typeform.
Conclusion
Open source Typeform alternatives come with greater creative freedom and help you create stunning forms at a minimum cost. If you're looking for one, there are many Typeform open source alternatives. However, keep in mind that you'll need a certain level of technical knowledge to be able to build your ideal forms on an open-source platform. Plus, since they are open-source, you'll have to rely on community forums for support. It's best if you have great troubleshooting skills. Hope this helps!