Facebook Lead Ads can be a cost-effective strategy to generate leads if executed correctly. It can be set up within minutes and you won't need to manage a separate website for your ads to reach your target audience. Facebook has a huge number of users, and many are probably your potential customers.
However, just running lead ads on Facebook without considering some important elements of advertising may not be enough to generate an exciting amount of leads and increase your sales. After all, while your potential customers may spend a lot of time on Facebook, they aren't specifically looking to buy new products or services on the platform – this is why it's so important to optimise your ads for performance.
First, your lead ads need to grab their attention and then win their trust. Even after clicking on your ad, your leads may give up in the middle of submitting their information if your forms are too tedious or confusing. That's why some Facebook Lead Ads collect more leads than others.
If you're running Facebook Lead Ads but not generating as many leads as you expected, you may want to look into some important areas of your lead ads that affect its results. In this article, we highlight 6 tips that can help you optimise Facebook Lead Ads. Read on to explore more.
Table of Contents:
How to get started with Facebook Lead Ads
How to optimise Facebook Lead Ads
How Privyr can help you close more sales from your Facebook leads
Conclusion
How to get started with Facebook Lead Ads
You can easily create Facebook Lead Ads on your Facebook page and run them on Facebook in minutes. All you have to do is navigate to Ads Manager, create a new ad, and fill in essential fields. The details include what message you want to put, who you want to reach, and how much you want to spend. After filling in the details and linking to your privacy policy URL, you can publish your lead ad. Now it'll appear in the newsfeed of your target audience in your chosen region.
For instance, let's say you run a wedding planning company in Singapore. Your target audience is people in their early to late thirties who are in a relationship, and you want to generate leads via Facebook Lead Ads. In this case, you create a lead ad specifically targeted at the relevant audience based on their age group, relationship status, and location. Once you publish your lead ad, it will show up in the feed of people from Singapore who are likely to get married. Plus, your budget determines how many people your ad reaches and for how many days.
How to optimise Facebook Lead Ads
Facebook Lead Ads appear in front of the right audience at the right time if you set everything up correctly. To do this, you have to identify a few important areas that affect the engagement of your lead ads and work on them. However, you should also keep in mind that more leads don't always mean better results. That's why you need to attract the right set of people that genuinely need your product or service. At the end of the day, it's the sales that matter, not the volume of leads.
Here are six tips to help you optimise Facebook Lead Ads.
1. Target the right audience
There's an old saying in marketing, "if you're targeting everyone, you're targeting no one." There are a specific set of people who need your product or service. That's why you need to be very specific about who your target audience is so that when they see your lead ad, they connect with it and submit interest without any hesitation.
Thorough research about the type of people who might be interested in your offer is a good way to start. You can also try Facebook lookalike audiences. It's best if you understand the demographic, socio-graphic, geographic, psychographic, and behavioural aspects of your target audience. This not only helps you know your customers from the inside out, it also promotes your products and services for the long term. Furthermore, identifying your audience means it's easier to find them online and also create the right message that they resonate with.
Before creating Facebook Lead Ads, create your customer persona, so you know exactly who needs to see your ad. This increases the chance of collecting more leads, and more importantly, getting higher quality leads.
2. Use attention-grabbing visuals
Visuals are one of the most important elements of any ad. In terms of Facebook Lead Ads, they are crucial. Users have a very short attention span for Facebook content while they scroll down the app on their devices. They only engage with content that they find interesting and ignore everything else.
You definitely do not want your Facebook Lead Ads to seem invisible because of average visuals. So why not work a little harder on graphics and messaging and score more leads? Facebook Lead Ads with clean, eye-catching graphics and the right messaging attract more engagement if displayed in front of the right audience.
Here's a pro tip: Avoid stuffing too much information and using overly complicated designs on your ads. Keep the message short and attractive.
3. Offer something for free
People love free stuff. It doesn't matter if it's a coupon code or a PDF that provides free fashion advice for the next party they'll attend. And it's absolutely true that people are more likely to give their information in exchange for these tiny benefits than for nothing in return. That's why these free incentives are also called lead magnets.
So why not include lead magnets in your Facebook Lead Ads? Now you might be wondering what is it that you can offer your potential customers for free. Well, you're running a business. That means you're an expert at something or you know things about your products and services that most of your customers don't know. You can explore these topics, find the appropriate lead magnet, and offer it with your lead ads.
4. Include a clever and relevant CTA
The Call-to-Action (CTA) button is another important element to optimise your Facebook Lead Ads. Appropriate CTAs help convince leads to provide their information and submit interest. Generic CTAs, such as "Submit" or "Sign Up", may not be ideal for encouraging users to proceed because they lack excitement and urgency. On the other hand, "Download for Free" or "Get Discount" add motivation to the message and urge people to take action.
If you're offering something for free, try to excite people with a lively CTA. Even if you aren't offering them anything, your CTA can hint at the urgency and potential benefit the leads will enjoy immediately.
5. Make your lead form easy to fill in
While it is understandable that you may want to collect as much information about your leads as possible, making your lead forms too long or complicated could be a bad idea. People absolutely do not enjoy wasting time filling up complex forms with neverending questions. Such forms cause friction and ultimately reduce the interest of your leads. As a result, they may abandon the process and leave abruptly.
Make your lead forms as easy as possible to complete, and remove any unnecessary friction. The good news is that with Facebook Lead Ads, many of the contact detail fields will be auto-populated. Make sure you enable the auto-populate function while creating a Facebook Lead Ad. Also, don't worry if you aren't capturing every preference and requirement on your lead form – you can always gather more information about your leads during the follow-up phase.
6. Test and update your ads regularly
Regardless of how well you've planned your lead ad, at the end of the day, the results tell you if it's effective. Regularly testing and updating your ads is crucial for Facebook lead optimisation. You can never be sure of what works and what doesn't unless you put them to test, especially if you're new to Facebook Lead Ads.
Relying on a single lead ad for lead generation is probably not a great ad strategy. You need to experiment with various elements such as ad creative, messaging, targeting etc. Analyse the results and update your ads regularly. It's even better if you can run several ads at the same time to identify what works faster.
How Privyr can help you close more sales from your Facebook leads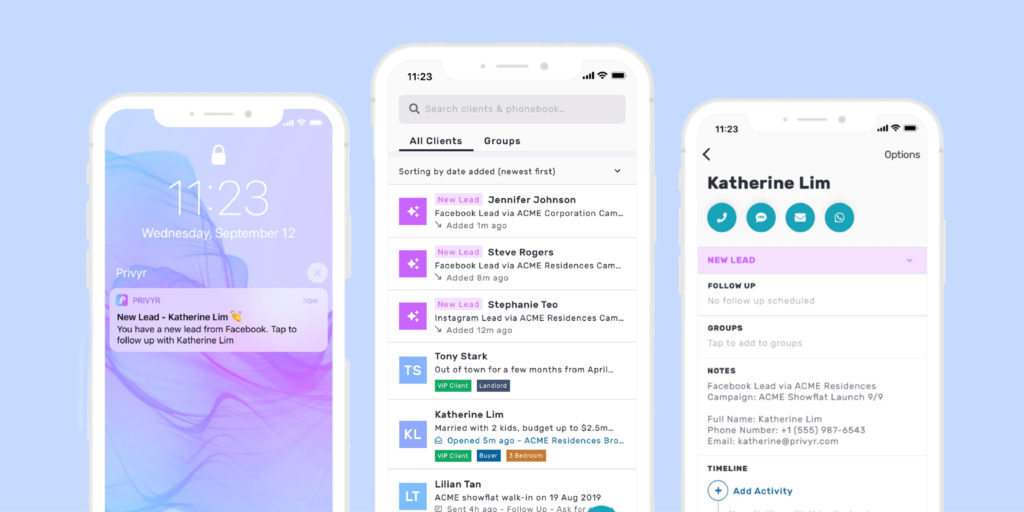 Now that you have optimised your Facebook Lead Ads and boosted lead generation, you may want to focus on converting your leads into paying customers. Doing this properly includes contacting new leads quickly with a personalised message, preparing a proper follow-up schedule, and so much more.
Managing these steps manually is tedious and time-consuming – you'll waste a lot of time on simple but inefficient tasks such as downloading leads, saving them to your phonebook, copying and pasting messages, creating reminders, and so on.
The good news is that you have sales productivity apps that help you automate all your sales processes and save you tons of time. However, your options narrow down if you're working across both mobile and desktop devices, and want something that works with chat apps like WhatsApp, SMS, and iMessage. This is where Privyr comes in.
Privyr is a mobile-first CRM that helps you contact and manage your leads from your preferred device, including your smartphone and laptop. It integrates with Facebook Lead Ads and your preferred messaging apps – such as WhatsApp, iMessage, and SMS – so you get real-time lead notifications and can immediately contact them within seconds. It also helps you send auto-personalised messages to your leads and manage an effective follow-up schedule so you don't miss out on any leads.
Privyr is incredibly easy to use for any industry and use case. It takes less than 30 seconds to set up and requires no technical expertise to master.
Conclusion
Identifying the right audience and conveying the right message is crucial for the success of your Facebook Lead Ads. Nevertheless, there are also many more elements that affect the effectiveness of a lead ad, and you could be overlooking them. Identifying all these tiny elements and testing them is a great way to optimise your Facebook Lead Ads.
Privyr is a mobile-first CRM that helps you improve your Facebook lead conversion at an exciting rate. Try Privyr for free today.