Stuck on the privacy policy section while setting up Facebook Lead Ads? We're here to help!
Facebook Lead Ads are a great way to collect online leads for your business. You can set them up in minutes and start receiving leads within hours, without having to go through the hassle of managing your own website and contact forms. However, setting up Facebook Lead Ads might be a bit complicated these days as there's a mandatory requirement for a privacy policy.
Facebook asks for a link to your privacy policy page in order to complete the setup of a lead ad. It can be frustrating if you don't have one already. First, you'll need to create a privacy policy that explains how you'll use the data collected in your lead form. Then, you'll need to host the privacy policy on a website, so you can link to it in your Facebook Lead Ad. It's a time-consuming process that could delay your ad release and affect your business plans.
But don't worry, we're here to help you generate your own privacy policy for Facebook Lead Ads within seconds, for free.
This article will guide you through what a privacy policy is and the different ways you can create one, including easily creating your privacy policy for Facebook Lead Ads and getting a privacy policy link URL with a free Facebook Lead Ads privacy policy generator tool.
Table of contents:
What is a privacy policy?
A privacy policy is a statement that explains how an organization uses individuals' personal information it collects online. It's also a legal document that ensures a business collecting user data obeys data protection laws.
You run Facebook Lead Ads to collect your potential customers' personal information, such as names, phone numbers, and email addresses, so you can later follow them up with your proposal and make a sale. In this case, you're a business collecting personal data and your customers don't want you to misuse their data. A privacy policy not only explains how you'll use their data but also gives them confidence you won't misuse it.
Why is a Privacy Policy mandatory for Facebook Lead Ads?
A privacy policy is legally required in most countries if you are collecting users' personal information online. Therefore, a privacy policy is mandatory to run Facebook Lead Ads too.
Here's a list of some laws that require businesses to publish a Privacy Policy.
California Online Privacy Protection Act (CalOPPA)
California Consumer Privacy Act (CCPA)
Children's Online Privacy Protection Act (COPPA)
Health Insurance Portability and Accountability Act (HIPAA)
European Union: General Data Protection Regulation (GDPR)
United Kingdom: Data Protection Act 2018
Canada: Personal Information Protection and Electronic Documents Act (PIPEDA)
Australia: Privacy Act 1988
Singapore: Personal Data Protection Act (PDPA)
Brazil: The Lei Geral de Proteção de Dados (LGPD)
How to create a privacy policy?
You can create a privacy policy in four ways: 1. By writing it yourself, 2. By hiring a lawyer, 3. By downloading online privacy policy templates and editing them to suit your business, or 4. By using an online privacy policy generator tool.
If you have a sound knowledge of legal regulations, you can write a privacy policy by yourself. Though it won't cost you anything, writing a privacy policy on your own may waste a large amount of your time as you should ensure everything is correct, including the language and the content, by cross-examining it with various legitimate sources.
Hiring a lawyer is the most expensive option. If your business is unique or you use customer data in non-standard ways, you may want or need a policy that is fully customised to your company, website, and processes.
However, creating a privacy policy shouldn't be that expensive these days if you run a small business and aren't doing anything out of the ordinary with your customer data. You can find privacy policy templates all over the internet. All you need to do is download a template and edit it according to your business requirements. Your privacy policy shouldn't take more than an hour to create in this manner.
The fastest option to create a privacy policy is by using an online privacy policy generator tool. Just find the tool, enter your details, and click 'generate'. You'll have your own privacy policy within seconds. There are many privacy policy generator tools on the internet, which you can easily find via a Google search.
Important! We advise you to read over the entire privacy policy you create from online templates or privacy policy generators before using it. This way, you ensure the information you input is correct and there isn't any misleading information.
How to host and get a link to the privacy policy
Creating a privacy policy is just the first step. Facebook Lead Ads and similar ad platforms require you to provide a link URL to your privacy policy before you can post an ad. You can't just copy and paste the entire privacy policy into your Facebook Ad; you have to host it on a publicly accessible link.
Once you've created a privacy policy, the next step is to have a dedicated privacy policy URL. You can create a privacy policy URL in two ways: 1. Through your website, or 2. Through a third-party platform that'll host it for you.
If you already have a website, it's quite easy to host a dedicated privacy policy URL. Just create a new page on your website, paste your privacy policy onto it, and then copy the URL of that page.
If you don't have a website, then you can have a third-party platform host a privacy policy for you. Any publicly accessible site, such as a Google Doc or Notion page could be a suitable place to host a privacy policy. Just make sure that you've updated the permissions to allow anyone on the internet to access the link since most platforms are private by default.
However, the quickest way to host and get a link to your privacy policy, in case you don't have a website or don't want to deal with the hassle of managing access & permissions, is by using a privacy policy generator tool. Technically, it's still a third-party platform that'll host your privacy policy for you, just that it's specifically built for this purpose. There are online privacy policy generator tools that let you create your own customised privacy policy and also provide a fully hosted link URL for it.
How to generate a privacy policy with a free Facebook Lead Ads privacy policy generator tool
Instead of manually creating and hosting a privacy policy on your own, you can use a privacy policy generator tool to get a custom privacy policy URL for your Facebook ads.
Privyr provides one of the easiest privacy policy generator tools. It lets you create your own custom privacy policy for Facebook Lead Ads within seconds, complete with a fully hosted privacy policy link URL that can be used across Facebook, LinkedIn, TikTok, and more. Plus, it's totally free to use!
Here's how to generate a free privacy policy link URL:
Step 1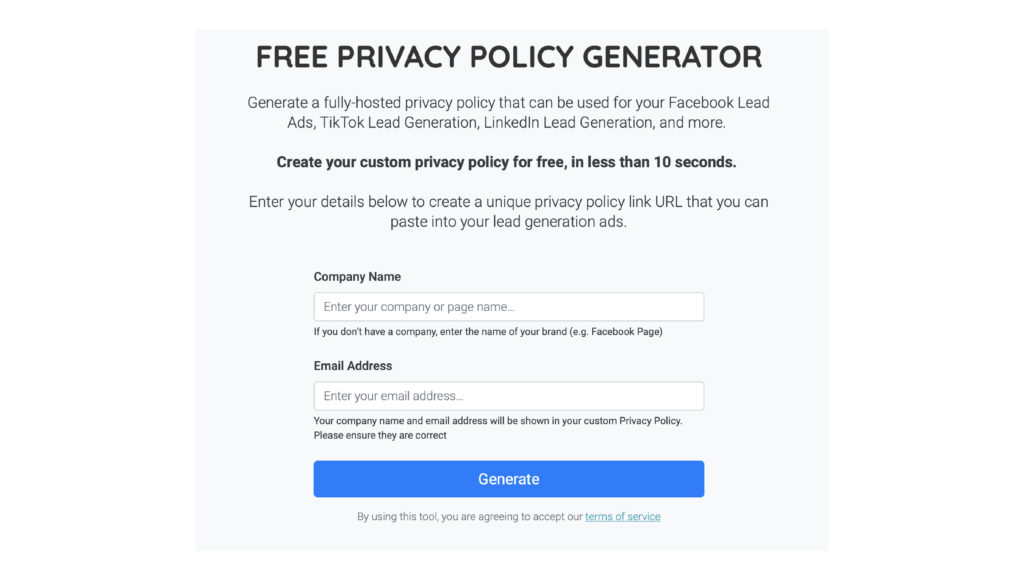 Go to Privyr's free privacy policy generator tool.
Step 2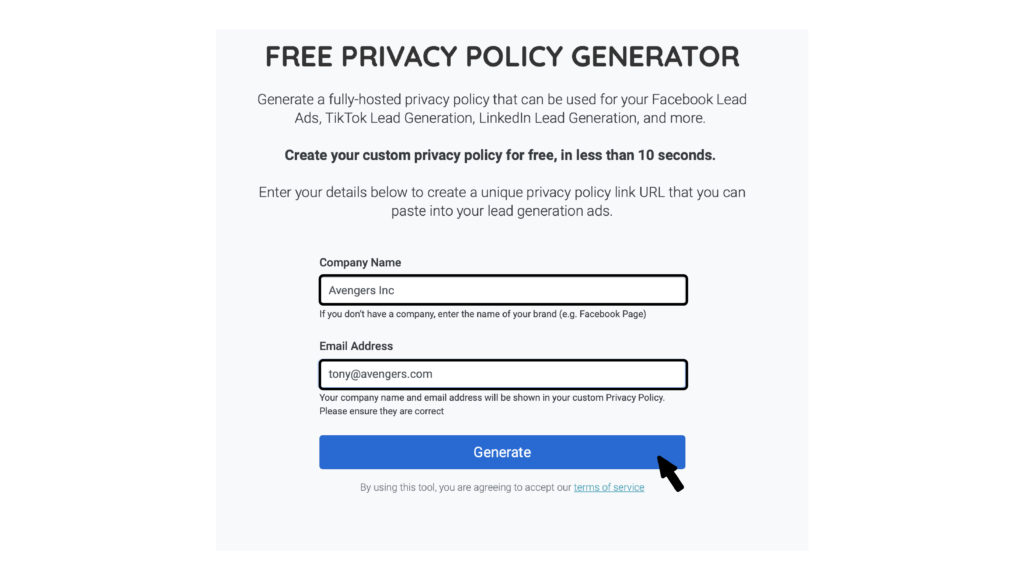 Enter your company name and email address, and click the 'Generate' button. The tool will generate a custom privacy policy within seconds and provide you with a unique link hosted for you.
Step 3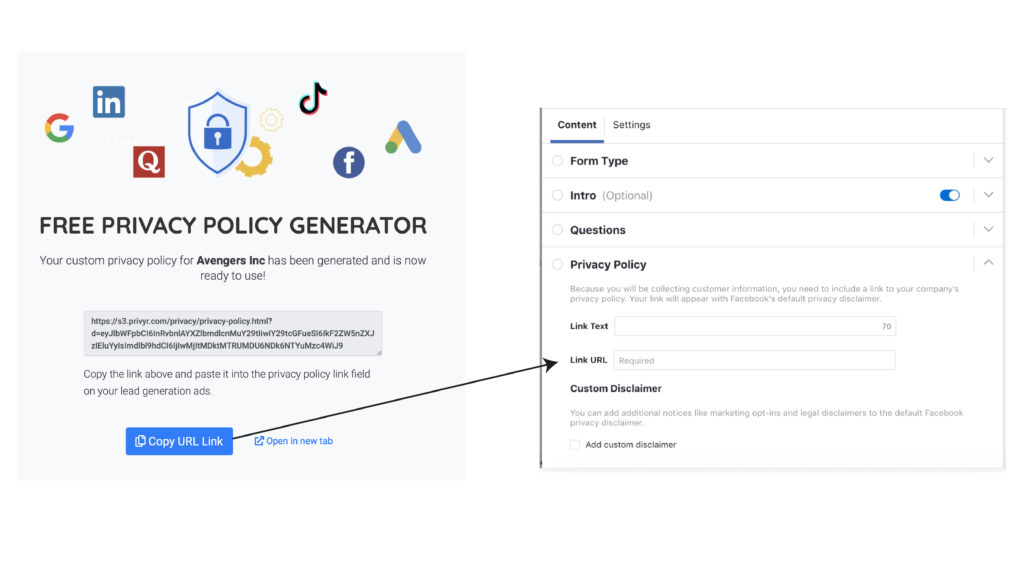 Paste the link into the Link URL field of the Privacy Policy section of your Facebook Lead Ads.
To Sum Up
A privacy policy is a legal requirement for collecting personal data online, and you can't publish a Facebook Lead Ad or any other lead-generating ads without it. It's an essential legal statement that clarifies and ensures the fair use of user data.
Advertising platforms such as Facebook require you to have a privacy policy and host it via a publicly accessible link, which can delay your marketing plans if you don't have a quick and easy solution to create and host your privacy policy.
The good news is, with the free Facebook Lead Ads privacy policy generator tool, Privyr can help you create your own privacy policy with a fully hosted link URL for your Facebook Lead Ads. This way, you don't need to waste time creating your own privacy policy and won't even need a hosted website to proceed with your Facebook Lead Ads. Once you create your privacy policy with our tool, the unique URL is yours forever, and you can use it across multiple advertising platforms and social media whenever you need to submit your privacy policy.
What's next after generating leads?
Though you might be excited about seeing so much interest in your products or services, lead generation is just the first step to growing your business. After all, leads are worthless if they don't connect or convert after submitting interest. What follows is a tedious process, and only proper planning will ensure the desired outcome.
Constantly checking your Facebook dashboard and downloading leads via CSV, documenting the data manually, setting up follow-up reminders, and contacting leads can take a lot of time. The whole process should be managed carefully. One of the most important things you should be aware of, however, is that lead conversion will be difficult if your response time is too slow.
Wouldn't it be great if you had a tool that instantly alerts you when you receive a lead on Facebook, sorts and manages all your lead data, helps with follow-ups, and lets you effortlessly call or send auto-personalised messages to your leads?
Privyr is the tool that simplifies your sales process the way you want. It helps you quickly and easily contact, manage, and convert your leads, saving you hours of manual work and boosting sales productivity. And the best part is, you can do it all from your smartphone or laptop.
Get connected with your leads no matter where you are! Try Privyr for free today.
FAQs
Do I need a privacy policy to run Facebook ads?
Yes, a privacy policy is mandatory to run Facebook ads, especially when you're collecting personal information. Facebook asks for a link to your privacy policy page before you can run an ad.
How do I add a privacy policy to Facebook Lead Ads?
Visit Privyr's Facebook Lead Ads privacy policy generator tool, generate your own privacy policy, copy the URL it provides, and add it to your privacy policy on Facebook under the section labelled Privacy Policy > Link URL. The whole process takes less than 30 seconds, and is totally free!
What should I write in my Facebook privacy policy?
A privacy policy should first inform your users that you are collecting their personal information. Secondly, it should explain how you'll use and store their data, and clarify whether or not you'll share their data with third parties without further consent.
How do I create a privacy policy link?
Privyr's privacy policy generator tool can help you create your own privacy policy and a fully hosted link URL for it. Just visit Privyr's privacy policy generator tool – it takes less than 30 seconds to complete and is 100% free.