Facebook Lead Ads makes generating leads simple and easy. But the thing is, you're not running lead ads just to collect leads. You want to access your Facebook leads as soon as possible and contact them immediately.    
But unfortunately, Facebook doesn't assist you much beyond capturing lead details. It doesn't even notify you about new leads received through lead ads. So, how do you access your Facebook leads instantly?
In this article, we discuss 4 ways you can access leads from Facebook Lead Ads. Read on to learn more.
Table of contents
What are Facebook Lead Ads?
How to access your leads from Facebook Lead Ads
1. Manually downloading leads to CSV from Facebook
2. Viewing leads in Facebook Leads Center
3. Using third-party integration tools to import Facebook leads automatically
4. Using apps that give instant access to Facebook Leads
Conclusion
FAQs
What are Facebook Lead Ads?
Facebook allows advertisers to run several types of ads. With Facebook Ads, you can run ads that boost engagement of your posts, redirect visitors to your websites and chat boxes, allow visitors to make a direct call, and do a lot more.
Facebook Lead Ads is a specific ad format designed to capture lead details, such as names, email addresses, phone numbers, and any other information an advertiser wants to be answered. When an interested user clicks on a lead ad, a form appears and persuades them to fill up their details. Once the user fills in their details and submits the form, Facebook stores the information for the advertiser to access later on.
Facebook Lead Ads are easy to create and publish, and you don't need to build and manage a separate website for them. They are incredibly user-friendly for visitors as well. As lead details are pre-filled by Facebook, there's a lower chance that people drop off because they're too lazy to fill in their details (which happens quite often!).
How to access your leads from Facebook Lead Ads
While Facebook makes it easy to collect details of your leads, accessing the leads manually isn't as smooth. You may want to create your own system to access the leads effectively, so you can contact and follow up with them on time.
Once Facebook receives lead details, it stores them in the respective Facebook Page's forms library. You can manually access leads from Facebook by downloading them via CSV, or through Facebook Leads Center. However, this process only works on Facebook's desktop websites, meaning you don't have this option on your phone.
Also, Facebook doesn't provide you with new lead notifications. If you want to receive real-time notifications about each new lead, you'll need third-party software, such as a connector tool or CRM.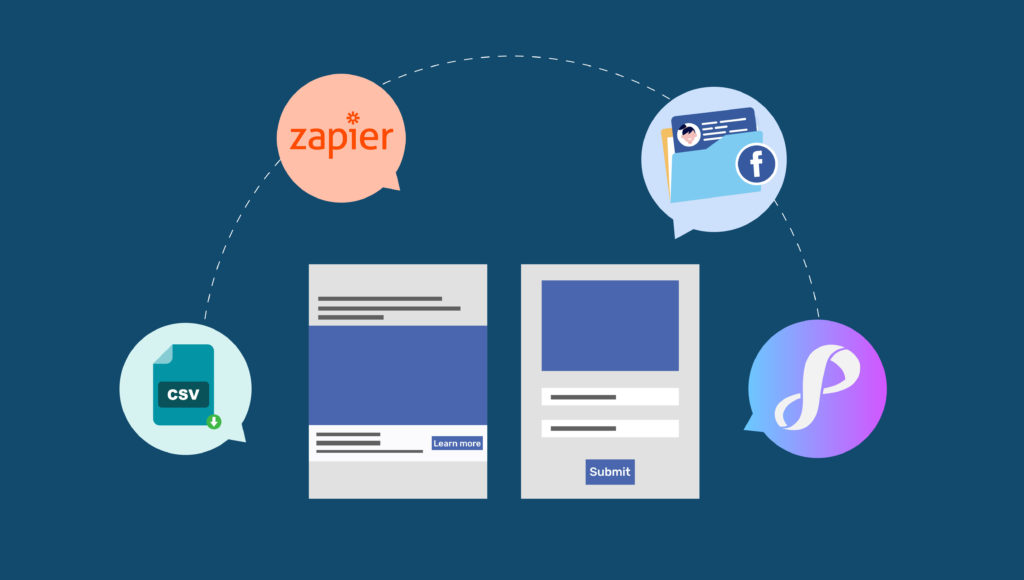 Here are 4 ways you can access your leads from Facebook Lead Ads:
1. Manually downloading leads to CSV from Facebook
You can manually download Facebook leads from Facebook Ads Manager. Here's the process:
Log in to your Facebook account
Go to Ads Manager
Click on your lead ad
In the results column, click on '+'
A 'Download Leads' tab will appear with two options: Download All Your Leads, or Download leads from a Specific Date Range
Select what you need and click Download
Your leads will now be downloaded to a CSV file
While the process is straightforward, it's tedious and time-consuming as you need to download CSVs for every lead form and ad you run. Plus, Facebook doesn't send new lead alerts, so you need to visit Ads Manager and download new leads regularly. Another downside of this process is that you can only do it on a laptop or desktop, not on your phone.
2. Viewing leads in Facebook Leads Center
If you want to skip the manual download process and view all your leads in one place, you can do it in Facebook Leads Center on your web browser.
Leads Center is situated next to Inbox on your Facebook Business Page and under the Contacts tab on Facebook Business Suite.
You may call Leads Center a mini CRM as it gets automatically updated with your new lead information and makes it easier for you to organise your leads. However, it doesn't notify you when you receive a new lead. Therefore, you still need to check Facebook regularly for leads. Furthermore, you can't access Lead Center on mobile devices. You're out of luck when you're away from your laptop.
3. Using third-party integration tools to import Facebook leads automatically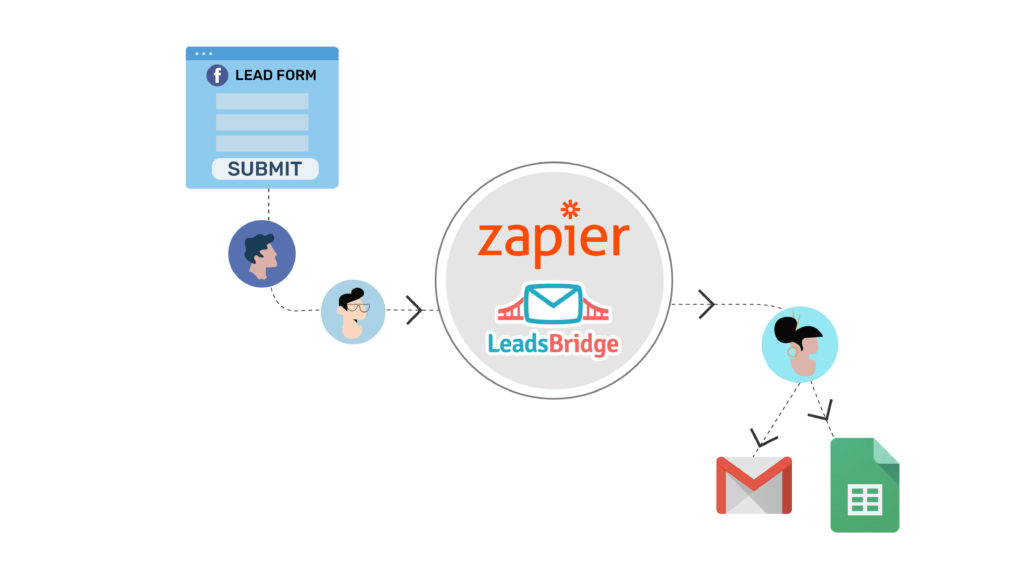 Third-party integration tools, such as Zapier and LeadsBridge, can transfer data from one system to another. You can connect your Facebook lead forms to these tools and configure them so you can import leads data automatically to your preferred location such as your email inbox, Google sheet, your marketing automation tool, or even your CRM.
Integration tools can be great if you want real-time importing and notification of your leads. However, since they're generic systems that can be configured to do many things, setting up and managing them can be very tedious – especially if you have multiple ads or Facebook pages.
Additionally, if you don't have a system to manage your leads, then you'll still need another app to do so, as integration tools don't store any lead information nor help you with your sales process.
Some integration tools let you use them for free, but you'll need to pay after a certain time or when your lead volume and requirements grow.
4. Using apps that give instant access to Facebook Leads
If you need a simple way to receive your leads instantly across any device, then an app that directly connects to Facebook Lead Ads may be your best bet. Such apps can instantly notify you about new leads, and at the same time, store leads data within the app. Some also facilitate contacting leads immediately via phone calls, SMS, WhatsApp, iMessage, or your favourite messaging tool. This way, you not only access your leads easily but also improve your outreach and sales process.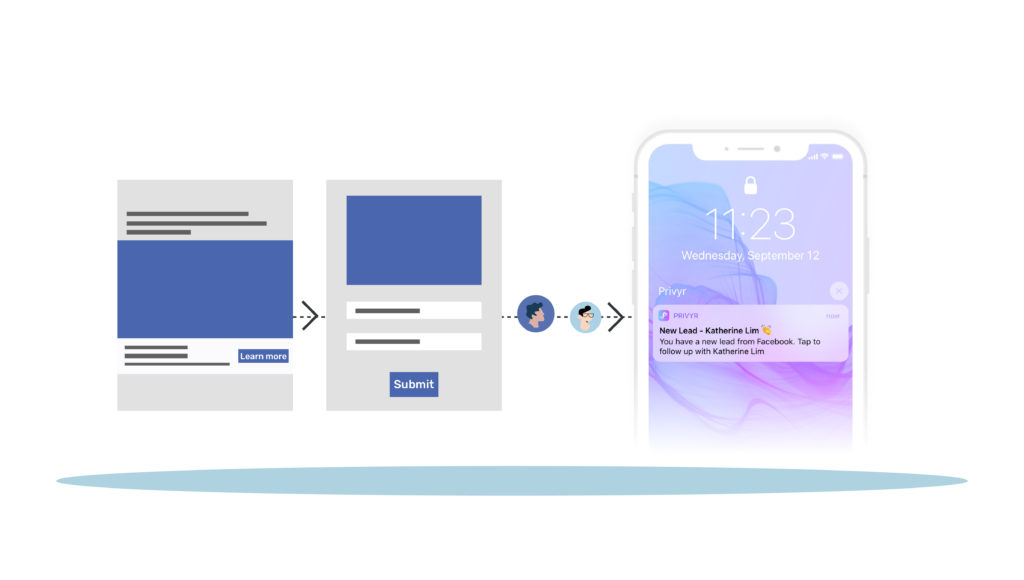 With these apps, you can view and manage your leads without configuring separate systems such as a connector tool and CRM. One great example of such an app is Privyr.
Most of these apps offer a free trial, so you can try them and ensure they work the best for you before investing in them.
Conclusion
Running Facebook Lead Ads is a great way to generate leads. However, simply collecting leads is not your final goal. You want to convert as many of them into customers and grow your business. Therefore, contacting your leads as fast as possible is the next big step as soon as they show interest in your product. And to do that, you need a way to access and handle your leads effectively.
There are a few options to access your Facebook leads depending on your business and sales processes. You can manually download Facebook leads from Facebook via CSV, or view them in Facebook Leads Center. Sticking with the manual process means you don't get any notifications about your new leads and can't download leads on all devices. The question is, are they effective when it comes to contacting your leads on time and improving sales? They might just not be!
Using a third-party app or tool is the better alternative to manually accessing Facebook leads. These tools provide you with real-time notifications about new leads and integrate with your phone and messaging apps, helping you connect with your leads instantly. Furthermore, they even simplify your sales process to save you an incredible amount of time. However, not all these apps work the same. Some require other tools and complex configurations to access leads, while others can't even be used to manage leads. So, always ensure what suits you the best before investing in tools to access Facebook Leads.
Privyr is a mobile-first CRM that helps you access Facebook leads instantly. It also helps you contact and follow up on your leads more effectively without requiring other apps. The best part is that it takes less than 30 seconds to set up and works perfectly on all your devices, making it possible for you to access your leads no matter where you are. Try Privyr for free!
FAQs
How do you access Facebook leads?
You can access Facebook leads manually by visiting Facebook Ads Manager or Facebook Leads Center. Alternatively, you can use third-party tools like Privyr to access your Facebook leads automatically on all your devices with real-time lead notifications.
Can I see Facebook leads on mobile?
Facebook doesn't allow you to access leads from Facebook Lead Ads on mobile. However, with third-party tools, such as Privyr, you can easily access your Facebook leads on your mobile phone.
How do I download expired leads on Facebook?
Facebook only stores lead data for 90 days. You cannot download leads data older than that as it's automatically deleted by Facebook. However, lead management apps like Privyr can instantly download new leads and store them for you forever, even after 90 days have passed.