Facebook Lead Ads can be an easy, straightforward option to generate leads for your business. All you need to do is go to your Facebook Ads Manager, create an ad, fill in your ad details, and your lead ad is ready to go live within a few minutes. You'll start receiving leads very soon.
So, what's next after receiving leads? You definitely want to bring the leads into your system as fast as possible, so you can contact them and turn them into customers.
You can manually download leads from your Facebook forms library in CSV or XLS format once Facebook starts receiving leads from your lead ad. While the process may be simple, it's time-consuming, and you'll need to visit the Ads Manager regularly to ensure you don't miss out on leads. After all, your response time is crucial, and you may want to contact your leads as soon as they show their interest in your product. If you contact them late, they may have already forgotten, changed their mind, or moved on.
This is where a CRM for Facebook leads come in. A CRM can help you simplify the lead management and conversion process once you generate leads on Facebook, helping you and your team save tons of time and boost sales.
In this article, we discuss the 5 best CRMs for Facebook leads. Read on to learn more.
Table of contents
What is a CRM for Facebook leads
The best Facebook CRM for enterprises
The best Facebook CRM for marketing automation
The best Facebook CRM for eCommerce and analytics
The best Facebook lead CRM for Small Businesses (Desktop and Email-based)
The best Facebook lead CRM for Small Businesses (Mobile and Chat-based)
What is a CRM for Facebook leads?
A CRM (Customer Relationship Management platform) is any system that stores your customer data and helps you manage your relationship with customers and/or leads. It can be a sophisticated tool like Salesforce, HubSpot, or Zendesk, or it could be a simple app like an Excel spreadsheet or even your phone book.
An ideal CRM for Facebook leads may vary depending on your business. For instance, a large enterprise likely has a different lead conversion process compared to a small owner-run business. The same CRM might not be equally useful for both.
Conversely, if you're just looking to import Facebook leads to your spreadsheet automatically, workflow automation tools such as Zapier can be ideal options for you.
The best Facebook lead CRM for Enterprises
If you are a large enterprise with dozens of departments and many requirements around reporting, forecasting, and data analytics, you'll need a complex CRM that supports all of those use cases. In that case, Salesforce could be your ideal Facebook lead CRM.
Salesforce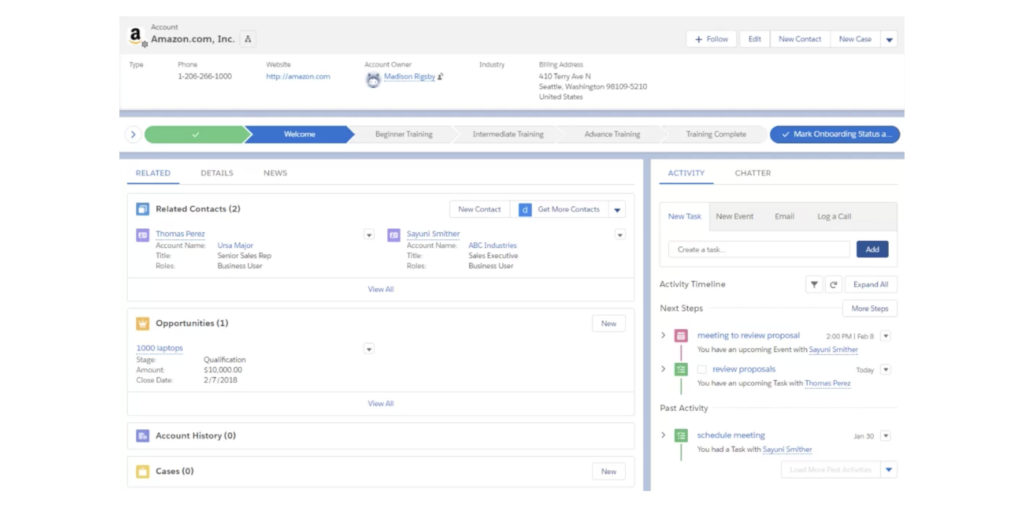 As one of the oldest and most reputable CRMs on the market, Salesforce is the system of choice trusted by many large enterprises. However, you'll still need a third-party integration tool such as Zapier or LeadsBridge to connect your Facebook ads to Salesforce.
While its excellent customer engagement tools and visual workflows allow for efficient task management, its learning curve may be difficult for new users. Salesforce provides a free trial option that doesn't require your credit card detail. You can just try it and figure out if it's the right Facebook lead CRM for your business.
The best Facebook lead CRM for Marketing Automation
If your business involves automating marketing tasks through several different marketing channels, you need a CRM that specifically supports those processes. HubSpot is a great Facebook lead CRM for email marketing automation.
HubSpot
HubSpot is a powerful inbound marketing tool designed to help businesses attract visitors to their websites. Apart from providing many tools for sales and marketing processes, it also allows you to integrate Facebook Lead Ads to automate your marketing follow-ups. You can send personalised bulk emails to your leads for free using HubSpot. It could be a great Facebook CRM for businesses with large sales or marketing teams that primarily communicate with their leads via email.
Hubspot automates your social media scheduling process and also helps create personalised emails with free email templates. Its clean design allows users to easily navigate across menus. However, the workflow could be confusing for non-technical users and subscriptions may be a bit pricey.
The best Facebook lead CRM for eCommerce and Analytics
Keeping track of customers and transactions is vital in eCommerce, and manually handling these tasks could become really complicated as your business grows. The good news is that today's eCommerce platforms are really sophisticated and allow you to automate many processes. But when it comes to dealing with Facebook leads, the good old Excel could be a great option for eCommerce and analytics.
Excel
Excel is one of the most well-known and versatile systems that everyone knows how to use. It can be used to export your Facebook leads data and track transactions, conversions, and other types of analytics. Additionally, it's an excellent data visualisation tool, if you know how to use it well. This simple but powerful tool can help you flawlessly track your Facebook leads conversion processes. 
One of the cons of using Excel is that it doesn't import data from other software or apps by itself. You'll need a connector tool like Zapier to import lead data from Facebook to your Excel sheets. Excel also has a comparatively difficult learning curve for new learners. However, it's a great tool for analytics for familiar users.
The best Facebook lead CRM for Small Businesses (Desktop and Email-based)
If you're a desktop-based small business and prefer connecting with your leads via email, Zoho might be something you want to try out.
Zoho
Specifically designed for small and medium-sized businesses, Zoho can be a great tool if you're spending most of your time at your desk on your laptop and email. It has a full suite of features around contact and account management, opportunity and pipeline management, task management, and more. More interestingly, its social media management feature helps keep your business interesting in front of potential leads. This way you understand your leads before they even fill up the leads form.
Zoho CRM is easy to set up and use and has a great interface, but you may sometimes find it difficult to import contacts. Plus, it may require a lot of customisation to get started.
The best Facebook lead CRM for Small Businesses (Mobile and Chat-based)
If you're a small business in need of a simple and lightweight yet powerful tool that can be used from your smartphone, Privyr could be your best Facebook lead CRM solution.
Privyr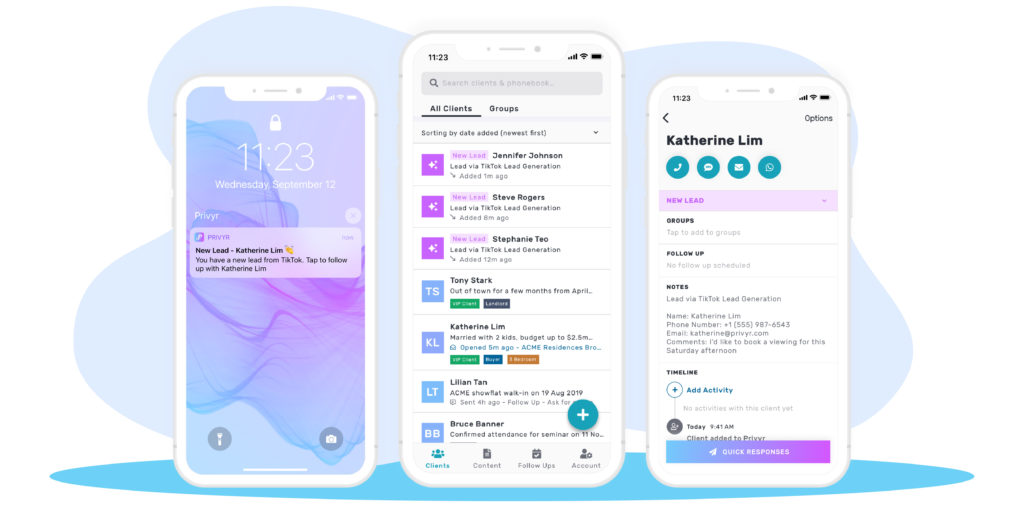 Privyr is a mobile-first CRM that helps you receive, contact, and manage leads from your phone. It connects directly to Facebook and other lead sources without the need for third-party integration tools, giving you instant alerts of new leads. This way, you can get in touch with your leads via message or phone call within seconds.
Privyr also offers auto-personalised messages and content, trackable PDF files and pages, automatic follow-up reminders, and many more features to help you manage your leads and increase sales conversion. All of this can be done easily from your phone via their mobile app, which works with WhatsApp, SMS, email, and other popular chat apps.
However, while it does have a simple web interface to access your clients and content, this app isn't great for large enterprises that require complex forecasting and analytics, nor for marketing automation that is mostly email and desktop based.
Conclusion
An ideal CRM for Facebook leads can definitely help you save time and close more sales. If you're looking for the best Facebook CRM for your business, first identify your requirements, then find out how a CRM can help you achieve short-term and long-term business goals. Thorough research about such tools is a good starting point.
However, you may not want to commit to a system relying just on online suggestions. Many CRMs offer free trial options. You can always try them out for a while before figuring out which one works the best for your business.
Privyr is a highly effective lightweight mobile Facebook lead CRM for small businesses and solopreneurs. It instantly and automatically imports your Facebook leads to your phone and helps you connect with them in seconds through your preferred messaging apps (e.g. WhatsApp, SMS, iMessage). Not only that, but it also makes your sales process really smooth by assisting you to create personalised messages for your leads, setting up automated follow-up reminders, and much more. Connect with your customers from wherever you are and increase your sales at an amazing rate with Privyr. Try it for free today.