If you're running your very first Facebook Lead Ads campaign, you're probably wondering where your leads are. It's been quite a while since you published your ad and you've been monitoring your inbox, hoping Facebook will email you the details of new leads from your ads. But there are no emails, and neither are there alerts of any kind. Is no one interested in your ad? Well, that might not be the case!
The reality is that Facebook doesn't send you email alerts when you receive new leads. To access your Facebook leads, you need to visit the ads manager, access the forms library, and then download the leads manually. It's a time-consuming process, and you can only do it on your laptop, not your phone.
While you may not always have time to visit the forms library frequently, you definitely do want to reach out to your leads as quickly as possible. In this case, you need to set up your own alert system. If you want to know how to send Facebook leads to email, this article is for you.
In this article, we discuss how to get your Facebook leads automatically emailed to you, so you can catch up with each of your leads and respond to them on time.
Table of contents
How to set up email notifications for Facebook leads with automation tools
Setting up email notifications for Facebook leads using a connector tool
Setting up email alerts for Facebook leads using a CRM
How to set up Facebook lead alerts in 30 seconds with Privyr
How to set up email notifications for Facebook leads with automation tools
You can set up Facebook Lead Ads email notifications by using a third-party tool or app. You can do this in two ways.
1. By using a connector tool that supports Facebook Lead Ads
Connector tools are used to send data from one system (the source) to another (the destination). For instance, if you want your lead ads data from Facebook sent to your email, Facebook is the source and your email is the destination.
2. By using a CRM that supports Facebook Lead Ads
A CRM (Client Relationship Management platform) is a tool that helps you track and manage your relationships with your leads and clients.
Setting up email notifications for Facebook leads using a connector tool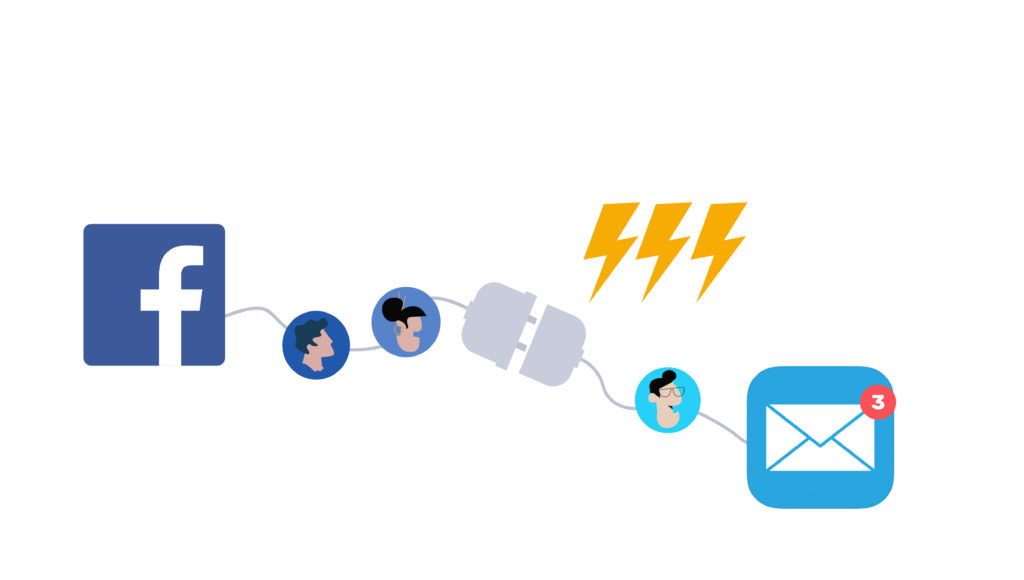 Connector tools, such as Zapier and LeadSync, integrate two or more systems together to send data between them. They can be configured to send data from a source (e.g. Facebook) to a destination (e.g. email). All you need to do is connect them to Facebook Lead Ads and set up a configuration that allows sending you email notifications when you receive a new lead. This is how you can do it:
Sign up on your preferred connector tool
Connect and authenticate your Facebook account
Select the Facebook Page that's running Facebook Lead Ads
Connect and authenticate your email account
Map fields from a test lead to configure the email formatting and output
While setting up these integrations is pretty straightforward, the issue with connector tools is that they are tedious to manage, and don't store lead data nor assist you with your sales process. You might still need a system, such as CRM, to effectively communicate with and follow up on your leads to make sales.
Setting up email alerts for Facebook leads using a CRM
Apart from alerting you of new leads and storing the data, an ideal CRM can help you contact and follow up with leads more effectively, improving your sales process and helping you increase sales. Setting up email alerts for Facebook leads depends on the CRM you choose – some CRMs have a direct integration with Facebook, others require a separate connector tool, and the rest may not even support any option to automatically receive leads from Facebook.
If your CRM supports a direct connection with Facebook, the steps to connect are generally as follows:
On the Facebook website, navigate to your Facebook Page
Click Publishing Tools
Click Leads Setup
Enter the name of the CRM you want to include into the search bar and select it when your system appears
Follow the subsequent steps to connect, which may include switching back to your CRM's settings to complete the integration
Once you connect Facebook to the CRM, you can configure it to send instant email alerts of new leads to your email
While CRMs can save you time and boost your sales, most CRMs may still require connector tools in order to import data from Facebook Lead Ads to email. And you may not want to jump across multiple tools to automate your processes. Therefore, always ensure you test these tools before subscribing to them.
How to set up Facebook lead alerts in 30 seconds with Privyr
Privyr is a mobile-first CRM that helps you receive, contact, and manage leads from your smartphone. If you want instant Facebook lead notifications on your phone, Privyr is one of the best and easiest options as it doesn't require any additional software to connect to Facebook or send you new lead notifications. This is how you can set up Facebook lead alerts with Privyr in under 30 seconds:
In the Privyr app or website, go to your Integrations tab
Tap on Facebook and log into your Facebook profile
Select the Facebook Page(s) running lead ads and ensure all permissions are enabled
Tap DONE
You'll see a message confirming you've connected the selected Facebook page(s) to your Privyr account, and will even have the option to import past leads into the app. You'll now start getting notifications on your Privyr app as well as your email inbox every time your Facebook ad receives new leads.
Conclusion
Although Facebook Lead Ads is an effective way to collect leads for your business, manually downloading leads can delay your outreach and minimise the chance of converting each lead. After all, you're running a lead ad to find more customers and increase your sales. Therefore, getting an instant alert about new Facebook leads is crucial. The good news is that you can use third-party software to get your Facebook leads emailed to you instantly.
If your preferred communication method is email, getting new leads emailed to your inbox is great. However, if you're just setting up email alerts because you need to be notified of new leads somehow, you may want to know that there are other – possibly better, depending on your business – ways to access those leads and boost sales.
Privyr integrates with Facebook and your preferred messaging apps, so you can respond to your leads immediately from the comfort of your phone. Additionally, it also simplifies your sales process by storing your lead data and helping you create personalised messages and effective follow-up schedules in seconds. Try Privyr for Facebook Lead Ads for free.
FAQs
How to know if there are new Facebook leads?
Facebook doesn't automatically inform you of new Facebook leads. You'll have to regularly visit forms library of Facebook Ads Manager to check and download your leads. Alternatively, you can use connector tools and CRMs to get alerts about new Facebook leads.
Can Facebook leads be emailed?
Yes! Although Facebook doesn't automatically email you leads, you can get Facebook leads emailed to your inbox by connecting third-party tools to Facebook, such as connector tools and CRM software, and configuring them to send you instant email alerts of your new leads.
How do I forward leads from Facebook to email?
Install a third-party connector tool or CRM and configure it so that you receive instant emails of new leads.
Where do Facebook leads go?
Facebook leads are stored in forms library of your Facebook Ads management system. You can easily download them from there, or you can use a Facebook leads CRM to access them automatically.