Choosing the right mobile CRM can be confusing. If you ask 10 businesses what the best CRM solution is, you'll get 10 different answers. None of them is wrong – it all depends on who you ask and what they're trying to achieve.
There's no one-size-fits-all CRM because each business has its own unique goals, processes, and requirements. Instead of trying to find "the best CRM" for all businesses (which doesn't exist), focus on finding the best CRM for your business.
How to choose a mobile CRM?
How exactly do you choose the right mobile CRM for your business? Read on to find out!
Step 1: Find out if you need mobile CRM software
Before you start choosing a mobile CRM solution, you should understand if you even need one.
Here are a few questions to ask yourself:
Do you want to scale and grow your business and revenue?

Do you want to convert more leads into customers?

Do you want to improve your customer service with more personalised interactions?

Do you want to maintain your customer information in a single system so you and your team can see everything at once?

Do you want to update your customer data with little to no manual effort?

Do you want to access your customer details at any time from your mobile phone?

Do you want to get notified every time a new lead submits their details on your ads or website?

Do you want to respond to new leads quicker and with less effort?

Do you want to consistently track and follow up with your leads so you don't forget any of them?

Do you want to see insights and trends about your customers, products, and teams to make better business decisions?
If you answered yes to some of these questions, you'd benefit from mobile CRM software. It will increase your productivity, improve customer relationships, streamline coordination and help with better decision-making. 
Step 2: Understand what the right mobile CRM is for you
You're probably already using one or more applications as CRMs today without knowing it.
Do you use an Excel spreadsheet to track and organise customers?
Perhaps a calendar or reminder app to log meetings and remind you of follow-ups?
A physical notebook to remember important client details?
Even your mobile phonebook to save information like a customer's name, phone number, email address, and birthdate?
If so, these are your CRMs!
A CRM can be as simple as these apps you already use or as complex as enterprise-grade software (Salesforce or Microsoft Dynamics). The right mobile CRM for you depends on how complicated your needs and sales process is.
A real estate agent selling houses to families can use a lightweight mobile CRM to nurture clients and close deals. However, a company with thousands of sales reps selling to large corporations will need a system to handle complex sales cycles involving multiple departments, stakeholders, and workflows.
Suggested Read: What is a Mobile CRM?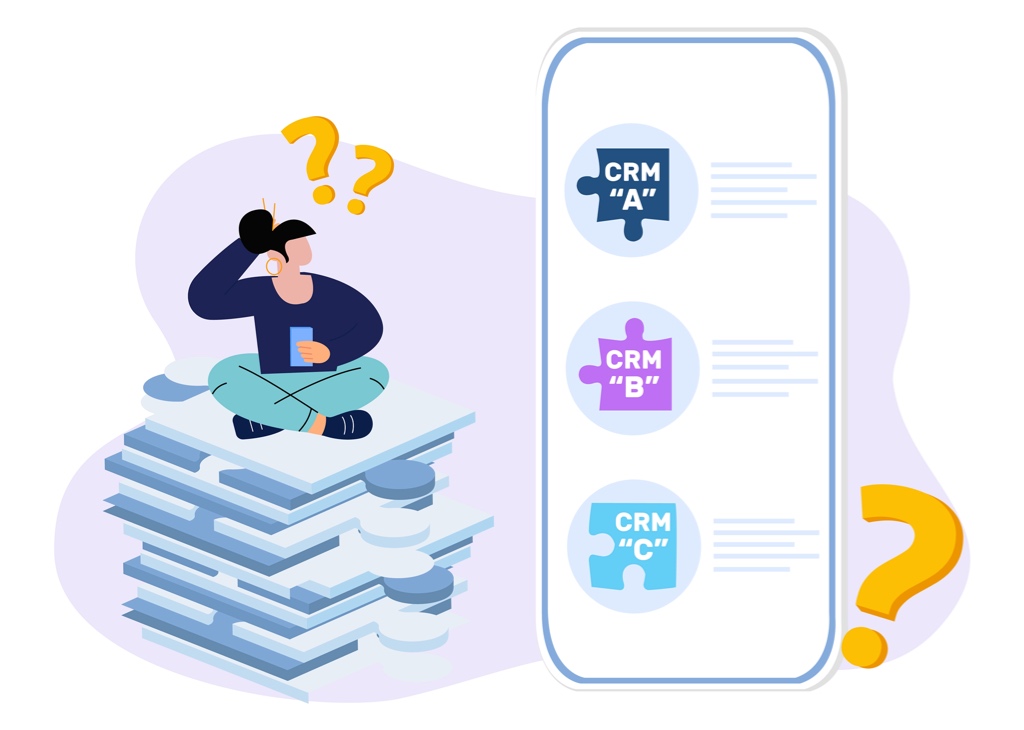 Step 3: Select a few mobile CRMs to try before choosing a crm
Now that you know what to look for in 'the right mobile CRM', the next step is to shortlist 2-3 mobile CRMs that best fit your priorities and requirements.
Follow these steps to shortlist the top contenders:
a. Identify your main objective:
Start by figuring out what you want to achieve and how you expect a mobile CRM to help you get there. Will it increase productivity, maintain customer records, improve collaboration across your team, grow revenue, or something else?

While it's tempting to say you want it all, the reality is that an app that tries to do everything will not be the best at anything. Rather, focus on what is most important to you and make sure the CRMs you consider do it extremely well.
b. Determine 2-3 secondary objectives:
Make a list of the next few priorities or issues you wish to fix. For example, if your goal is to increase sales, responding to leads quicker, not forgetting follow-ups, and keeping track of every client is vital. Be sure to select CRMs that make doing all these things easy.
Out of the thousands of CRMs available today, the best one for you is simply the one that aligns with your sales processes and workflows to help you accomplish your goals.
c. Understand your current work processes:
Many CRMs require you to change how you do things to suit how the platform works. Avoid falling into this trap by understanding your sales processes and picking CRMs that support them instead of changing how you work.
If you usually work off your phone and contact your customers through WhatsApp, SMS, iMessage, and phone calls, choose a mobile CRM that supports all this. Don't pick one that forces you to sit in front of a computer and work via email.
d. Consult your main users:
If you have a team, identify the main users – such as the salespeople. Be sure to include them in the selection process, not just a few "decision-makers" that don't need to use the system on a day-to-day basis.
It would help to prioritise solutions that your main users find simple, enjoyable, and easy to use, rather than features that look good on paper but no one uses. Even the most popular CRMs are completely useless if no one is using them.
e. Focus on your primary devices:
Another key aspect is looking for CRMs that work well on the primary device(s) you and your team use daily. So, if you mostly work off your phone and tablet, don't select CRMs whose main functions are only accessible on a laptop or desktop.

Note: Simply having a mobile app doesn't mean a CRM can be used effectively on your phone. Choose a mobile-first CRM that is built specifically to give you full functionality and features on a smartphone.
Step 4: Things to consider before purchasing the right mobile CRM
Once you've narrowed down your choices to a few mobile CRMs that suit your needs, don't confuse yourself with feature-by-feature comparisons. Use free trials to assess each of them yourself.
After trying each of the shortlisted CRMs, choose the one that you enjoy using the most. The best CRM for you is the one you'll use, not the one with the most features or most awards.
Here are a few things to keep in mind while evaluating options:
a. Always use the free trial:
The best mobile CRMs offer free trials with complete access to all features, so you can get hands-on experience without having to pay. You'll be able to tell within the first hour or two if one works for you.
b. Test a few key features:
Prioritise testing the few features that match what you want the CRM to help with or fix. If a CRM can do the few important things you need really well, it's a winner!
c. Focus on minimising data inputs:
The right mobile CRM will work well even if you enter few key data points per customer – things you and your sales team likely already keep track of. Don't choose one that needs you to capture full chat logs or every last detail of interactions, as it will increase your workload.
d. Involve salespeople in testing:
If you have a team, get your salespeople to participate in the free trial. They will tell you if it genuinely helps them, and if it does, they'll be more willing to use it. Keep in mind; even the best CRMs are worthless if no one is willing to use them.
e. Focus on how easy it is to learn and use:
Most modern, mobile-first CRMs focus on usability, so you won't need to spend too much time learning or getting trained to use the platform. If you spend hours setting things up, reading how-to guides, or watching video tutorials, it's a sign that the system is not very simple or intuitive.

Remember: The easier to use, the more you'll use it, and the more benefits you'll see as a result.
f. Test on the primary devices you'll be using:
If you're using your phone to work most of the time, make sure you try the CRMs on your phone instead of your laptop. Remember that mobile, tablet and desktop experiences can vary greatly, even within the same CRM. So be sure to spend most of your time testing on the device you'll use most often.
g. Connect it to your existing tools:
If you're generating leads online (e.g. via Facebook Lead Ads or a website contact form), connect your CRM to receive new leads and send you alerts automatically. Similarly, if you're mostly using WhatsApp, SMS, or iMessage to contact your leads, use your CRM to assist with messaging on those channels.
The right mobile CRMs should integrate with the systems you already use, providing streamlined functionality and better productivity.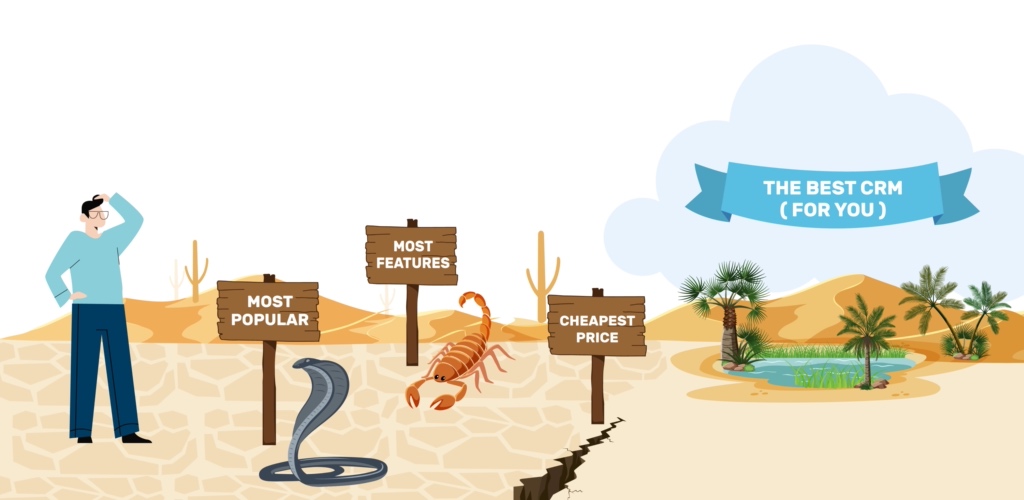 Step 5: Avoid common mistakes when picking the right mobile CRM
Before you finalise your decision, be careful of common traps that will select the wrong system.
Avoid these common mistakes to choose 'the right' mobile CRM for you:
Don't choose "the best" CRM based on blogs, reports or market research companies

You're the only person who can pick the right mobile CRM for your business because no one knows your business better than you do.

Don't make a detailed feature-wise comparison


Because many CRMs look identical on paper focus on the things that matter the most – how useful and easy it is, and if it fits your business objectives and processes.

Don't assume a CRM will work for you without testing it


The only way to really know if a CRM works for you is to try it out, ideally on a free trial.

Don't overwhelm yourself by trying and testing all the features at once


Only focus on the key features that help you meet your main goals to assess if that platform will work for you.

Don't pick a CRM that can't support all the devices you regularly use


If you use many devices for work – your mobile phone, tablet and laptop – make sure the CRM works on all of them.

Don't decide based on pricing alone


Instead, focus on the value, usability, and benefits that you'll gain from choosing the CRM that you like the most.

Don't assume free CRMs are actually "free"


CRMs store one of your most valuable assets – your customer data. Thus, they should have the best security and privacy. But these things aren't cheap. So if you're not paying for them directly, you may be paying with your time, effort, and/or data.

Other things to watch out for with free CRMs are feature limitations and usage restrictions.
FAQs
How do I choose the right mobile CRM?

List your business priorities and processes and understand how you expect a CRM to help you reach them. Next, choose a few that give you these benefits, test them out on free trials, and settle on the one that you enjoy using the most.

How to choose the best mobile CRMs for small businesses?

(1) Confirm whether you need one, (2) Understand what the best one for you is based on your needs and processes, (3) Shortlist a few that fit these criteria, (4) Try them out to get hands-on experience, and (5) Keep in mind common mistakes to avoid.

What does a good CRM look like?

The right mobile CRM aligns with your sales processes and workflows to help you achieve your business goals. It will add value, be easy to use on the devices you use, and seamlessly integrate with your existing tools.

What to look for in a mobile CRM?

Full access and functionality across devices, easy lead management, customer profiles and timelines, follow up reminders, new lead alerts, and integration with popular communication apps like WhatsApp, SMS, iMessage, and phone calls.

What is a mobile-first CRM system?

A mobile-first CRM system is a CRM for people who need access to their customers on the go. Unlike traditional desktop ones, they provide full access and functionality on a phone and integrate with mobile apps like SMS, WhatsApp, and iMessage.