What is a mobile CRM?
A Customer Relationship Management (CRM) platform is a system that stores customer data in one central location. It makes it easy for businesses and salespeople to keep track of and manage their customers, build better relationships and increase sales.
A CRM can be as simple as a phonebook app, Excel spreadsheet, physical notebook, or as complex as enterprise software (Salesforce or Microsoft Dynamics). If you're putting information about your customers in it, you're using it as a CRM.
A mobile CRM ensures your customers and relationships are always at your fingertips via a mobile app. Unlike traditional CRMs made for desktop usage, mobile CRMs are made for people who need full access to their customers on the go.
Why is a mobile CRM important?
A mobile CRM's goal is to grow sales. It does this by increasing productivity, streamlining communication, and building stronger client relationships.
But different groups (businesses, their employees, and their customers) benefit in different ways. So let's see how mobile CRMs help each set.
a. Mobile CRM benefits for employees:
Maintaining one central database:

A mobile CRM solution lets you and your team store, track, and manage all your lead and customer details in one central database. It makes it very easy to find customers data, past conversations, and interactions when needed. Even if you work alone, isn't it ideal to have a single place to keep track of your customers?

Accessing real-time data on the go:

Everyone uses the same platform to input customer information, so a mobile CRM always has the most updated version of a client's details. You can access all their information from your phone, no matter when or where you're meeting a customer.

Getting detailed customer insights:

A mobile CRM sorts your leads and customers into different groups based on their requirements, personal preferences, background, etc. giving you detailed information for each of them. With these insights, you can personalise pitches and recommendations to make more sales.

Increasing individual productivity:

A good mobile CRM automates low value, repetitive tasks, saving you time and effort on manual data entry. It reminds you of customer meetings and follow-ups, and tracks everything you've shared with whom. All these things help increase your individual productivity.

Preparing for meetings better:

A mobile CRM helps you prepare well for customer meetings. Say you're having a busy day and are about to meet a customer whom you haven't spoken to in sometime. You can update yourself about who they are in seconds by looking them up on your mobile CRM.

Following up with customers consistently:

Mobile CRMs allow you to set follow-up reminders, prompting you to reconnect at the correct time. This way, you always know whom you need to reach out to and when. They also help you track what you've said and shared with each client to plan next steps.
b. Mobile CRM benefits for businesses:
Making customers happy:

When businesses use mobile CRMs to build relationships and offer personalised service, customers feel valued. When customers are happy, businesses enjoy repeat orders and referrals. This helps them maintain a good brand reputation. The result, more sales.

Keeping employees happy:

When employees use mobile CRMs to automate tasks, they have more time to follow up with customers. This helps them close more deals and increase their sales (and commissions!). When employees use CRMs to coordinate on leads, they streamline interactions, leading to a positive working environment.

Generating reports and analytics to predict trends:

Mobile CRMs can create reports, graphs, and charts of customer data and trends. Seeing customer information visually, helps salespeople improve their performance. They understand what strategies are working/not working, what products are selling/not selling, and what kind of customers are buying/not buying.

Viewing sales pipelines to forecast growth:

Mobile CRMs help salespeople track where each customer is in the sales pipeline so they can see what they need to do to close the sale. It organises customers into various groups – like hot leads, warm leads, and cold leads. This helps salespeople analyse each group, use different strategies to sell and say how many deals they'll get.

Understanding the business better:

Mobile CRMs create customer reports giving management an overview of everything. By seeing what is selling well, businesses can consider new product innovation. They can also fix what isn't selling with discounts (or discontinuing them).

Storing all customer information in-house:

Mobile CRMs keep all customer data within the firm – so it doesn't matter if someone is on vacation, is busy with meetings, or leaves the organisation. Say your colleague's client suddenly drops by the office while they are busy, you can cover for them by checking the client's details on your mobile CRM.
c. Mobile CRM benefits for customers:
Maintaining better customer relationships:

Mobile CRMs give on overview of customer pipelines across various teams in the company, making it easy to track customer relationships. This ensures that customers receive personalised interactions and follow-ups, leading to much better experiences.

Getting personalised customer service:

One of the main benefits of a mobile CRM is that it can group customers depending on their needs, interests, past purchases, and more. So, you can make good recommendations based on what they're looking for – nothing irrelevant or spammy.

Preempting individual customer needs:

By storing, tracking, and retrieving customer data from a central database, CRMs make it easy to predict future needs. Take the example of getting a car loan from a bank. Once the loan department processes it, the insurance team can offer automobile insurance plans.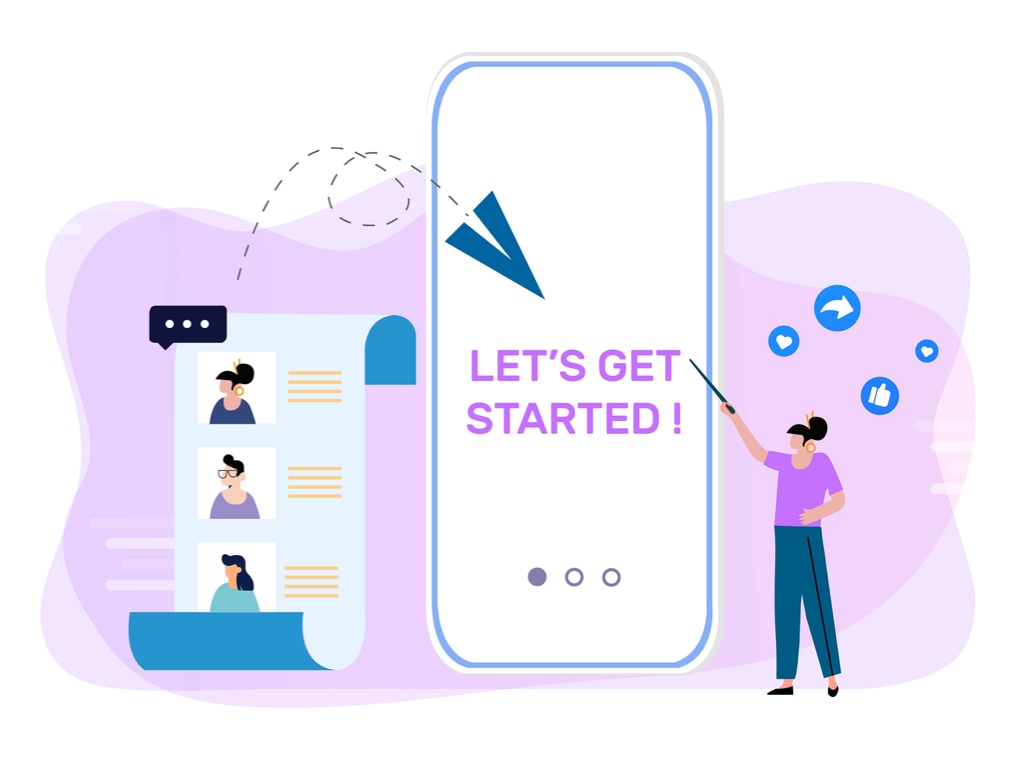 How to use a mobile CRM?
If you're new to the world of CRMs, it may seem like a scary place. But don't worry, most mobile CRMs have similar goals – increasing sales and productivity. They will work alongside your sales process, helping you close more deals.
Here is how to use a mobile CRM:
Import customer details – First, make sure to import your existing customer details into the mobile CRM. This is your customer database's new home.

Connect lead sources – Link all your lead sources (Google ads, Facebook ads, website contact forms, etc.) to the CRM. This ensures your database is automatically updated when new leads leave their details.

Follow up with new leads – When leads submit their information, try to contact them as soon as possible. Preferably within 15 minutes, to increase the chances of them responding to you.

Track and manage leads – You can track and manage new and existing leads to see where each one is in the sales pipeline. This helps you determine your next steps to make a sale.

Nurture and engage leads – Use built-in features like calendars, notes, reminders, and messages to follow up with leads and keep them warm.

Convert more leads to close deals – When you keep leads warm and engaged, they will reach out to you when they are ready to buy. This ensures you get the deal (not your competitors).
What are the features of a mobile CRM?
CRMs help create customer profiles, record customer interactions, track sales pipelines, generate custom reports, and forecast growth. Their ultimate aim is to help you increase sales. Mobile CRMs make it easy to do all these things on the go.

Some essential mobile CRM features include:
Customer profiling:

A mobile CRM contains individual customer profiles based on their needs, likes, interests, budget, etc. This gives you personalised insights for each customer, so you can recommend the most relevant products.

Calendar and follow-up reminders:

Good mobile CRMs make following up with customers easy with built-in calendars and reminders. They make it stay in touch with customers and keep your relationships warm, increasing the likelihood they'll buy from you in the future.

Calls and messaging:

Mobile CRMs make it easy to contact your leads and view past conversations from one place. There is no need to switch back and forth between WhatsApp, SMS, iMessage, phone calls, and email just to send a simple follow-up message.

Customer timelines:

Mobile CRMs track all your customers no matter where they are in your sales pipeline, giving you a detailed timeline for each client. This includes notes about the customer, personal information, a history of past interactions, and follow up tasks.

Lead integrations and alerts:

Many mobile CRMs have integrations to connect your lead sources (Facebook ads, Google ads, or website) to alert you of new leads and save them into your client list. With new lead notifications you can respond to people while they're still interested.

Facilitating actions:

A mobile CRM is a System of Action – that is, it helps you take actions such as calling or messaging a lead. These in-app actions increase your productivity and reduce your manual effort, letting you reach out to more customers in less time.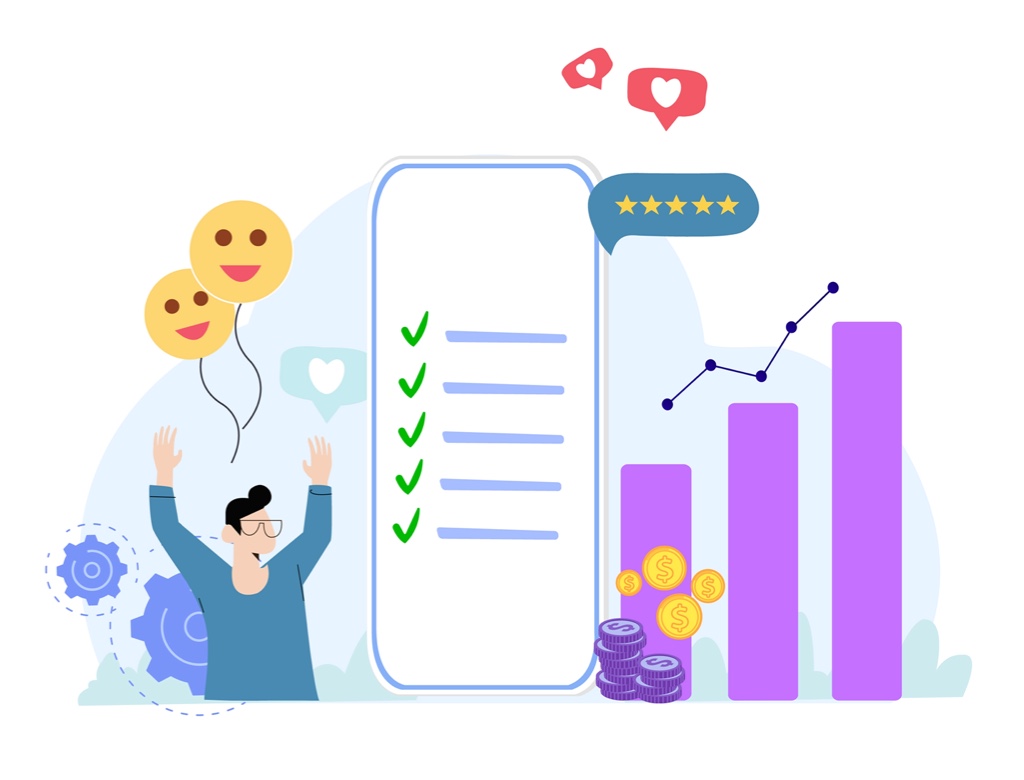 What are the benefits of a mobile CRM?
The most important benefits of a mobile CRM are to increase sales and productivity. Overall, they help achieve the following:
Business growth:

Mobile CRMs increase revenue in two ways: (1) giving employees detailed customer insights to offer better customer experiences, and (2) freeing up their time so they can focus on selling to more leads.

When employees have detailed customer data, they can offer them personalised service. This ensures customers are happy as they get relevant recommendations that match what they are looking for. As a result, you get more sales and referrals.

By offloading low-value work to the mobile CRM, employees win back more time in the day and can focus on closing more deals. Both of these outcomes help businesses grow quicker.

Improve productivity:

Mobile CRMs help employees automate repetitive and manual work. As a result, they increase the number of leads they contact and follow up with in the same amount of time.

CRMs also minimise the time employees usually waste trying to coordinate on leads with their colleagues. Since all employees work off the same, shared database, everyone is always on the same page.



This newly found time in the day helps employees do what they're supposed to – follow up with leads to close deals. The outcome, more conversions.

Stronger relationships:

Mobile CRMs provide deep customer insights that help employees create personalised and memorable customer interactions. This lets sales reps avoid sending the same generic messages and offers to everyone in their database.

Instead, customers receive unique communication based on their needs, making them feel special and valued. CRMs also streamline coordination within teams, making sure the same customer isn't contacted twice.



All in all, businesses maintain positive relationships within the firm (employees) and outside of it (customers).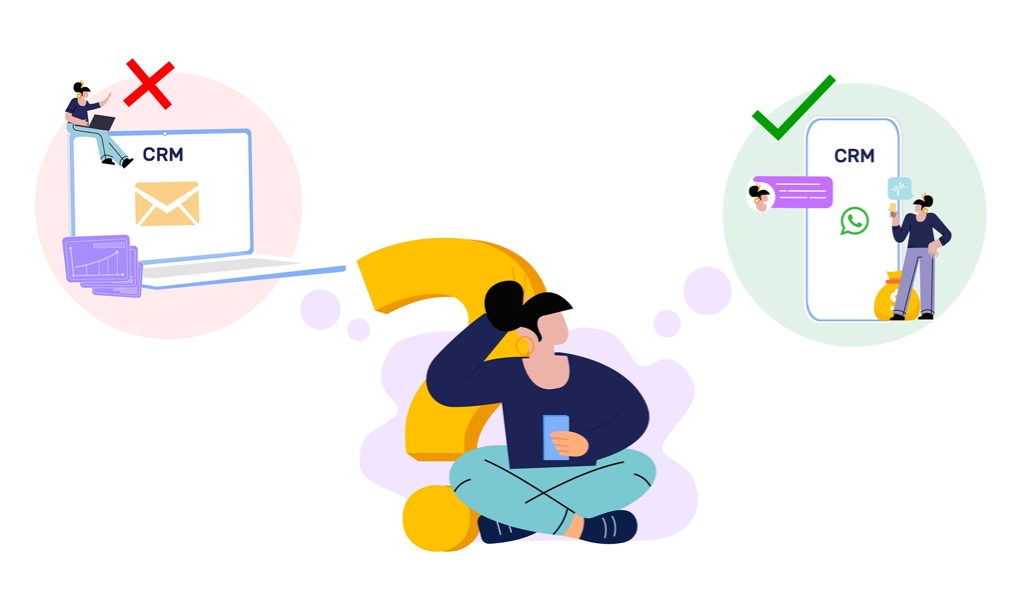 Who should use a mobile CRM?
Most CRMs fall into two categories: desktop CRMs and mobile CRMs. A desktop CRM may have a mobile app, but most functionality is meant for desktop usage. Similarly, a mobile CRM may be accessible on a desktop, but it's meant for phone usage.
You should use a mobile CRM if the following points describe you and your sales process:
You use your phone as the main device to work and interact with your clients.

You don't spend most of your day sitting at your desk in front of a computer.

You want an action-based system to increase your productivity by helping you reach out to more customers with lower effort and in less time.

You mainly contact customers through phone calls and chat apps like WhatsApp, SMS, and iMessage, instead of just email.

You have a simple, straightforward sales process that you can manage alone. Not a complex process involving many stakeholders, and different departments.
What are the challenges of using a mobile CRM?
Smaller screen size:

The most obvious challenge of using mobile CRMs are that you won't be able to see a lot of information at one time as their screen sizes are smaller than desktop monitors. You also won't be able to view data across multiple tabs simultaneously, like you would on a large laptop or desktop screen.

So, if you are always at your computer and need to analyse a lot of data, a mobile CRM may not be ideal for your situation.

Harder to handle complex workflows:

Mobile CRMs typically act as a 'system of action' – that is, they help you take actions such as calling or messaging customers. Since they're built for easy usage on a mobile phone, they may not be able to handle complex workflows or detailed reporting dashboards. A desktop-based solution would be much better suited for this.

Lacking powerful email features:

Mobile CRMs are built for people who mainly use their phone and apps like WhatsApp, SMS, iMessage, and phone calls to interact with their clients. While this is ideal for mobile-first communication, mobile CRMs may lack some of the more powerful, email-based features such as automated email drips and one-click bulk mail merge & sending.

Single device access:

Some mobile CRMs may only work on one device or may only support being used on one device at a time. This means that you won't be able to access your data from other phones, tablets, or laptops at the same time (or at all!).

However, some mobile CRMs support multi-device usage, automatically syncing your data across devices. So, if you use many devices for work, make sure to choose a mobile CRM supporting multi-device access.
FAQs
What is CRM on mobile?

A CRM is any system that holds customer data. It can be as simple as a phonebook, Excel spreadsheet, or notebook and can go all the way up to complex enterprise systems like Salesforce or Microsoft Dynamics. A mobile CRM is simply one you can access on your phone.

What is a mobile CRM app?

A mobile CRM app is an application made to store customer data and interactions on the phone. Unlike desktop CRMs made for deskbound usage, mobile CRMs focus on making managing and nurturing customer relationships easy for people on the go.

What are the advantages of mobile CRM?

A mobile CRM helps salespeople increase productivity by making it easier to track customers and perform actions like calling or messaging leads. This allows them to follow up with more customers in less time and lower effort, improving efficiency and increasing sales.

What are the best mobile CRM features?

The best mobile CRM features include full access and functionality across devices, easy lead management, customer profiles and timelines, follow up reminders, new lead alerts, and integration with popular communication apps like WhatsApp, SMS, iMessage, and phone calls.

What are the benefits of mobile CRMs?

Mobile CRMs help salespeople and businesses better manage their leads and clients to build stronger relationships and generate higher sales. Compared to desktop CRMs, mobile CRMs are designed to be used on mobile devices without sacrificing functionality, giving you 24/7 access to customers no matter where you are. 

Who should use a mobile CRM?

Businesses and salespeople who want to improve productivity and increase sales should use a CRM. Those who mainly work off their phones and interact with customers via WhatsApp, SMS, iMessage, and phone calls should use a mobile-first CRM.