Communities on WhatsApp is a new feature that lets you organise related WhatsApp groups in one place for easier access.
Now something we hear all the time goes something like this: "I need a faster way to engage with my leads and clients on WhatsApp, but I don't have time to send stuff manually. 😓"
So it's not surprising that many salespeople are looking into WhatsApp Communities to speed up the tedious work of sending messages. Because among all of its features, you can create an announcement group in your Community to broadcast content to a significantly larger group of people.
But as a B2C salesperson or small business owner, how does that work? Can you use Communities to increase your touchpoints with prospects without adding more work to your to-do list? Is it better than trying to bulk-send WhatsApp messages? Let's find out whether using a WhatsApp Community would be an ideal solution for your business.
How exactly can you use WhatsApp Communities?
You can create a WhatsApp Community to organise your group chats that are related to each other under one broad category. For example, a Community can contain groups for different teams in a company.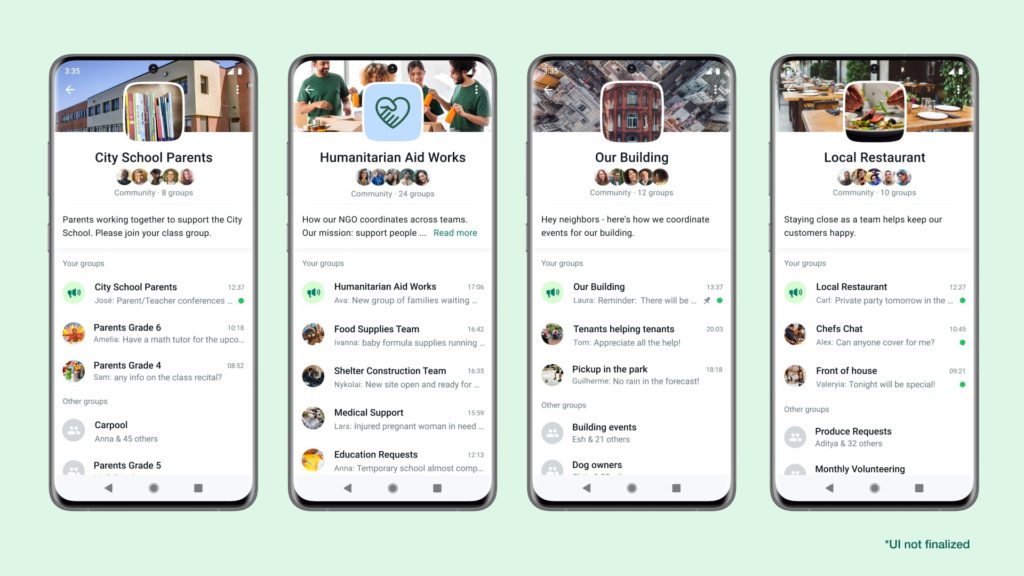 This is useful when you have multiple WhatsApp groups that are related to each other in some way, and you need an easy way for people to discover and switch between those chats.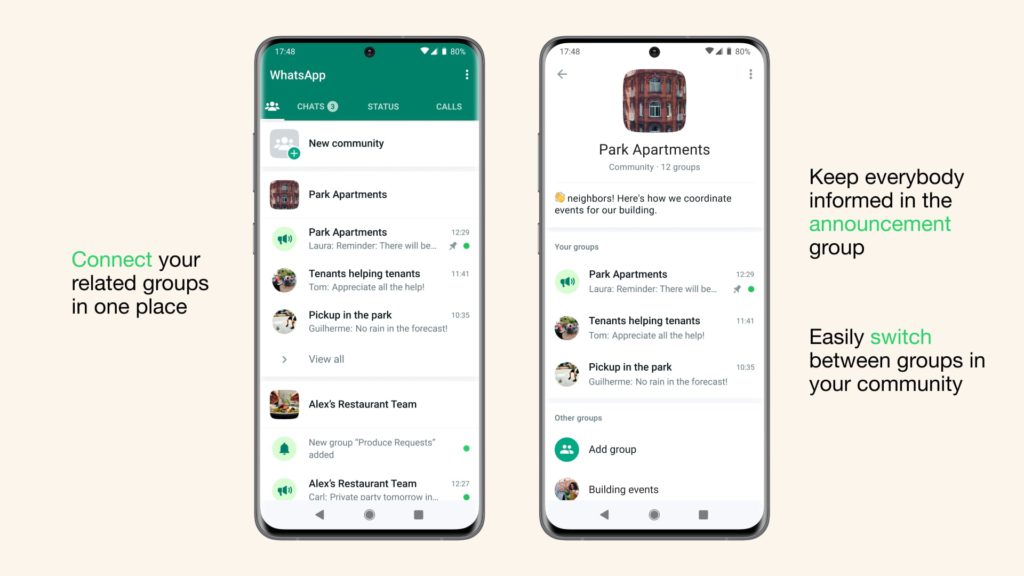 You can create an Announcement Group within the Community so that members can join and receive important updates from you. That's one of the more "exciting" features for most salespeople and solopreneurs, because now you can broadcast messages for up to 5,000 members. It seems like a big timesaver, considering that the regular WhatsApp Broadcast List has a limit of only 256 contacts.
⚠️ But wait – it's not that simple! ⚠️ There are some things you should know before creating a Community for your business.
Can you use WhatsApp Communities for your leads and clients? 👥
Technically you can, but it comes with many disadvantages that could hurt your sales process.
Consider this: You're a salesperson, marketer, or small business owner who engages with your leads and customers on WhatsApp. And that's mainly how you get sales – through continuous personalised interactions and follow-ups.
A WhatsApp Community might not be the best channel to nurture such relationships, because it lacks the kind of personalisation and privacy that drives your sales process and relationships.
Communities are built around group chats, not personal 1-on-1 conversations. If you're doing sales, your client interactions are probably through private conversations instead of larger group chats where everyone can see everything. This is how it should be, given how sensitive people are about their personal details and privacy.
You'll find it difficult to personalise the content according to your relationship with each prospect and their specific buying journey. Messages you send in a Community Group will be seen by everyone in that group. Generic content appears spammy to most consumers, and this could drive them further away from buying.
Furthermore, even when you use the Announcement feature, not everyone in the Community will see your message. People can choose to leave the Community or even just the Announcement Group at any time, or they can mute their notifications. In fact, you won't be able to add certain people into your groups or Community depending on their WhatsApp privacy settings. So even if you're diligently sending promotional messages and festive greetings using the Announcements Group, there's no guarantee that all members will see it.
New leads you just met might be less inclined to join your WhatsApp Community. And they might even get annoyed if you add them in without asking them first. A Community might not be the best channel to communicate with new prospects. WhatsApp Communities function like small societies in your WhatsApp application. And not everyone will like that, especially if they only use WhatsApp for their personal communications. To people you just met, joining your Community demands a higher level of commitment and participation than a simple personal chat.
So should you use WhatsApp Communities for your business? 🤔
At the end of the day, a WhatsApp Community is a social channel more than it is a sales channel. You can absolutely use Communities for your internal business communications and chats with other business partners. For example, if you have a group of resellers or co-brokers, you can create a Community to host resources for them and to facilitate discussion or Q&A among them.
However, WhatsApp Communities might not be suitable for customer-facing interactions where the goal is to create long-term relationships that will lead to a sale. For that, it's usually better to stick to personal WhatsApp chats so you have better control over the content, conversation, privacy, and level of personalisation. Remember, each lead goes through the buying process differently. Sending a message to them personally often leaves a better impact than delivering it through a Community group.
You might also be interested in this…
You may have come across something called the WhatsApp Business API while trying to find a faster way to send WhatsApp messages to your prospects. Is it the same as the WhatsApp Business on your phone? And more importantly, should you use it? Check out our article on whether you need WhatsApp Business API in your sales toolstack.