Can you use WhatsApp Business API to message your leads and clients without all the manual work? It's been tedious to text and follow up with them manually when you're just a one-person show, or at best, a very small team. And while searching for a solution, you might have come across ads and articles recommending the WhatsApp Business API.
But wait, the names of these apps are super confusing. What's the difference between WhatsApp Business API and the WhatsApp Business application? Do you need to "upgrade" to WhatsApp Business API so you can get more features? Here's what you need to know.
⚠️ WhatsApp Business API is very different from the regular WhatsApp or WhatsApp Business applications you have on your phone.
There are two ways you can access the WhatsApp Business API (now also known as WhatsApp Business Platform). First, you can get WhatsApp Business API through an official WhatsApp Business Solution Provider (BSP). You'll have to pay the BSP a fee to continue using the API. Once you have it, you'll be managing your WhatsApp chats through a mobile or desktop app provided by the BSP. The interface is different from ‌the "normal" WhatsApp as we know it.
Alternatively, you can also implement the Business API yourself through the WhatsApp Cloud API. However, you will need your own technical team who can build the chat platform for you. It's not as simple as downloading WhatsApp and "upgrading" it to the Business tier. There is a lot of work involved in setting up the Business API, as well as a large upfront investment to get started.
At the end of the day, you can't use the Business API through the regular WhatsApp applications you're already familiar with. You either use the platform provided by a BSP or one developed by your own team.
On their website, WhatsApp officially recommends the WhatsApp Business Platform for "medium to large businesses communicating with customers at scale through programmatic access". They typically want to run mass messaging campaigns, set up chatbots, or create a customer service workflow with multiple users on one account.
However, these features should not be mistaken as the ultimate solution to automate your WhatsApp outreach and follow-up process, especially as a smaller business.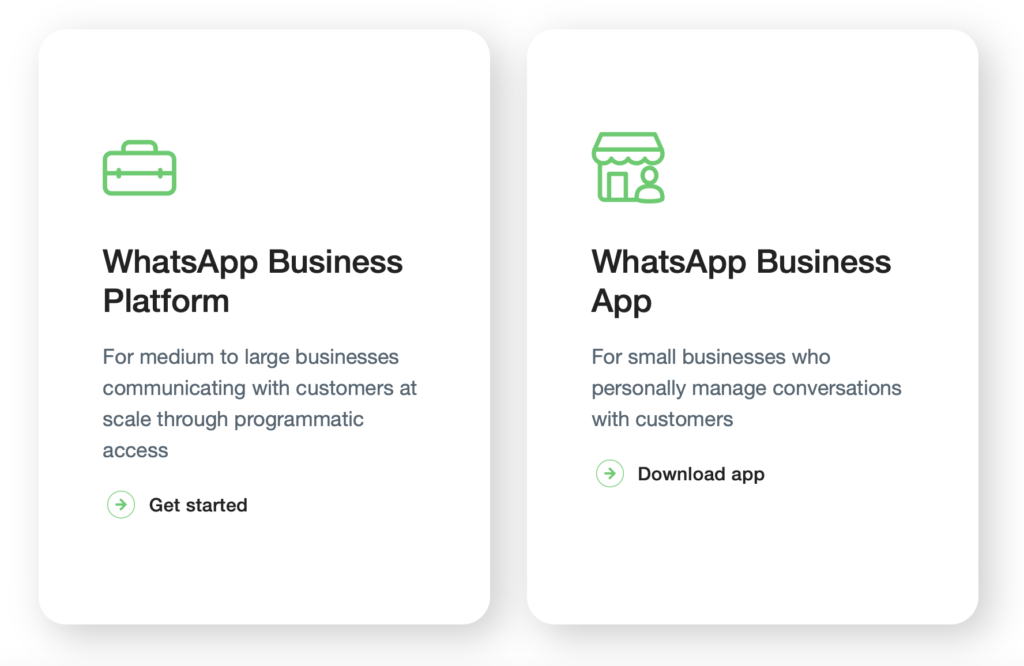 What are the downsides of switching to WhatsApp Business API? 🤔
Switching to WhatsApp Business API is not just a matter of "upgrading" to another application you can download from the app store. As mentioned earlier, you can only gain access by paying another vendor, or by building your own interface on top of the technical APIs. You won't be able to use the normal WhatsApp applications on your phone to manage your chats and contacts.
You would also need to get a brand new phone number, or migrate your existing number to the API. All your existing messages, chats, and contacts will be lost as you can't migrate them directly to your new WhatsApp Business API.
Furthermore, there are additional restrictions that you should be mindful of when using the WhatsApp Business Platform. For example:
You need to pay per conversation.
You need to submit your outgoing message templates to be pre-approved by WhatsApp before sending them to your clients.
WhatsApp could limit the number of contacts you can message at a time if enough users report your messages as spam.
So do you actually need WhatsApp Business API in your toolstack?
Now you might be thinking: Maybe this is all worth it because the Business API can bring a massive scale of automation to your WhatsApp communications. However, you still need a dedicated team with the technical expertise to set up these messaging automations on the API – every step, every command, what to send, and when to send it. This is useful for things like e-commerce order confirmations and announcements, which usually follow a fixed format or style.
But as a B2C salesperson or small business owner, you might find that the Business API is not suitable for maintaining personal relationships and following up through WhatsApp. Instead of the API, WhatsApp recommends the regular Business App for "small businesses who personally manage conversations with customers".
TL;DR If you're a large enterprise or a big e-commerce business, then you can definitely use the Business API. However, if you're a B2C salesperson, marketer, or small business owner, chances are you don't need the WhatsApp Business API at all. In fact, it's likely to cause a lot more problems than it solves. The regular WhatsApp and WhatsApp Business apps are much more suitable for your use case.
If not WhatsApp Business API, what can you use instead?
You still want a faster way to contact and follow up with your leads, because you find it overwhelming to do everything by yourself. What you could try instead is a mobile CRM tool that is integrated with WhatsApp. This tool helps you automate some of the internal tasks in your sales process, so you can be a more efficient salesperson.
By using mobile CRM tools like Privyr, you can quickly send personalised and relevant messages to your prospects within seconds. For example, Privyr instantly pings you when you have a new lead to contact, and when it's time to follow up with a specific lead. And with just one click, Privyr automatically opens the chat in your WhatsApp application and pastes the message you've prepared. It even adds the contact's name to the message for extra personalisation.
Privyr works seamlessly with the WhatsApp and WhatsApp Business apps on your phone, without any setup, migration, or configuration needed. Compared to the Business API, you might find it easier to set up a CRM tool and use it with the WhatsApp application you're already familiar with.
While you're still here…
You're probably looking into WhatsApp automation tools so you can be a more efficient salesperson. But will they really help you run your sales process more smoothly and close more deals? Or will they achieve the opposite effect? Don't miss our article on what you should automate in your sales process here.