Your marketing agency may be generating a good amount of leads for your clients, but you're getting a lot of complaints that the leads are "low quality". And in the worst case scenario, the client may even stop working with you – even though, on paper, you've gotten the job done.

The hard truth is that your clients don't pay you to generate leads. They actually pay you to generate sales. When it's your client who handles the sales part, you may have little to no insight into their lead conversion process, and whether it's as effective as it needs to be.

But when leads don't convert, the blame can still fall on your agency for bringing in low-quality leads. What should you do? 🤷
In this quick yet comprehensive guide, we'll show you how you can gain better visibility and control over your client's sales process so that they get more sales, ensuring that no good leads go to waste. This way, both your marketing agency and your client come out as winners.
If you have no idea what your clients are doing with the leads you've generated with them, this one's for you!
Overview
Understanding the real reasons your leads aren't replying or converting
When leads don't reply or convert, most clients' first response will be something along the lines of, "Oh, these are bad leads. Get me better leads."
But the real reason is often a leak in your client's sales process that's draining out all the good leads. We've previously written a post for marketing agencies who are tired of getting blamed by their clients for "bad leads", and it goes into some of the common mistakes people make in reaching out to new leads.
To sum it up quickly, common mistakes like the following can significantly reduce your client's chances of making a sale or even getting a response, even when a lead is highly qualified:
Not reaching out to new leads quickly enough.
Using the wrong channels for outreach.
Using the wrong message for the initial outreach and follow-up.
Not having a plan to follow up with leads consistently.
(And if your client has done everything right in their sales process but leads still don't convert, that's also a good thing! Because now you know, with more certainty, that it could be the lead gen campaign that's producing poor-quality leads. That's your cue to experiment more with your campaigns!)
Now some of these issues are easier to fix than others. A little client education can set them on the right path of, let's say, texting new leads instead of calling them for the first outreach.On the other hand, fixing lead conversion issues – like not reaching out to new leads quickly enough – may require better coordination between your agency and your client.
So how can your agency better coordinate this process with your clients to maximise their sales?
Agencies with bigger enterprise clients may use solutions like Hubspot or Salesforce, but for small or mid-sized companies, the costs and complexities of using such systems can pose a huge obstacle.
These smaller clients sometimes even struggle to use free tools like Google Sheets to check and update their leads, and many still prefer to receive leads via email or SMS instead.
This has proven to be an efficient method because your agency would have no visibility of the lead status. You'll have to rely on the client to report back to you on how they managed each lead you sent them (which they rarely do).
If your agency typically deals with smaller to mid-sized clients, Privyr could be a better solution that solves the problem above as it can integrate directly with Facebook Lead Ads, LinkedIn Lead Gen Forms, TikTok Lead Generation, website contact forms, and more.
The app also helps both your agency and your client get better at what you do – lead conversion for them, and client conversion optimisation for you. More on this in the next section!
How to improve your client's lead conversion process with Privyr
As a marketing agency, how do you politely explain to your clients that the reason the leads aren't converting is their sales process? How do you professionally say, "it's not me, it's you" when the client thinks the problem is simply low-quality leads, but you don't really know what they're doing with the leads?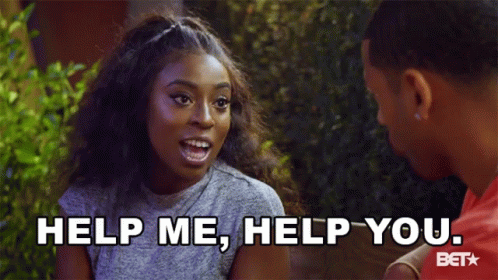 In the process of helping your clients improve their lead conversion, it's normal to anticipate some pushback. They may ask questions or demand proof, and you'll be in the perfect position to help them understand why and where their sales process needs improving.
Remember: in order to be actually helpful, you should approach this conversation with your clients with the facts, as opposed to giving them a generic sales strategy recommendation they could've just Googled themselves. And Privyr helps you get those facts.
For example, how quickly is their team responding to the new leads you generated for them in this campaign? How often are they following up? What do they say in these follow-ups? Armed with these insights, you're in a much better position to recommend strategies to help them win more sales.
You'd be able to view all of the leads under a specific client: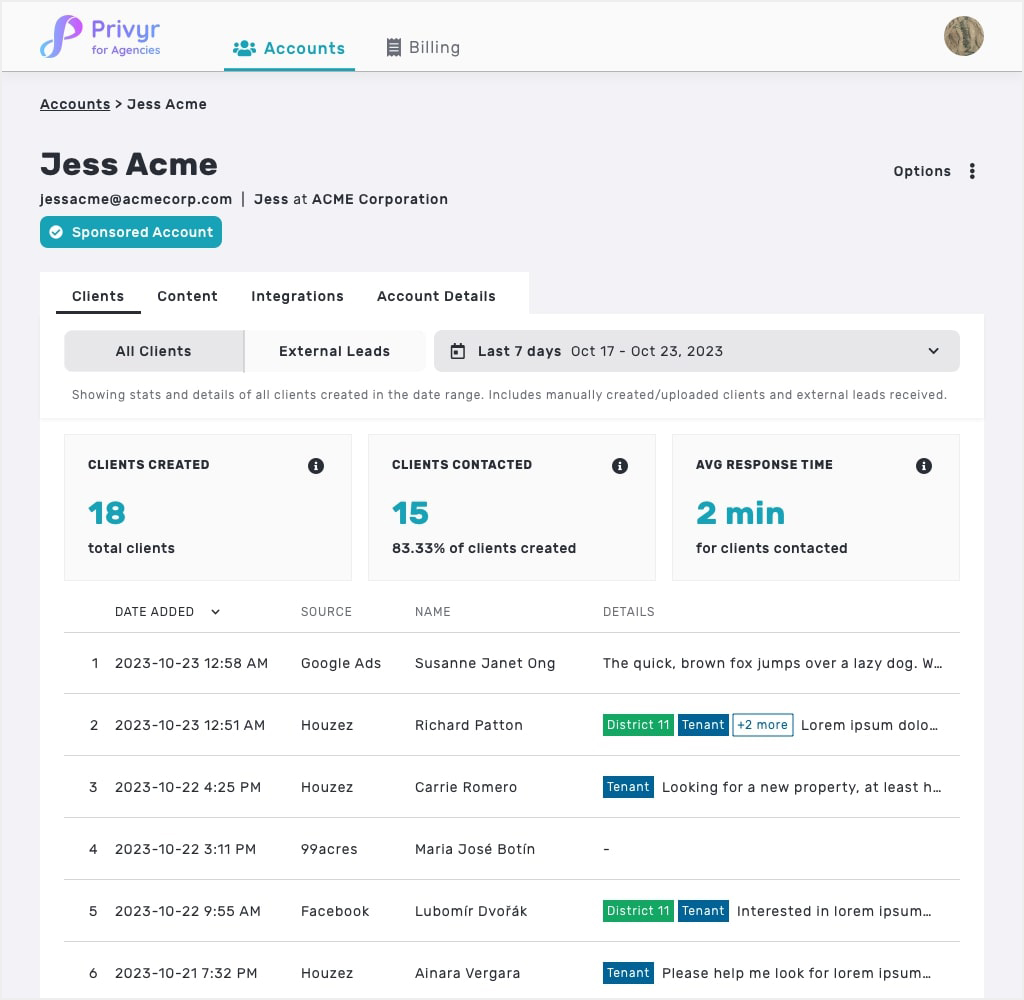 And on a deeper level, you'd be able to see how the client and their team have interacted with each lead. (And if they haven't, that's a good conversation starter too!)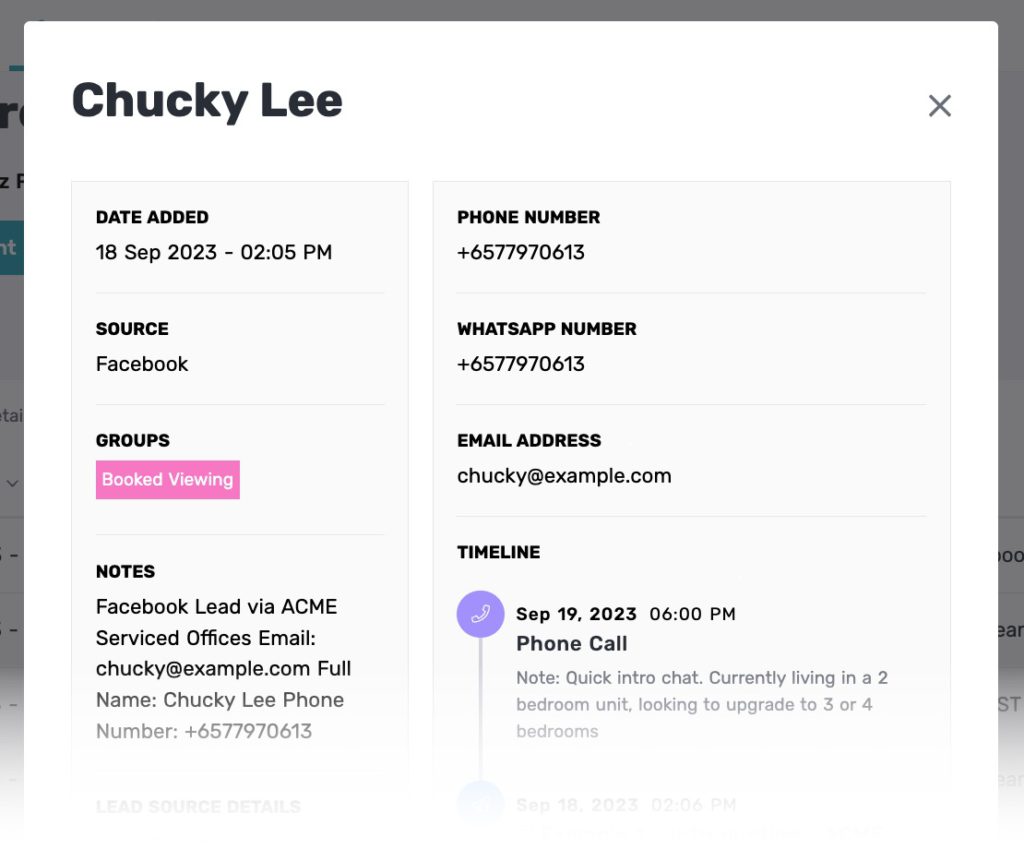 On your client's end, Privyr is a simple, lightweight CRM tool that works on both mobile and desktop. The app offers lead management features, one-touch auto-personalised messages, content templates, and automatic lead assignment for teams – just to name a few. They can easily run their sales process from Privyr as it's integrated with WhatsApp, iMessage, SMS, phone calls, email, and more.
In short, Privyr is not just a tool that helps your agency. It's also a tool to help your clients and their sales team become more effective at converting leads. And when they do, your agency shines too. 😉
Setting up an internal process for your agency to ensure client success
Your agency can use Privyr to manage and oversee the lead conversion activities of multiple clients in one go. It's an easy way to have an internal process to start monitoring and analysing what happens after you hand over a lead to a client. Why is this important?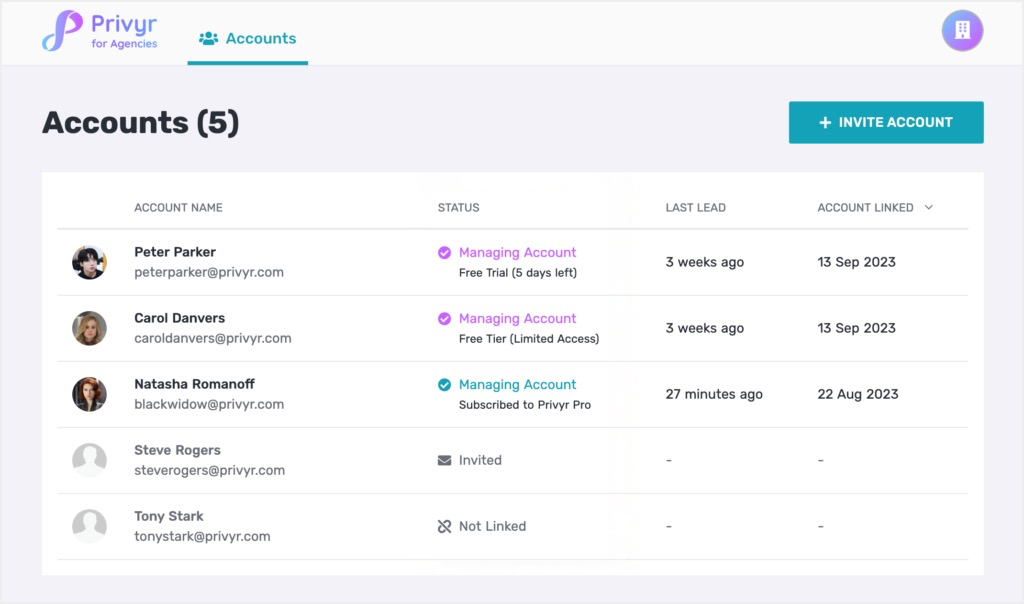 Your clients may have hired your marketing agency to generate leads for them, but the real performance indicator here is whether those leads can be converted and translated into dollars for the client.
It's better to plan ahead and anticipate that every client will come to you with a "lead quality problem". And in response, you can always come up with a solution or recommendation that is supported by the sales insights you gain with Privyr.
Overall, helping your clients convert more leads solves two major challenges for you:
You don't have to go back to the drawing board to come up with new lead gen campaigns – the problem was never those to begin with.
Your clients are more likely to renew their contract with your agency or even increase their budget given the improved results – that's a great return on your investment.

You can also check out this article to learn more about Privyr for Marketing Agencies.