If you're working in sales, you probably find yourself in situations where you meet a lot of new leads offline in a short amount of time. Say you're a real estate agent attending the launch of a new property showflat, or a wedding planner with a booth at a three-day wedding exhibition. You're probably hoping to connect with a lot of prospective clients at such events.
As you meet these leads, it makes sense for you to take their contact information. That way, you can message them later to share more information, answer their questions, and work towards a sale.
Make it as easy as possible for your leads to contact you later. Often, this means connecting on WhatsApp.
We know what you might be thinking: Why do I need to message new leads if I'm already connecting with them in other ways, such as giving them my name card or a missed call?
At the end of the day, you want to make it as easy as possible for your leads to contact you later. That's when they might have questions or need more information.
For many leads, this will mean opening a conversation on WhatsApp.
Why is it important to WhatsApp new leads? 📲
It helps to look at your first interaction from your lead's point of view.
Imagine you're looking to buy an apartment, and visit a property showflat in the morning. You get a 15-minute tour from a friendly salesperson. At the end of the day, you get a call or message from an unknown number. You don't know who this is or what they want — would you bother to pick up and/or reply?
If you received a property agent's name card in the morning, chances are high that you misplace it by the end of the day – and never contact them again.
WhatsApp makes it easy for your potential customer to get in touch with you – or remember you when you follow up.
As a salesperson, sending a quick WhatsApp message while face-to-face with your lead is a super effective way to make that first connection. That way, your potential customer has a clear memory of two important things:
Who you are 🙋
Your products and services 🤗
It also makes it easy for this person to search for you and contact you later – or remember you when you follow up.
But is it really more convenient to WhatsApp new leads? 🤔
We know that sending someone a WhatsApp on the spot is easier said than done. Compared to a missed call, it can seem awkward and time-consuming to do in person. You have to take all of these steps:
Open your phonebook app
Add the lead as a contact
Switch over to WhatsApp
Search for the newly added contact, then wait for it to sync from phonebook (or restart WhatsApp until the contact appears in a search)
Tap the contact to open a new chat
Type and send that first message
But if you just give a new lead a missed call, they usually don't add you to their phonebook. You'll still be an unknown number if you call or message them a few hours or days later.
Don't worry! There are much faster and easier ways to WhatsApp new leads.
✅ How do I make it easier to WhatsApp new leads?
To help WhatsApp someone you've just met, try using Privyr. The Privyr app's Quick Add and Send Message feature lets you send a personalised WhatsApp message within seconds. The best part? Sending it takes the same amount of time it does to leave a missed call.
All you have to do is open the Privyr app, enter a name and number, and click SEND WHATSAPP.
Privyr even has auto-personalised message templates that you can tailor for an event (such as a wedding exhibition or property showflat launch). That way, you don't even have to type, or copy and paste the message.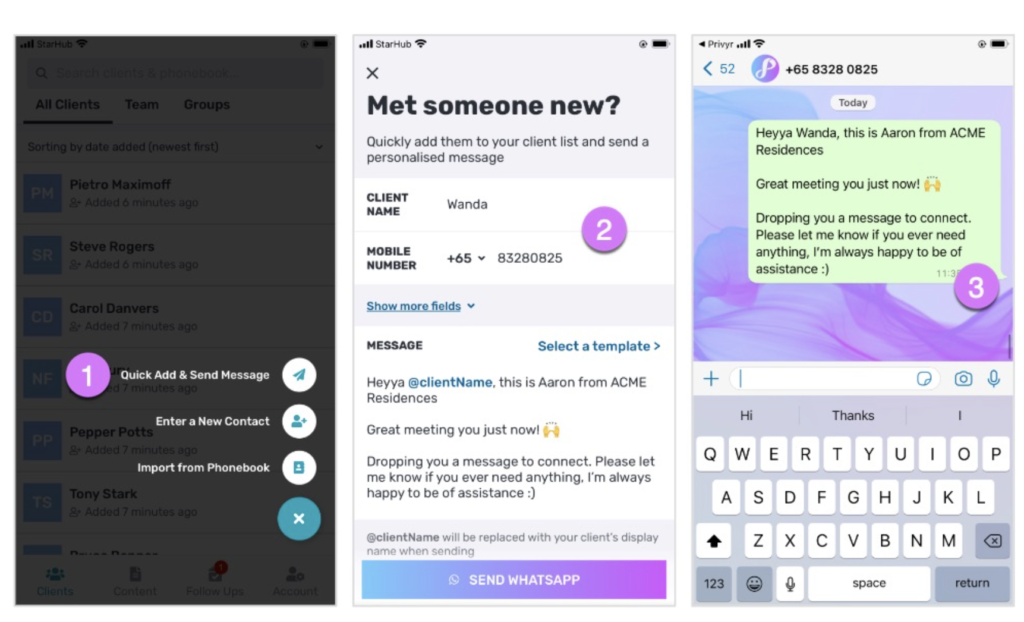 From there, Privyr helps you manage your communication with your lead, sending you follow-up reminders and more. But most importantly, you've made that first contact with them in a way that's quick and convenient for both you and your lead. Learn more about the Quick Add & Send Message feature here.
One last thing…☝️
Messaging your potential buyer as quickly as possible is a great way to start growing your relationship with them. It can also help you keep your leads from falling through the cracks.
To keep growing that relationship, check out this article on how to message your leads so that they're more likely to reply to you, with tips on how to write that very important first message.