You're probably well aware of the importance of generating leads for your business. And if you have been generating leads by yourself manually, you're probably wondering why the process is this difficult.
Well, if you're generating leads manually, you may often face a scenario where you work really hard to generate leads and put your best effort into converting them. However, despite all that, you get ghosted by your leads at the end of the day. This often happens because you spend a substantial amount of time on otherwise simple processes, such as importing the data. And by the time you have the time to sit down and contact your leads, your leads have already moved on or forgotten about you.
But don't worry, you can fix these issues and revive your sales process with lead generation automation. In this article, we'll share with you a few useful tips on how to automate lead generation more effectively.
Table of Contents:
What is lead generation automation?
Why do you need lead generation automation?
5 tips to automate lead generation more effectively
Final Words
What is lead generation automation?
Lead generation automation refers to using technology to streamline and automate the process of identifying, attracting, and converting potential customers. You can do so by using tools and systems, such as marketing automation platforms, chatbots, email campaigns, and ad campaigns.
Lead generation automation streamlines your process by taking care of tasks that waste your productive time if you do it manually. As a result, not only can you contact your leads fast but you'll also be able to dedicate your time to more important activities like lead nurturing and negotiating. That being said, you can only benefit from lead generation automation if you know about the frictions in your process and incorporate the right tools to fix them accordingly.
Lead generation automation can improve the efficiency and effectiveness of your lead generation process and increase the number of quality leads that are more likely to convert into paying customers.
Why do you need lead generation automation?
Lead generation automation saves you time and helps you reach out to more prospects by streamlining your process. But it's not the only benefit you can get from it. Here are some important reasons why you need lead generation automation:
Lead generation automation eliminates manual tasks, freeing up time and resources so you can focus on more important aspects of your sales process.
It reduces the risk of human errors and ensures accurate data collection.
It allows you to effortlessly handle a large volume of leads, making it possible to scale the process as your business grows.
It allows you to target specific audiences based on demographics and interests, increasing the chances of generating more quality leads.
It provides crucial data that you can analyse to improve future marketing strategies and target the right audience.
5 tips to automate lead generation more effectively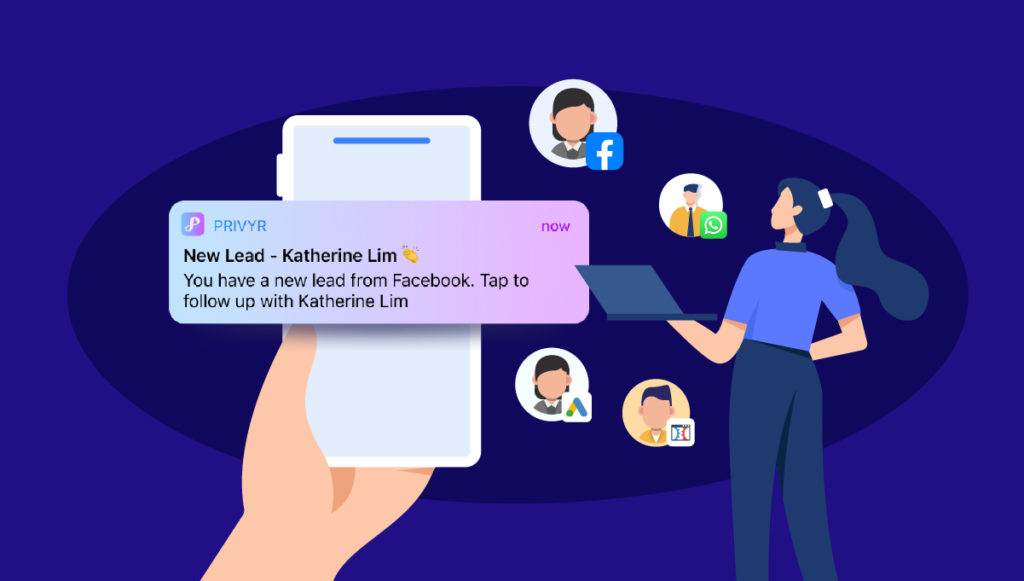 There are many tools and systems that allow you to automate lead generation in different ways. To know which is suitable for you, you must first know your process and identify what needs to be fixed. Based on how you operate your sales, you may need a single tool or a combination of different tools. Alternatively, you can also build your own system by understanding the areas that need to be automated. It may sound overwhelming to a beginner but it's all about using the available tools, such as CRMs, data transfer tools, spreadsheets, or even your phonebook or calendar to streamline your process. And luckily, you can use most of these tools for free.
Here are five tips to make lead generation automation more effective.
1. Use marketing automation tools
Marketing automation tools like Hubspot, Marketo, or Privyr help you contact more leads and close more sales in a significantly shorter period. You can use these tools to automatically import your leads from different sources to your system. From there, you can manage lead data and prepare effective follow-up schedules.
However, keep in mind that different tools are designed for different purposes, and not all tools may fulfil your unique requirements. For instance, if you're a large enterprise with many departments and processes around reporting and forecasting, you need an advanced tool that can handle a large amount of data. On the flip side, if you're a small business owner who prefers running the sales process through a smartphone, you need a light yet powerful tool that doesn't require enterprise-level training. Privyr can be your ideal tool in such a case.
2. Set up chatbots
If you have a business website, you can automate your lead generation in different ways. Setting up chatbots is one of them. Chatbots can answer basic questions and capture lead information in real-time. As a result, you can generate leads around the clock without putting any manual effort.
To improve the effectiveness of your chatbots, consider adding all the frequently asked questions you get from prospects to the chatbot sequence.
3. Implement lead magnets
Your potential customers are more likely to provide their contact information in exchange for free resources like e-books, webinars, or templates. These free resources are called lead magnets for a reason. However, the key is to automate the delivery of these resources so you don't have to do send them manually. You can set them up on your landing pages and automate the process through emails. Or you may also use them on the ads you run to collect leads.
4. Automate social media content distribution
Your social media activities also play a great role in generating more leads for your business. However, you need to reach a wider audience to generate more leads. To make this happen, you need to grow your page by being consistent with your social media activities. Growing your audience is a long-term game.
The good news is that you can automate the distribution of your content on social media platforms as most platforms allow you to schedule your posts ahead of time. It helps you eliminate content gaps and manage your social media calendar more effectively.
5. Implement lead generation ads
Running lead generation ads is one of the most effective methods to generate leads. And luckily, you can run lead generation ads on almost all platforms online, including social media, Google, and publishing websites. Lead generation ads appear in front of targeted audiences, collect their information, and store the data on respective platforms.
However, to ensure you've effectively allocated your ad budget, you should identify where you're most likely to find suitable leads. For instance, if your prospects are more likely to search for similar products and services on Google, you'll want to run Google Lead Form Extension on Google Ads. Conversely, if your audience has a strong presence in social media, you'll opt for social media lead ads, such as Facebook Lead Ads, TikTok Lead Generation Ads, or LinkedIn Lead Generation ads.
Final Words
Knowing how to automate lead generation correctly helps you save time and connect with more leads faster. However, getting it right depends on how much you understand the frictions in your process so that you can take proper steps to deal with them. You can benefit from lead generation automation when you build a system that suits you or incorporate correct tools according to your unique requirements.
Privyr is a light yet powerful tool that can help you automate your lead generation process through your preferred device, including your laptop and smartphone. It's a mobile-first sales productivity app you can learn to use in under a minute. If you're a small business generating leads online, use Privyr to connect with your leads within 10 seconds with personalised messages on their preferred messaging apps.
Don't miss out on a single lead. Try Privyr for free today. It's free forever!