Typeform is an incredibly powerful and versatile form builder that helps you easily create engaging forms. With its intuitive interface, you can build almost any type of form within minutes even without deep technical knowledge. 
That being said, a great form builder isn't the only thing you need to create inspiring and successful forms. You still need a perfect mix of creativity, messaging, and design – not only to engage your audience but also to guide them towards completing your forms successfully. If you're looking for some inspiration to build stunning and practical forms on Typeform, this article is for you. 
In this article, we'll discuss the best practices of building a great form. We also have some inspiring Typeform examples so you know what it takes to create a great form for your use case. 
Table of Contents
Important elements of a great form
6 inspirational Typeform examples
How to make the most out of Typeform
Conclusion
Important elements of a great form
The primary purpose of a form is to collect the right information from every user that comes across it. You may not realise it, but confusing questions and sloppy design are some of the biggest roadblocks to the success of a form. Not just that but there are many other elements that contribute to the creation of a successful form. The objective is to provide users with a smooth experience. Let's take a look at them.
Clear and concise questions
Whether you're running a survey or collecting personal details of people, questions are the most important parts of your forms. They should get straight to the point and without any confusing wording. Remember, your users are not obligated to complete your forms, and once they find them too long or hard to comprehend, they'll most likely abandon the process and leave.
Engaging design
An appealing design plays a key role in keeping respondents interested throughout the process. Designing your form appropriately is more important when your form is long and designed to collect a lot of information. Keep in mind that a form design is not limited to the combination of colours and the graphics you use, it's also how you present it to your users. For instance, if your form is long and needs to collect a lot of information, it's best to break it down and present one question at a time.
Conditional logic
Using logic jumps based on previous answers helps personalise the experience and makes the process smooth for your users. For instance, if you have a Yes/No question and a follow up question based on any of the responses, the user would resonate more if the next question is relevant to their last answer. Users do not need to see the follow-up question if it doesn't align with the answer they chose in the previous section.
Clear instructions
One of the most important purposes of your form is to collect correct information. And to do that, it should have clear instructions so the users know exactly what information they should enter. Confusing directions make the users lose interest and may also collect wrong answers. If your form includes complex questions or tasks, clear instructions are crucial.
Responsive
Most people access the internet and fill out forms from their mobile phones. Therefore, it's important to ensure that the form looks good and works well on mobile devices. But what if some users get hold of your forms from other devices like tablets? Well, responsive designs will adjust your forms to fit the dimensions of all devices. If your form is non-responsive, you'll more likely to lose more than half of your possible respondents.
Diverse questions
Mixing in different types of questions, such as multiple choice, open-ended, or rating scales, can make a form more interesting. Monotonous question format is not only boring for users but it's also useless if you're looking for both qualitative and quantitative data. Also, adding a space for respondents to offer open-ended feedback can be helpful.
Multimedia
Including images, videos, or GIFs can make a form more engaging and fun. However, including multimedia on your forms is not always necessary. You may include images and videos if you think forms are confusing and users need more information. You can also use multimedia if you're targeting specific users who will likely engage better when the form includes multimedia elements.
Progress indicators
Progress indicators can help keep respondents motivated to move forward by letting them know how much of the form is left, especially if your forms are long.
6 inspirational Typeform examples
Looking for a little inspiration? Here are some inspirational form examples created with Typeform templates for different use cases.
Lead generation forms
Typeform helps you create stunning lead generation forms. In fact, they have a template for lead generation forms that you can customise to fit your needs.
Lead generation forms are important for businesses that need to interact with their customers before selling their products or services. Industries such as real estate, wedding planning, insurance etc. could really benefit from an engaging lead generation form.
Real estate agents can develop a "Dream Home Finder" form for their clients on Typeform so leads will provide information about their ideal property including preferred locations, number of rooms, and price range in an engaging way. However, before creating a lead generation form, keep in mind that real estate leads are specific about what they want.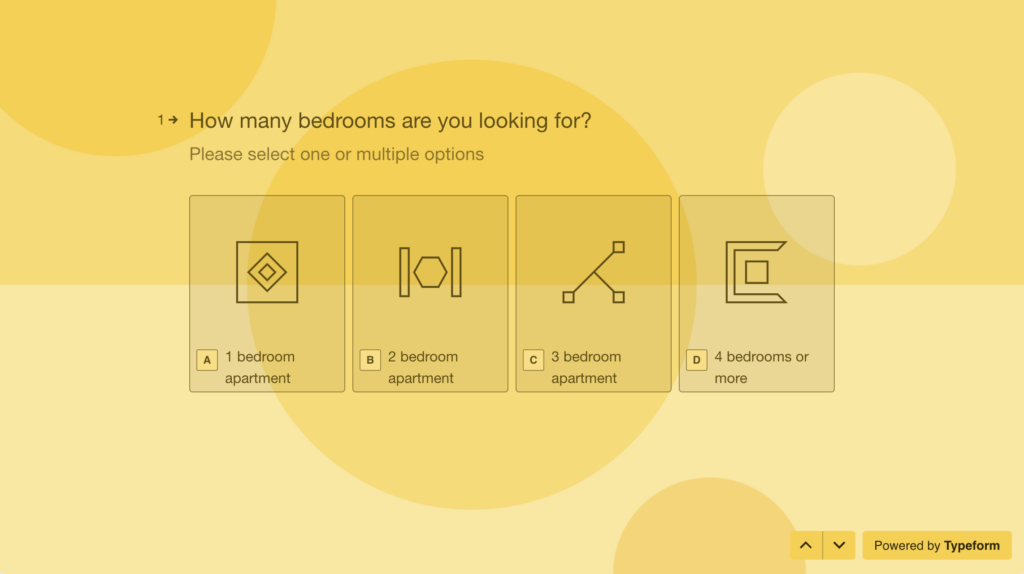 Do note that a form builder isn't the only element for practical forms. You'll also need to consider a lot of things that keep users engaged throughout the process. Here are some of the best practices for lead generation forms:
Keep the form short and simple.
Ask only for essential information such as name, email, and contact number.
Be transparent about what you will do with the information and how you will approach the respondents later. For example, you can add a short disclaimer in your form saying that you'll only use their details to contact them, not share it with a third party.
Use case examples:
Property dealers can use lead generation forms to find out what type of home a potential buyer is interested in. It can also be useful for them to find out what property a potential seller is trying to sell.
Lead generation forms can help wedding planners attract more customers and also get information on potential partner vendors such as wedding bands, emcees, venues, etc.
Insurance agents can target customers specifically according to the type of insurance (e.g. travel, life, investment-linked, etc).
Recruitment agents can attract fresh talent to join their team.
Booking forms
Looking to create booking or reservation forms on Typeform? Use Typeform's calendar and time selection tools to streamline bookings. Travel agents can create stunning booking forms for their customers within minutes using Typeform templates. You can make the form interactive and visually appealing with images of stunning travel destinations and also use conditional logic to customise the form based on the traveller's activities. For instance, if they choose "Adventure," you can follow up with a question about their adventure preferences.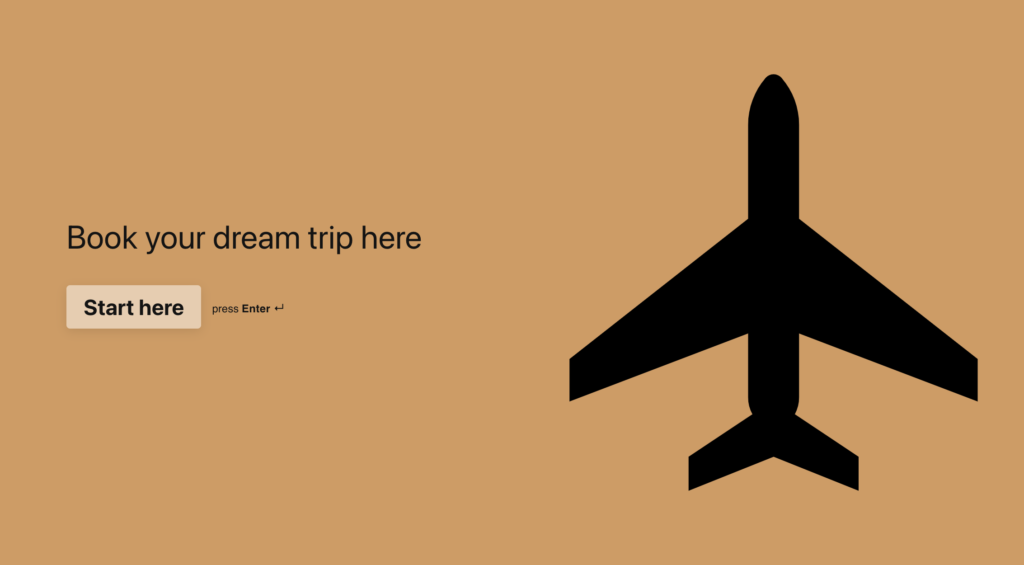 Before creating another booking form, you may want to consider:
Putting clear, concise information about availability and booking conditions.
Ensuring the form is mobile-friendly, as most bookings come from mobile devices.
Use case examples:
Booking forms can help event venues to allow customers to make reservations for a specific time and date.
Doctors, lawyers, and consultants can use booking forms for online appointments.
Plumbing services can use a booking form to schedule appointments and also allow customers to specify the type of issue they're experiencing.
Feedback forms
Feedback forms help you understand your customers' experience with your products and services. Your forms should ensure it guides your customers properly to provide honest ratings and suggestions for improvement. You can turn your feedback form into an "Experience Enhancer" with Typeform forms. Just choose one of their templates and build it in no time.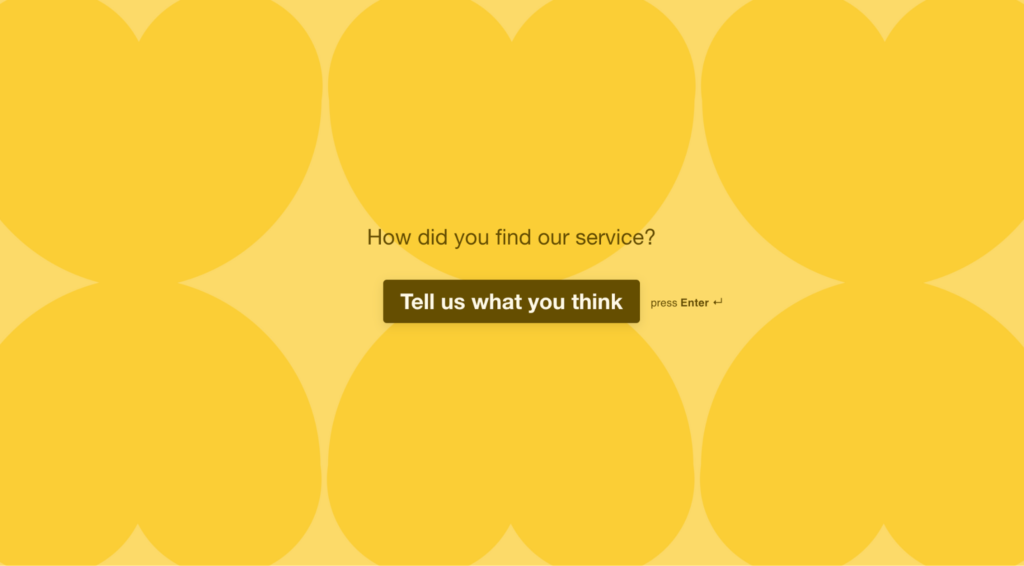 Here are a few things you may want to add on your feedback forms:
Acknowledgement of the customer's time.
A thank-you message at the end of the form.
An incentive, such as a discount or free gift, to increase response rates.
Use case examples:
Feedback forms help businesses receive quick feedback from customers after a service has been completed.
Event organisers can gather feedback to improve future events.
Small service businesses like plumbing can send a feedback form to the customer after completing a job and ask for their opinion on the service received. The feedback can help improve future services.
Course application forms
Course application forms are a great tool for academic institutions to gather the information of potential students online. Typeform can help you develop an engaging application form for potential students. The idea is to not just receive the student's personal details and educational history but also understand their academic and career goals.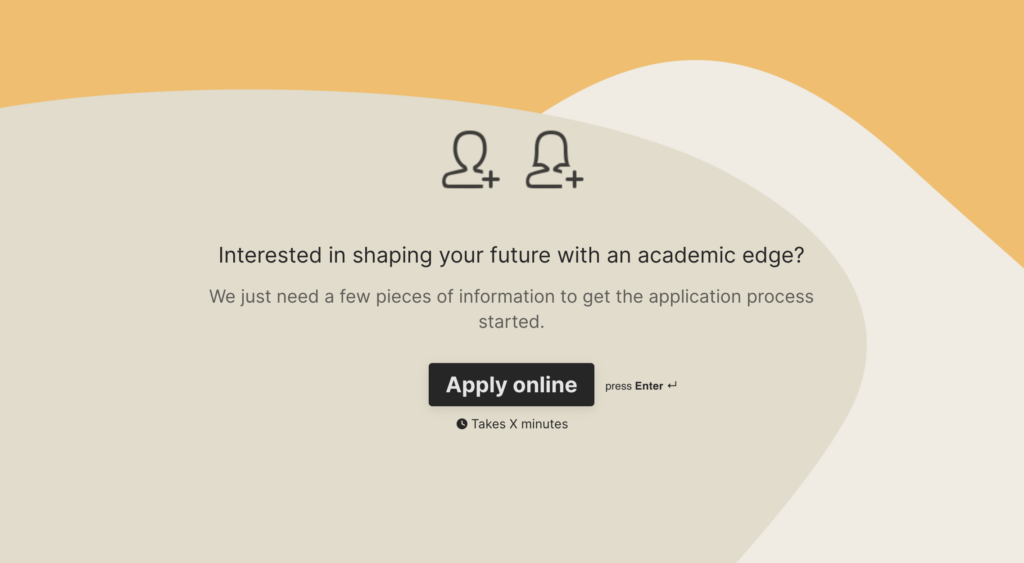 To make course application forms more effective, don't forget to include:
A section where students can choose their preferred learning style to help you customise the course content or suggest the best course according to their needs.
A specific skills section where they can outline what they hope to gain from the course and how they plan to apply the skills in their career.
Here are some best practices you may want to consider:
Putting essential information first to gather the most relevant information correctly.
Showing progress indicator to ensure potential students are engaged since application forms tend to be longer.
Using conditional logic to create a personalised experience for the respondents.
Providing clear instructions for each section of the form, especially for sections that require file uploads such as transcripts and other academic certificates.
Clearly communicating any deadlines for submission at the start of the application.
Use case examples:
Online learning platforms can receive the details of potential students and the course they're interested in.
Universities or colleges can collect necessary details from prospective students during admission season.
Trade Schools can use application forms to receive interest from potential students including their details.
Job application forms
Well-built job application forms can help companies collect all the necessary information of interested candidates. It also helps them find the most competitive candidates out of the entire pool during the recruitment process. However, questions aren't the only things that make a job application form great. The form needs to be user-friendly and well designed with clearly-defined instructions.
With Typeform, you can transform a traditional job application form into an interactive experience. While capturing the usual information and employment history, you can also easily add sections for applicants to share their career aspirations, their ideal working environment, and skills they wish to develop in an engaging way. The best thing is that you do not need to start from scratch because you have ready-made Typeform templates for this.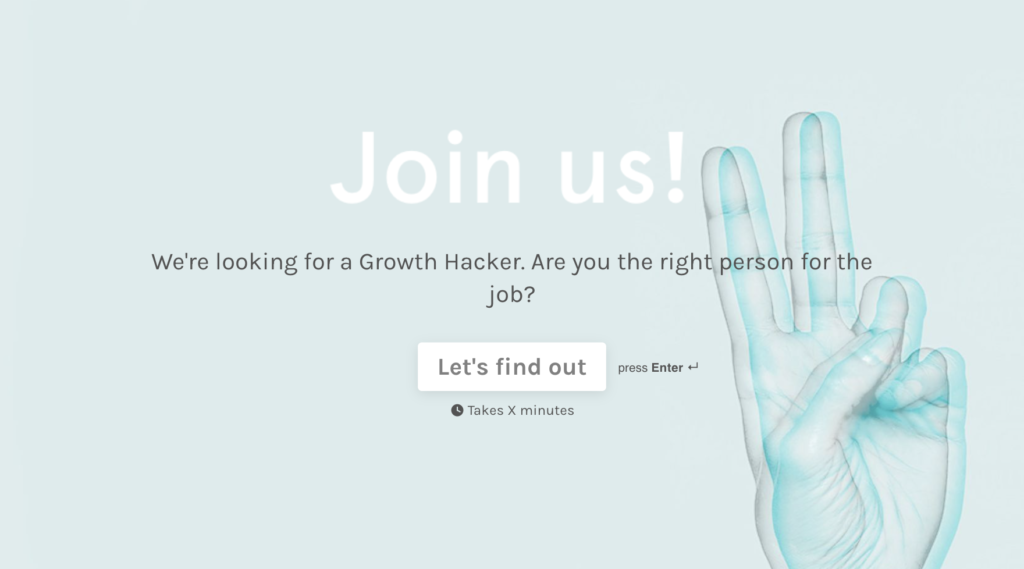 To make a job application form more effective, you may also want to include:
A section where applicants can upload a short video or presentation.
A message that assures applicants that their personal information will remain confidential.
A confirmation message or email after submission.
Conditional logic.
Clear instructions, especially where and how to upload documents.
Use case example:
Companies can use job application forms to streamline the application process by gathering necessary information from potential employees.
Contact forms
If you're interested in creating a "Let's Start a Conversation" form instead of a regular "Contact Us" form, Typeform can help you do it easily. The wide range of templates, especially for contact forms available on Typeform help you create forms that encourage users to share more than just their query, such as their interests and preferences, in an engaging manner.

Contact forms are especially important for businesses like plumbing. People mostly look for plumbing services during an emergency, and they won't be filling forms up on the internet at that time. Therefore, it's best if they already have your contact ready at any time.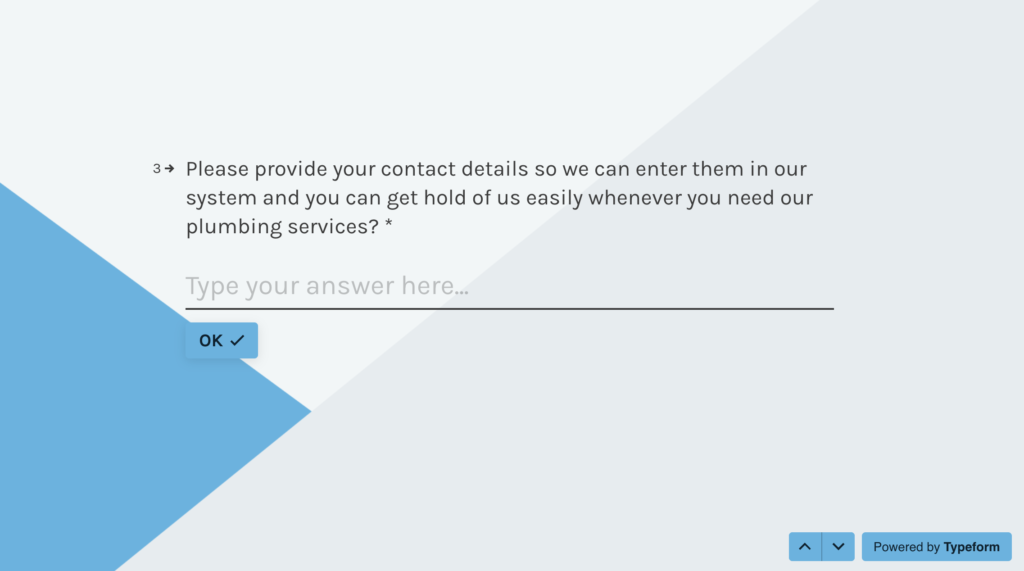 Best practices for great contact forms:
Keep the form simple with clear instructions.
Only ask for the essential information, such as name, email, and their message.
Make sure to specify when and how you'll respond to their query.
Keep the form short.
Use case examples:
Any business with a website can use a contact form to make it easy for its visitors to ask questions or request more information.
Retail businesses or online e-commerce stores can use contact forms to handle questions or issues from customers.
Small service businesses can use a contact form on their website for potential customers to inquire about their services, request quotes, or ask any other question.
How to make the most out of Typeform
Typeform comes with an intuitive and user-friendly interface, and anyone can create stunning forms with Typeform in minutes. However, if you're looking to create the best forms out there, you may want to know about a few secrets. Here are a few tips to make the most out of Typeform:
Make the best use of conversational interface
Typeform offers conversational interface that can be highly effective in creating engaging forms. Conversational interface can make a form experience feel more like a conversation, and thus more difficult to "abandon". Make the most of this feature by using friendly, approachable language.
Apply conditional logic
Conditional logic allows you to customise questions based on previous responses. It can make your form more relevant and engaging for users. To use this feature, go to the settings of each question that needs a follow-up question for more specific answers.
Use templates
While Typeform allows you to create any form from scratch, using ready-made templates can help you create stunning forms in minutes. Typeform offers hundreds of incredible customisable templates you can choose from. Make sure to browse through the template options before creating your forms.
Embed forms in your platforms
Typeform allows you to create embeddable forms, meaning you can include your Typeform forms on your websites and other platforms to let users fill them out without having to navigate to a separate page. This can improve user experience by miles.
Test Your Form
Before publishing your form, test it to make sure it works perfectly. Check whether conditional logic works smoothly and the form is user-friendly.
Take advantage of the analytics
Typeform provides great insights into the responses you collect, allowing you an in-depth analysis of your data on the platform. By tracking the data correctly, you can make a perfect sense of what's working and what's not. It helps you perfect your forms over time.
Follow-Up
After a user has completed a form, ensure you have a follow up process in place. This could be a simple thank you message or an email confirmation.
Conclusion
Typeform offers a powerful form building platform far beyond a traditional form builder. What sets it apart is its engagement, interactivity, and customisation features that transform regular forms into dynamic, conversational experiences. However, an excellent form is not just about the tool but also about how it's used. Thoughtful design, relevant questions, clear communication, and careful analysis of responses are all crucial components of successful data collection. Though Typeform provides a solid foundation for all these, it's up to you how you leverage the features effectively to create outstanding forms.