Elementor is a popular WordPress page builder that doesn't just provide an excellent way to build your webpages but also supports various useful features of WordPress. More interestingly, it has its own mini ecosystem within WordPress that include various contact forms, widgets and integrations. Also, if you're looking to add contact forms on your website and connect with more customers, Elementor supports some of the best contact forms and WordPress plugins out there. However, an ideal Elementor Contact Form can vary based on your specific use case. Therefore, you may want to explore a few forms before choosing the right one.
We're here to help find you your ideal Elementor Contact Form if you're looking for one that suits your use case. In this article, we'll guide you through the best forms that are compatible with Elementor. Here are some top options for different scenarios:
Table of Contents
1. Best easy-to-use Elementor contact forms
2. Best advanced form with conditional logic
3. Best form for surveys and quizzes
4. Best form for eCommerce and payment collection
5. Best multilingual form
Conclusion
1. Best easy-to-use Elementor contact form: Elementor Forms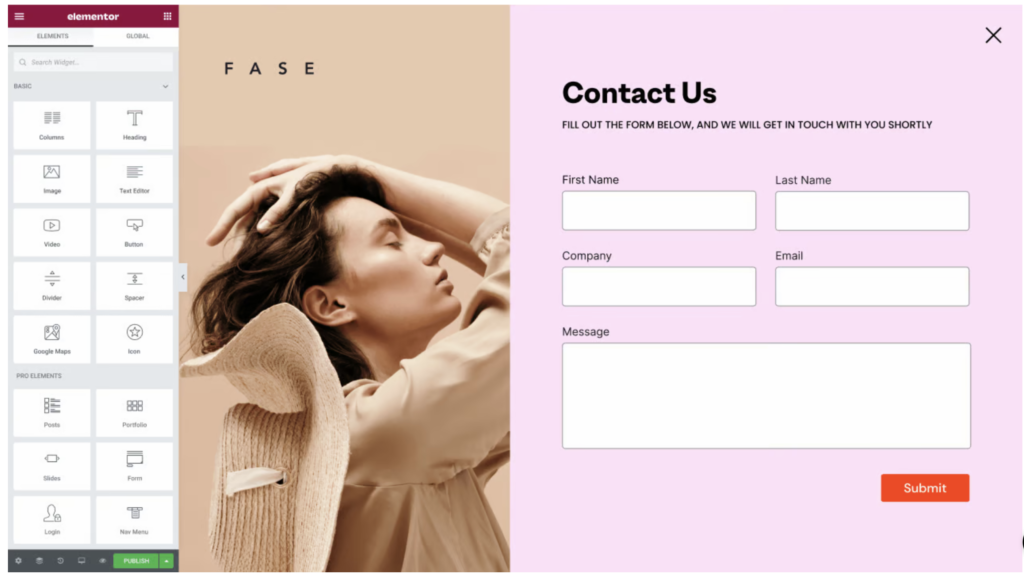 Elementor Forms is Elementor's native form widget. Since it's designed for Elementor, this WordPress plugin is really easy to use on the platform. It also offers a fully customisable contact form solution. If you need simple contact forms with minimal fields, it's a great form to start with as you have a greater degree of flexibility in designing Elementor forms within the Elementor platform. Furthermore, Elementor Forms comes with a broad range of native styling options.
However, Elementor Forms is not a perfect form builder and you should know about its cons. The form doesn't include features like conversational fields, conditional logic, and integrated payment fields. Plus, it doesn't offer built-in form templates either. If you're looking to create more advanced forms that integrate with external tools, Elementor Forms can be a little limited. And lastly, Elementor Forms are only available with the Elementor Pro subscription.
2. Best advanced form with conditional logic: WPForms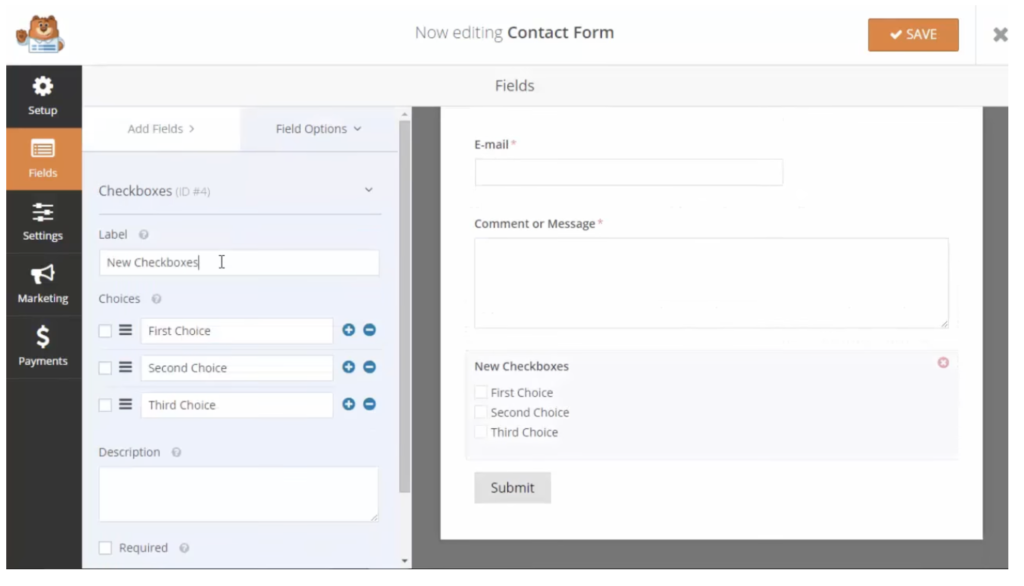 WPForms is a popular feature-rich WordPress plugin compatible with Elementor. It could be a great WordPress plugin choice if you're looking for more advanced features like conditional logic, multi-page forms, and payment integrations on your forms. More interestingly, it's user friendly at the same time. WPForms offers different subscription options for different requirements, including free and paid versions.
However, keep in mind that the free version of WPFomrs is extremely lite, meaning you can only create basic forms with it. On the other hand, pro-versions can be a bit expensive for small businesses. Also, WPForms lacks built-in instructions, and users can't upload multiple files in their forms at once.
3. Best form for surveys and quizzes: Formidable Forms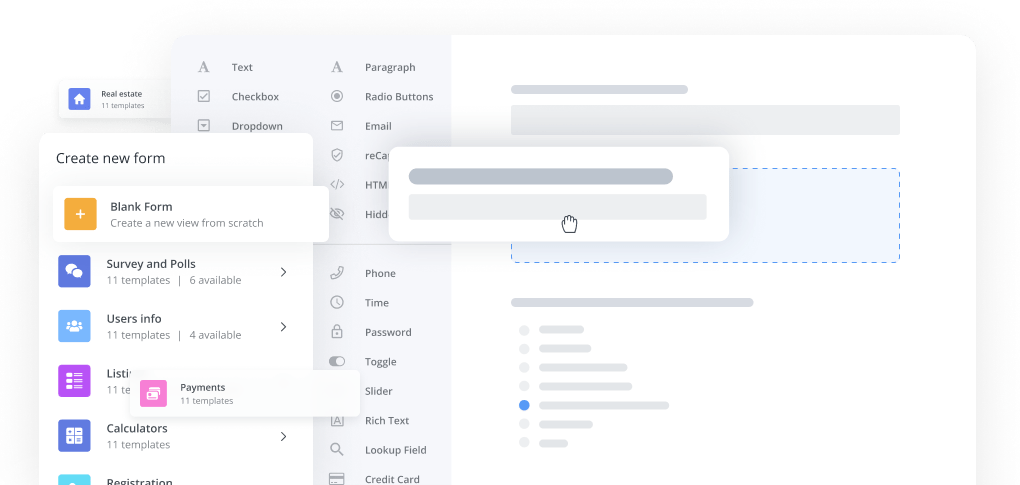 If you're looking to build forms for surveys, you may want to try Formidable Forms. It's an Elementor-compatible WordPress plugin that provides powerful features to create advanced forms, especially for surveys and quizzes. The form comes with conditional logic, calculations, and a variety of field types to collect detailed user feedback. Formidable Forms allow you to create advanced survey forms with Elementor.
However, if you're a beginner, keep in mind that Formidable Forms comes with advanced features, which can make it challenging for beginners to quickly learn, navigate, and create forms. Also, some advanced features, such as integration with email marketing services require separate add-ons. Another disadvantage of Formidable Forms is that its feature-rich plugin may sometimes impact on your website's performance, especially if you're using many complex forms and add-ons.
Formidable Forms does have a free subscription plan but it may come with limited functionality if you're looking to create unique survey forms. Check the price for paid plans as they can be a bit costly if you're not using its full features.
4. Best form for eCommerce and payment collection: Gravity Forms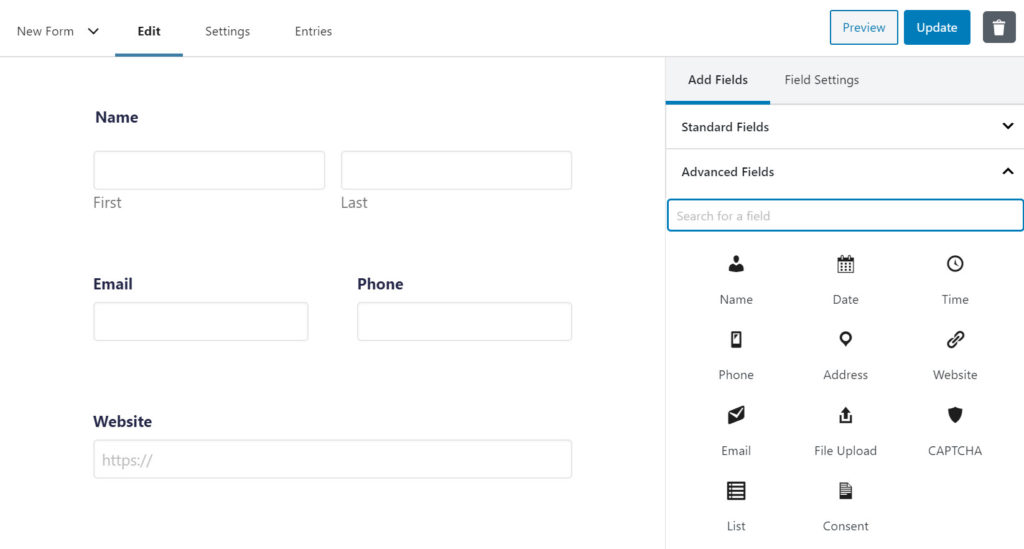 If you're looking to receive payments safely on your Elementor website through forms, keep in mind that simple WordPress plugin form builders may not have that capacity. Introducing Gravity Forms! Gravity Forms is an excellent elementor Form for collecting payments or donations. It seamlessly integrates with popular payment gateways like PayPal and Stripe, and offers a range of add-ons for additional functionality. Furthermore, Gravity Forms doesn't just support payments but also helps you create stunning and advanced forms that are user-friendly.
Gravity Forms is a great form builder for eCommerce, advanced forms, and payment collections. However, it doesn't integrate automatically with Elementor. You'll need an external plugin to integrate Gravity Forms with Elementor. Other cons of Gravity Forms include no free version for users and a steep learning curve. Also, it might not be the best choice for beginners or users with little tech expertise.
5. Best multilingual forms: Contact Form 7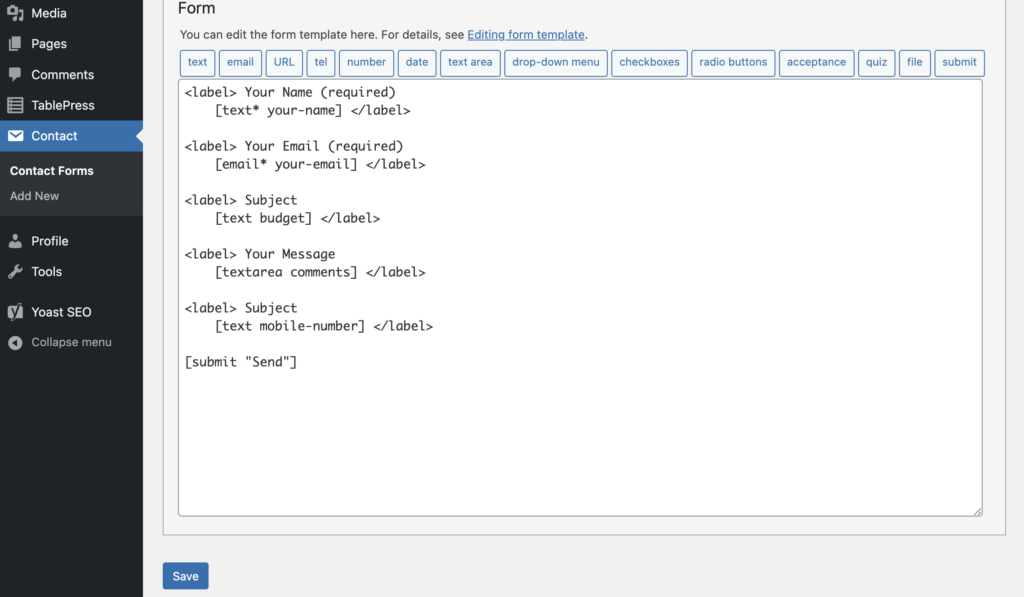 Contact Form 7 is a popular contact WordPress plugin for forms that you can use for free. Yes, free! And more importantly, it is compatible with Elementor. It allows you to create simple forms easily and works perfectly with the WPML plugin to create multilingual forms. If you're looking for a simple and lightweight contact form solution for Elementor with basic functionalities in multiple languages, Contact Form 7 is probably your best option.
However, there are some cons of Contact Form 7 you may want to consider before using it. The form plugin comes with limited features, meaning it's not easy to create advanced forms with the plugin unless you have a sound technical knowledge. Plus, its interface is not very user-friendly and doesn't offer built-in form templates. Also, it comes with limited styling options. But at the end of the day, it won't cost you anything.
Conclusion
Choosing the right form definitely helps you connect with your customers better. Therefore, before choosing an ideal form for your Elementor website, spend a little more time on customer research. It will help you understand what your target audience prefers, be it well designed forms or user friendly fields that are easy to complete. Also, consider your specific use case and requirements. There are many options available, and each has its own unique features and benefits.
If you're using forms to gather interests of your audience, you probably know that the next important step is to contact them fast. Unfortunately, your WordPress forms don't come with features to contact leads. You'll first need to access the data and manage it manually before approaching your leads. Why not try Privyr to handle your sales process more effectively? Privyr seamlessly integrates with Elementor forms and instantly downloads the leads to your smartphone where you can contact them within seconds through messaging apps like WhatsApp, iMessage, or SMS. Privyr is a mobile-first CRM that helps you effortlessly take care of your sales process without any additional tools.
Try Privyr for free today!