You've got leads — congratulations! 🙌 But don't take too much time to celebrate. You're working with a small window of opportunity. Either you reach out immediately and connect with your lead, or you risk losing their interest to someone faster.
After all, how many times have you lost a lead because you were too late or forgot to send that first WhatsApp message? Timing is everything when you want to make the most out of your marketing budget and land a sale. So how do you send the perfect first message?
Sending a good introduction message quickly is difficult. You may not always have time to add the person to your phonebook, open up WhatsApp, search for the contact, and copy and paste the message, especially when you're busy or dealing with many leads.
You may have seen automated replies on WhatsApp, that you receive even if the sender is not available. That might leave you wondering if you can save time by automating that first message in all of your WhatsApp conversations with your leads.
It would definitely save you time and effort spent responding and checking your phone. But how does it work? Are there risks to doing this?
And is it even the right choice for your business?
🤔 How do autoresponders work on WhatsApp, anyway?
An autoresponder is a pre-written message that is automatically sent to someone that messages you. A very basic autoresponder is built into the WhatsApp Business app, but it isn't available on regular WhatsApp.

If you're working with the WhatsApp Business application, you'll be able to use the Greeting Message and/or the Away Message features.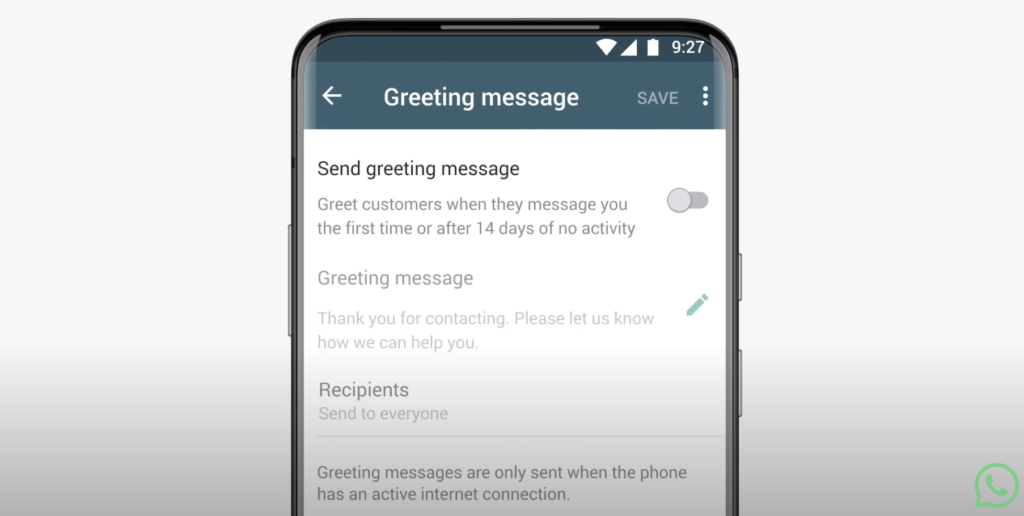 👋 Greeting Message: A single template message automatically sent when someone messages you for the first time, or after 14 days of no activity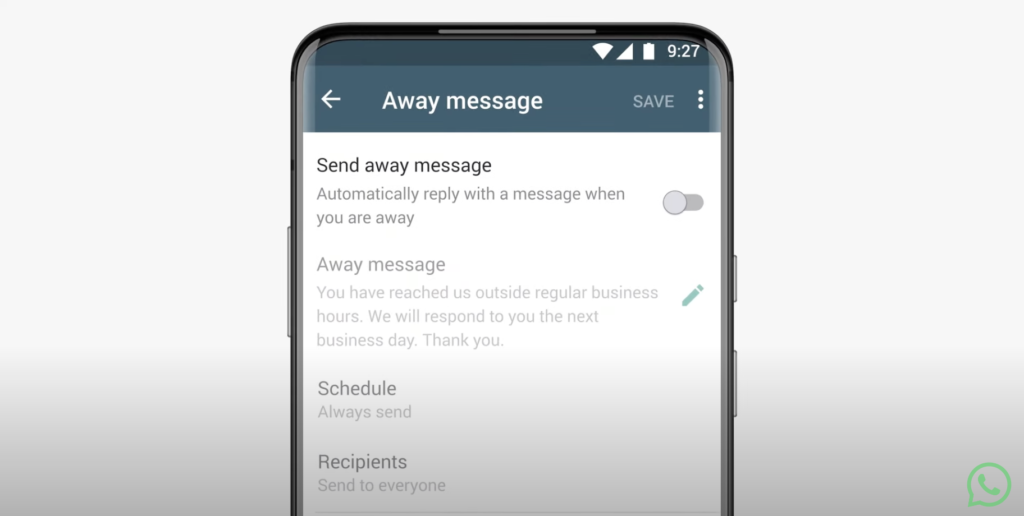 🏃 Away Message: A single template message that is automatically sent when someone messages you during your scheduled away time
These features can be helpful for responding on your behalf if you're busy with other leads, on-the-go between appointments, or unavailable for other reasons.
Unfortunately, auto reply is only available on the WhatsApp Business app. The regular WhatsApp application doesn't support it, so if you want to use it there, you're out of luck.
Can you use autoresponders on WhatsApp to message new leads?
In short, the answer is sometimes.
Using autoresponders to message new leads on WhatsApp is possible in specific scenarios:
If you're using the WhatsApp Business application, AND
New leads are messaging you directly on WhatsApp (e.g. through a website or ads that Click-to-WhatsApp)
These scenarios come with limitations. The response your leads will get from you will always be the same generic message. You will not be able to automatically send replies after the first response. And if you're using regular WhatsApp, or want to message leads captured on other platforms like Facebook Lead Ads or your website's contact form, you won't be able to use WhatsApp's built-in autoresponder.
WhatsApp also disallows using any kind of third-party autoresponder. The official Terms and Conditions for WhatsApp accounts actually prohibit the use of third party tools to fully automate messages. Breaking WhatsApp's official Terms of Service can result in an account ban or legal action from WhatsApp. This can devastate your business, especially if your customer interactions rely on WhatsApp.
If you decide to use a third party WhatsApp autoresponder anyway, make sure you're willing to take on the risks.
How else can you quickly respond to new leads on WhatsApp?
If you are generating leads on platforms like Facebook, Google, or your website – and they aren't messaging you directly on WhatsApp – there are still ways to WhatsApp them quickly, without breaking the rules.
For example, through an app like Privyr, you can easily send a more personalised and relevant message that works on both WhatsApp and WhatsApp Business, and doesn't require you to take extra steps like saving contact details to your phonebook, searching for the lead, copying and pasting, typing, and more.
Here's how it works:
Get instant lead alerts when a lead submits interest via lead sources like Facebook Lead Ads, Google ads, or your website
Send auto-personalised responses and content about products and services, in one tap
Using this method, you can send a personalised, contextual message to any new lead within seconds, and with minimal effort.
Best of all, it works with WhatsApp, WhatsApp Business, SMS, iMessage, emails, and even phone calls – all from a single app on your phone.
While we have you here… 👀
Having a good system in place is key to making sure you keep your leads warm and engaged – without anyone falling through the cracks. Read our article about how to use automated lead nurturing to accomplish just that, and make sure you're doing all you can to position yourself for success. We're rooting for you. 🎉