Are you already generating leads on Facebook and Google, and looking for ways to get even more leads? While you may think increasing your ad budget will help you reach more people in your target audience, it might not be a great long-term solution.
You can only increase your ad budget to a certain point on each platform before your results start to suffer and get much more expensive. At some stage, you'll want to try new platforms to find leads that aren't where you've been running ads previously.
So why not explore TikTok for lead generation, if you haven't already?
TikTok is one of the most popular and rapidly growing social media platforms with almost a billion daily active users. Plus, since it's a new platform with a totally different algorithm, you can easily grow your brand without putting in as much effort.
If you're looking to generate more leads through TikTok, we're here to guide you. This article highlights different lead generation methods on TikTok and how to get the best out of each one.
Table of Contents:
Generating leads on TikTok (vs. Facebook and Google)
How to generate organic leads on TikTok
How to generate paid leads on TikTok
1. Generating paid leads through TikTok Ads Manager
2. Boosting your existing content with TikTok Promote
Conclusion
Generating leads on TikTok (vs. Facebook and Google)
Like Google and Facebook, lead generation on TikTok can be achieved both organically and through paid promotions. Organic TikTok lead generation takes more time and effort but is cheaper and more sustainable in the long run. On the other hand, paid marketing such as TikTok Lead Generation ads cost money but get you more immediate results.
Compared to Facebook and Google, TikTok content is much more video and mobile-centric. It also has small nuances like audio being on by default, vs. audio off by default on Facebook and no video or audio on Google. Thankfully, producing content for TikTok doesn't need to be as professional or costly as Facebook and Google. Oftentimes, just a simple video from your phone will do the trick. You just need to be creative with your approach.
How to generate organic leads on TikTok
Generating organic leads on TikTok is similar to generating leads on any other social platform. You simply create an account and post engaging content regularly. In a matter of weeks or months, depending on the quality of your content, your posts will begin to appear in the feed of your target audience and you'll start gaining followers. You can create an ordinary TikTok account for free.
Since TikTok is relatively a new social platform and it primarily targets younger audiences, proper planning can help you gain followers faster. Here are the steps to generate organic leads on TikTok:
Step 1. Research
Researching your target audience, industry, and trends can help you shape a long-term TikTok content roadmap for your brand. Creating more accurate audience personas is crucial for quality TikTok lead generation. You can start by looking into your industry influencers that are creating popular content. It will help you understand what type of content is trending so you can plan to create similar content, but with your own personal twist. Not to forget, there are other important research areas that you should also look into, such as how algorithms work and how you can grow followers.
Step 2. Create engaging content
Creating content on TikTok isn't hard at all. You just need an idea and a smartphone to create impactful content. That being said, you may not want to create nonstop content that promotes your goods and services – this rarely attracts long-term followers.
Videos that are informative, creative, and solve people's problems gain more attention on TikTok. For instance, if you run a fashion store, your videos that focus on genuine fashion advice will likely attract more viewers than the ones that only tout how good your products are.
Step 3. Post regularly
One of the best things about TikTok content is that it doesn't need to be perfect – you can create and post a video from your phone, without any other fancy equipment or software. However, in order to be noticed, you need to post regularly. And more importantly, targeting a specific set of audiences is crucial for organic TikTok lead generation. Hashtags and your engagement with the audience also help boost it further.
And there you are — you've just built your brand on TikTok. Now that your content is popular, don't forget to link your bio and CTA in some of your videos to ensure you provide a way for your audience to express interest or get in touch with you. This way, you'll generate more high-quality leads organically.
How to generate paid leads on TikTok
You can generate paid leads with TikTok Lead Generation ads through both business and regular accounts. If you're specifically looking to create a TikTok ad campaign, you'll need to access TikTok Ads manager where you can choose various types of ads that you can run on the platform. However, if you want to promote your existing content, you can do it with TikTok Promote without creating a business account.
Generating paid leads through TikTok Ads Manager
Here's a step-by-step guide to generating paid leads through TikTok Ads Manager with TikTok Lead Generation ads:
Step 1. Create a new campaign
Once you log into TikTok Ads Manager, click the Campaign button and select create. It will redirect you to a new window that has two options: Simplified Mode and Custom Mode. Select Custom Mode.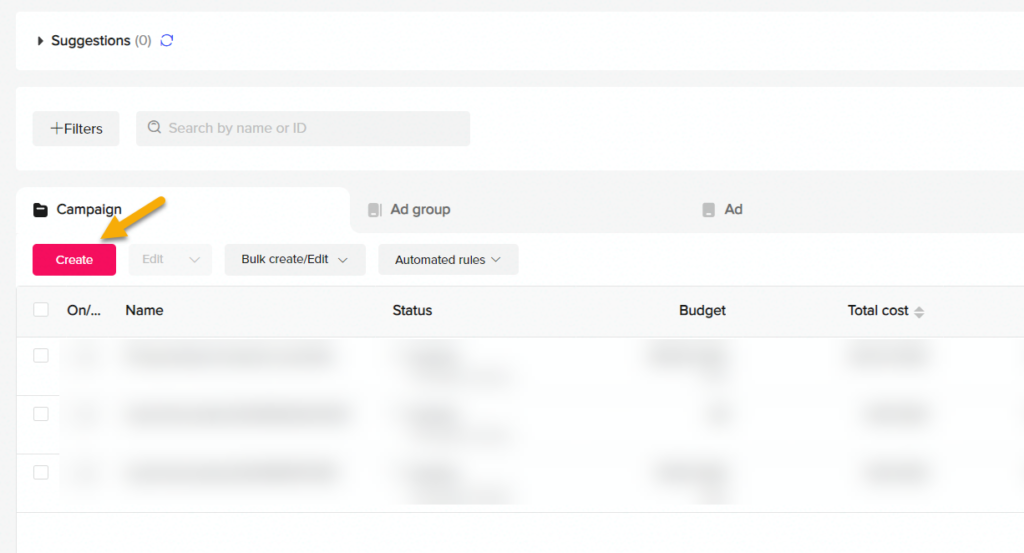 Step 2. Choose your advertising objective
TikTok ad objectives are broken down into three categories: Awareness, Traffic and Conversions. Under traffic, there's Lead Generation category, which allows you to add an instant form to your ad. Select Lead Generation.
Step 3. Name your campaign and set a budget
The next step is to give your campaign a name. The name can be up to 512 characters. You can then set up the TikTok ad budget for your lead generation ad. Choose whether you want to set a Daily or Lifetime budget for your campaign. Alternatively, you can choose No Limit on your campaign if budget isn't a concern.
Step 4. Choose your ad group and ad placement
Each TikTok Lead Generation campaign can have up to 999 ad groups, each with its own name. After selecting your ad group, you can choose different placements for each ad.
You have the option to either choose TikTok or select the options of available placements in the advanced settings. Choose TikTok. This will ensure your ad will be played in-feed on the 'For You' page. Then turn on Automated creative optimization.
Step 5. Target your audience
The next step is to select Custom targetng so you can reach your potential customers based on your knowledge. You can target TikTok users based on gender, age, location, language, interests, device details, and behaviours. Select your audience based on your best understanding of your target market.
Step 6. Set your ad group budget and schedule
You've already set a budget for your campaign in the initial stage. In this step, you set the budget and the schedule for the ad group. Here, you can choose a Daily or Lifetime Budget and the 'start' and 'end' dates.
Step 7. Select your bidding strategy
TikTok Ads provides two options under the bidding strategy: Cost cap and lowest cost. Select an appropriate option as per the budget and preferences of your TikTok Lead Generation campaign.
Step 8. Create your lead ad and instant form and publish
Your ad group can have up to 20 ads.
This is the final step where you:
Choose your ad format.
Add photos or video, or create a video within Ads Manager using the video template.
Choose a default thumbnail or upload your own.
Create an instant lead generation form.
Inspect your ad preview.
Click Submit.
Your TikTok Lead Generation Ad will be published after going through a review process.
Boosting your existing content with TikTok Promote
If you're looking to promote your existing content for wider reach, 'TikTok Promote' allows you to do so. It's the TikTok equivalent of Facebook Boost. You won't need a TikTok business account or a TikTok Lead Generation ad for it.
Here's a step-by-step guide to do it:
Step 1.
In the regular TikTok app, go to your Profile tab, tap the 'hamburger menu' (3 horizontal lines icon) on the top-right of the screen and then select Creator tools.
Step 2.
Tap Promote and you'll see the list of your videos. Select the video you want to promote.
Step 3.
Select your advertising goal. The options include more video views, more website visits, and more followers. If you're looking to generate leads via your website, select more website visits.
Step 4.
Choose your audience and confirm your budget and ad duration. Then tap Next.
Step 5.
Enter your payment information and tap Start Promotion.
Conclusion
With so many different options, promoting your content and generating leads on TikTok may sound overwhelming – especially if you're new to the platform. However, once you're familiar with it, you can identify a suitable strategy for your potential customers and generate TikTok leads easily. Nevertheless, keep in mind that simply generating leads is not the end game. Your primary objective is to convert as many of those leads into paying customers as you can.
If you only have a few leads each month, you can keep track of each of them by yourself without needing any additional tools. However, communicating with the leads while importing and managing their data, follow-up schedule, and personal preferences manually can be tedious and time-consuming if you collect a good number of leads every week or month. You may even unknowingly end up skipping many leads. This is where sales productivity apps like Privyr CRM are important.
Privyr helps you save an incredible amount of time on your sales process by simplifying every step from receiving and contacting to converting your leads. It lets you instantly connect with your TikTok leads from your smartphone or laptop on your preferred messaging app like WhatsApp, iMessage, SMS, or phone call. With Privyr, you can connect with your leads from wherever you are and convert more of them into customers than ever before. Try Privyr for free today.