ClickFunnels helps you market and sell products or services from your website through a simple, straightforward process. It's a great marketing tool, especially for small business owners or solopreneurs who do not have the high-level technical knowledge or a savvy tech team to run their sales processes. If you're in eCommerce, dropshipping, or selling goods online, ClickFunnels offers many built-in tools that make direct sales from your website quite straightforward.
However, if your business involves interacting with customers – especially via phone calls or messaging apps like iMessage and WhatsApp – then you'll need a lead engagement system to complement ClickFunnels. This is where a Client Relationship Management platform (CRM) comes in. A CRM will cover the extra steps that ClickFunnels usually doesn't, helping you benefit from this amazing tool equally even though your sales process is a bit different.
In this article, we discuss the best CRMs for ClickFunnels. But first, let's understand what ClickFunnels is and isn't.
Table of Contents:
ClickFunnels is great for Self-Serve Businesses
How to use ClickFunnels to manage leads and customers
Is ClickFunnels a CRM?
What CRM should I use for ClickFunnels?
Best Enterprise CRM for ClickFunnels
Best ClickFunnels CRM for Desktop and Email-Based small businesses
Best ClickFunnels CRM for Mobile & Messaging-Based small businesses
Conclusion
ClickFunnels is great for Self-Serve Businesses
ClickFunnels helps you create an automated system to guide your potential customers through Sales Funnels and their buying process smoothly. It's an excellent tool for self-serve businesses that don't require personalised customer interactions.
Let's suppose you're a solopreneur looking to sell your product or service online. In order to sell your product, you'll have to guide your customers through a process called a sales funnel. You first make your potential customers aware of your product. Once they are aware, you'll then approach them with an offer. When they like your offer and express interest, they enter the final stage where they make a purchase. ClickFunnels provides you with tools that remove friction and help you make each part of the buying process more understandable and easy for your customers, helping to increase your sales.
You don't need a dedicated technical team to create your funnels on ClickFunnels, but you'll still need to learn how to use the tool. Luckily, that won't be an issue since ClickFunnels provides you with excellent training so you can quickly get started with generating leads online.
How to use ClickFunnels to manage leads and customers
ClickFunnels has a lot of tools and features around automation to help make a self-serve sale. However, not all businesses are self-serve. There are many businesses that need human interaction, conversations, and negotiations to move the sales process ahead. If you interact with customers directly via phone calls, WhatsApp, SMS, etc., then you'll probably need another system to complement ClickFunnels.
To efficiently manage ClickFunnels leads and customers across channels like phone calls, iMessage, and WhatsApp, you need a dedicated application that takes care of the activities beyond ClickFunnels. The system automatically exports your leads out of ClickFunnels into its platform where you can easily access, contact, and follow them up through your preferred device. Oftentimes, this application is a CRM.
Is ClickFunnels a CRM?
A CRM is any system that holds client information. Therefore, you can technically regard ClickFunnels as a CRM, though the same could be said about a spreadsheet or even your phonebook. That said, ClickFunnels may or may not be the right CRM for your business.
If your business is designed to run on an automated sales process that doesn't require human interaction with your leads, ClickFunnels can be a great CRM.
However, for businesses that require personally interacting with clients and leads, ClickFunnels might not be a perfect solution. In that case, you'll want to use a dedicated CRM built for your specific needs.
What CRM should I use for ClickFunnels?
A CRM can help you manage ClickFunnel leads, saving a substantial amount of your time and effort, especially if the scope of your business goes beyond ClickFunnels' services. There are tons of CRMs for different use cases and businesses.
You can easily integrate external CRMs in your ClickFunnels account by navigating to integrations in your account settings and adding the CRM appropriate to your business. Integrating an external CRM allows ClickFunnels to export the details of the leads over to the platform where the processes beyond ClickFunnels are managed.
However, there is no one-size-fits-all solution when it comes to choosing the right CRM for ClickFunnels. You'll want to choose one according to your business requirements. Here's a list of the best CRMs for ClickFunnels.
Best Enterprise CRM for ClickFunnels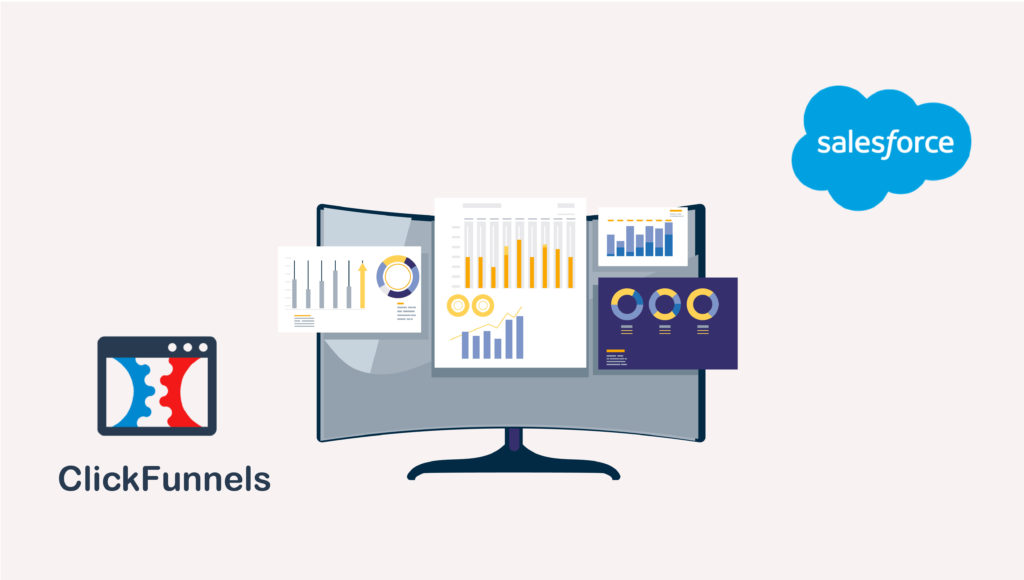 If you're part of a large sales team doing B2B sales with multiple account managers and stakeholders per client, you probably already have an enterprise CRM like Salesforce or Microsoft Dynamics. You can directly integrate SalesForce with ClickFunnels, but you need Zapier as a connector tool to integrate other CRMs that ClickFunnels doesn't support.
Salesforce is the first choice for many big businesses because it is one of the most established and well-known products in the market. The CRM offers great client engagement features and visible workflows. That being said, SalesForce is not a go-to tool for businesses without complex requirements. It also doesn't fit people with limited technical knowledge. Your sales team needs to go through several rounds of training before they're able to use it properly. Your team may take months to learn and incorporate SalesForce into their processes.
Best ClickFunnels CRM for Desktop and Email-Based small businesses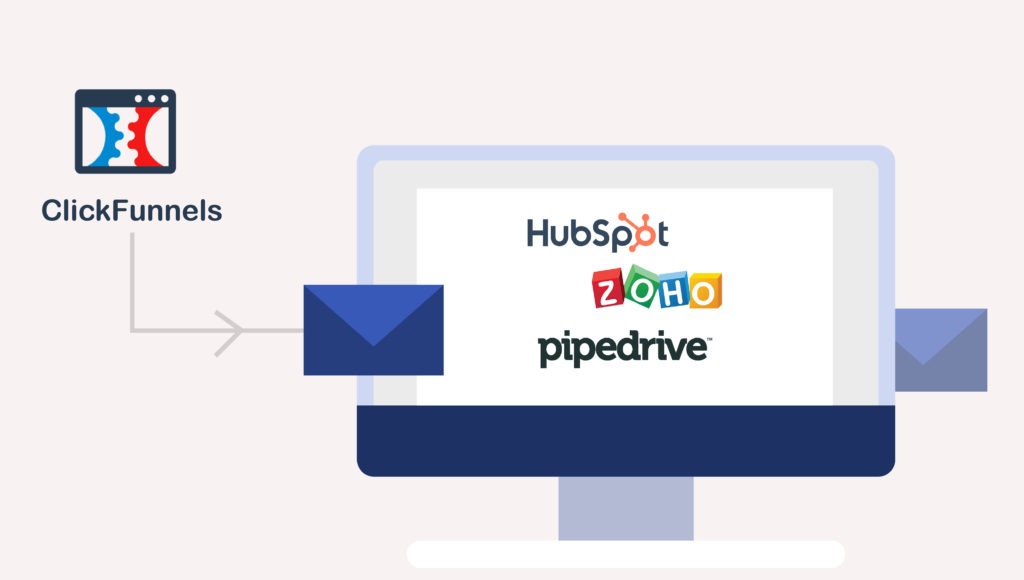 If you're a small to a medium-sized business relying on your desktop and email to communicate with your clients, you have a few CRM options to look into. Some of the best ones include Zoho, Pipedrive, and HubSpot.
HubSpot requires Zapier to integrate with ClickFunnels. If you do not want to use various tools for a single process of importing leads into your system, then opt for Zoho. It offers a full suite of features around your contacts and account management, so you can flawlessly manage your ClickFunnels leads. However, keep in mind that ZOHO requires a lot of customisation before you can even start. It can be tedious for non-technical users.
Best ClickFunnels CRM for Mobile & Messaging-Based small businesses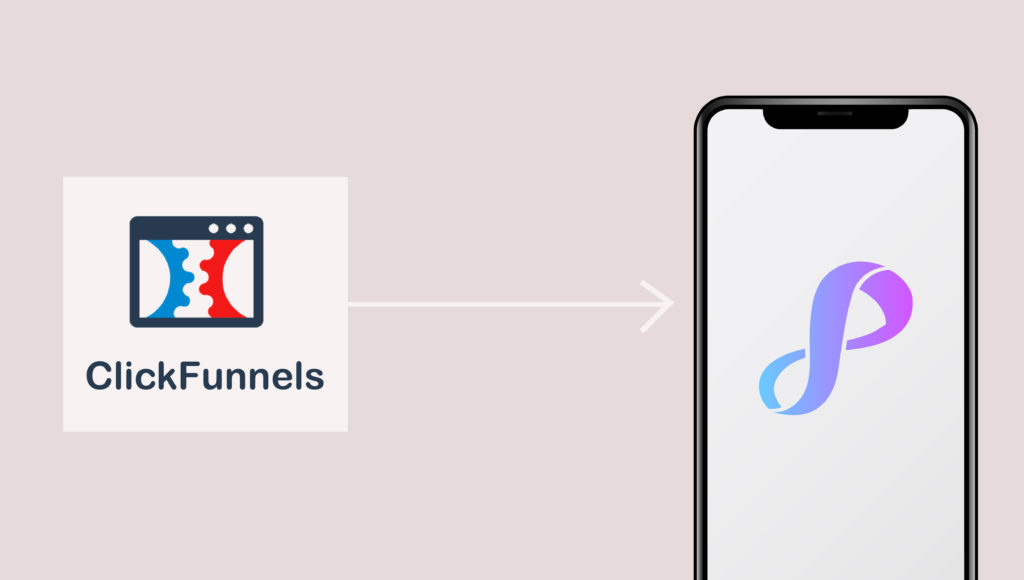 Being able to track and operate your business processes from your phone not only saves you time but also makes your life much easier. However, there aren't a lot of options in the market tailored to small business owners or solopreneurs, especially for those who prefer to manage their leads from their phones. Luckily, there's Privyr.
Privyr is a mobile-first ClickFunnels CRM that lets you run your sales processes from your smartphone. You can easily integrate Privyr into ClickFunnels without an external tool. Privyr captures your ClickFunnels leads and contacts to your phone as they show up, and allows you to contact leads right away through a phone call or your preferred messaging apps like WhatsApp. It also manages your follow-up schedule and leads data, so you connect with your customers from wherever you are with just a few taps.
One of the best things about Privyr is that, unlike most CRMs, you don't need to go through any training to learn how to use it effectively. It's just like another smartphone app that you can learn in minutes – even without any technical knowledge. The tool, however, might not be the best fit for desktop-only usage and email-based marketing automation.
Conclusion
Using ClickFunnels correctly can definitely help you score more sales and grow your business since this tool makes it easy for you to find your customers and sell them your products. Depending on your business, however, there could be instances where ClickFunnels might not cover all your requirements, especially if communicating with your leads through phone calls or messaging apps is crucial.
The good news is that you can close these gaps and streamline your sales process with the help of a CRM. A proper CRM will complement ClickFunnels by taking care of the things that are beyond its core functionality.
At Privyr, we focus on making our customers' sales processes simpler and more efficient by offering them a simple yet highly powerful sales automation tool that runs on their phones. If you want to know more about how it can help you grow your business, try Privyr for free today.