How do you know if your client is interested in your products or services? If they're interested, how interested are they? And how close are they to making a purchase?
A decade ago, if you wanted to sell something to someone, you'd meet them in person. Or, someone would see your ad and give you a phone call. You'd then work towards a sale through calls or in-person meetings.
Any information about your client and what they want can help you close a sale.
From those interactions, you'd get clues – from the client's body language or tone of voice – about things like:
Are they interested in buying?
Are they likely to make a purchase soon?
Is there any special product/service you are offering that they are leaning towards?
Today, you can get leads through digital ads and have most of your client conversations over a messaging app like WhatsApp. But does the shift to messaging mean that the art of reading into client conversations is dead?
Absolutely not! Any information you get about your client and what they want can help when you're trying to close a sale.
The good news is that there are plenty of tips and tricks you can use to get hints on how your client feels about a possible sale, even through messaging.
🗣️ What can WhatsApp tell me about my clients?
You're in luck! 🎉 WhatsApp has a few features that help you track both if and when your client has seen your messages.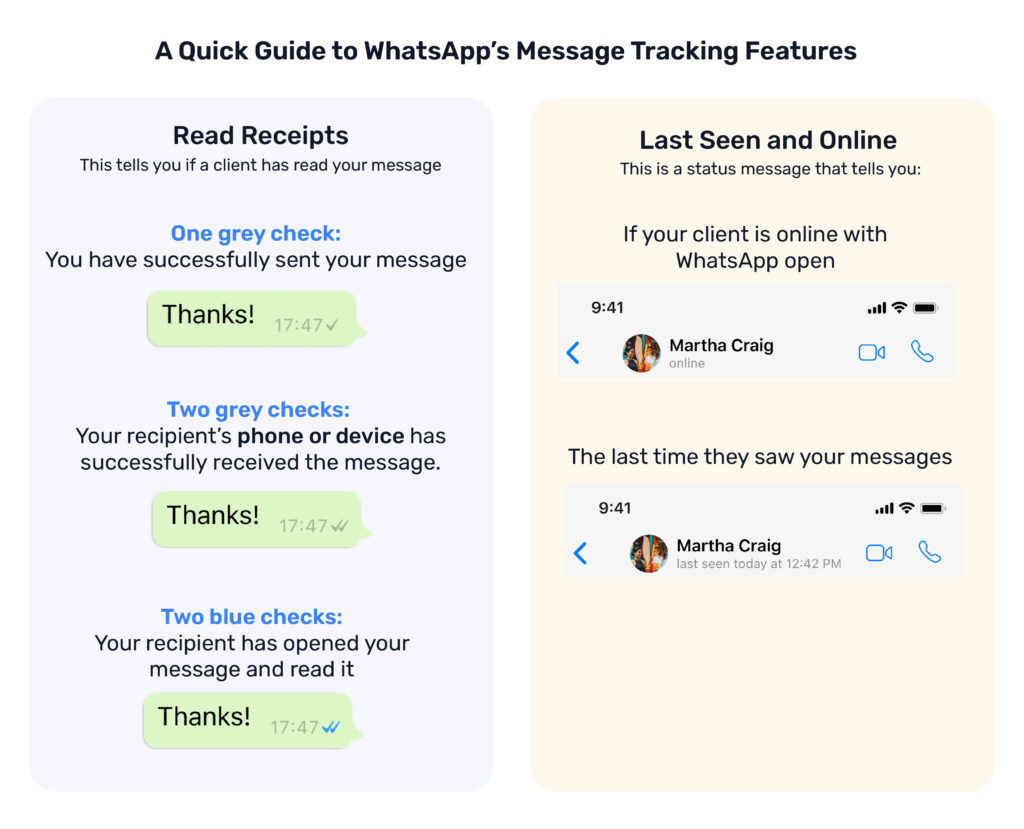 Do WhatsApp's tracking features always work?
⚠️ Not always.
Parts of these features can be controlled in WhatsApp's privacy settings. This means that your recipient can disable Read Receipts as well as Last Seen and Online.
WhatsApp's tracking features only tell you if the message has appeared on your client's screen.
These features also only tell you if the message has appeared on your client's screen. You won't have information telling you, for example:
If your client clicked on a link you sent them
If your client opened a PDF you shared about your product or services
How much time your client spent viewing your content
So while WhatsApp has some tracking features, they may not always tell you what you want to know about your client.
Is there a better way to track content sent through WhatsApp?
WhatsApp can give you hints about your client's availability. But what about the content – the links, pictures, and files – you're sending your client?
For example, a real estate agent may send customers a PDF brochure about a new property. Meanwhile, a hair stylist might want to send over examples of haircuts and colours that they've done.
Knowing how customers are viewing and interacting with content – clicking on links, browsing a property agent's floor plans, or looking at sample hairstyles – can help you figure out if you're getting closer to a sale.
If someone starts to spend more time looking at your content, it might be a good time to follow up with them.
For example, if someone starts to click on links more or spend more time looking at sample photos or floor plans, your product or service is on your client's mind. Maybe it's time to follow-up with them.
But how can you track clicks on links sent through WhatsApp? 🤔
A URL shortener, such as Bitly, can help you track the number of clicks, where the clicks came from, and when people clicked the links.
If you generate a different link for every client, you can track if they click on it and the number of times they open the link.
It's a solution that works, but URL shorteners also come with limitations:
🚫 It takes a lot of time and effort to generate and keep track of every individual link sent to every individual client.
🚫 Number of link clicks doesn't always mean "more interest". Knowing how long someone has spent viewing the content can be much more important.
🚫 URL shorteners only work for links. You can't track other files sent to your client – such as pictures, videos, and PDFs.
Are there any better ways to track how my client is viewing 👀 things I send them?
Absolutely!
Using an app like Privyr, you can easily track all sorts of content you send through WhatsApp – including PDF files, links, photos, videos, and more.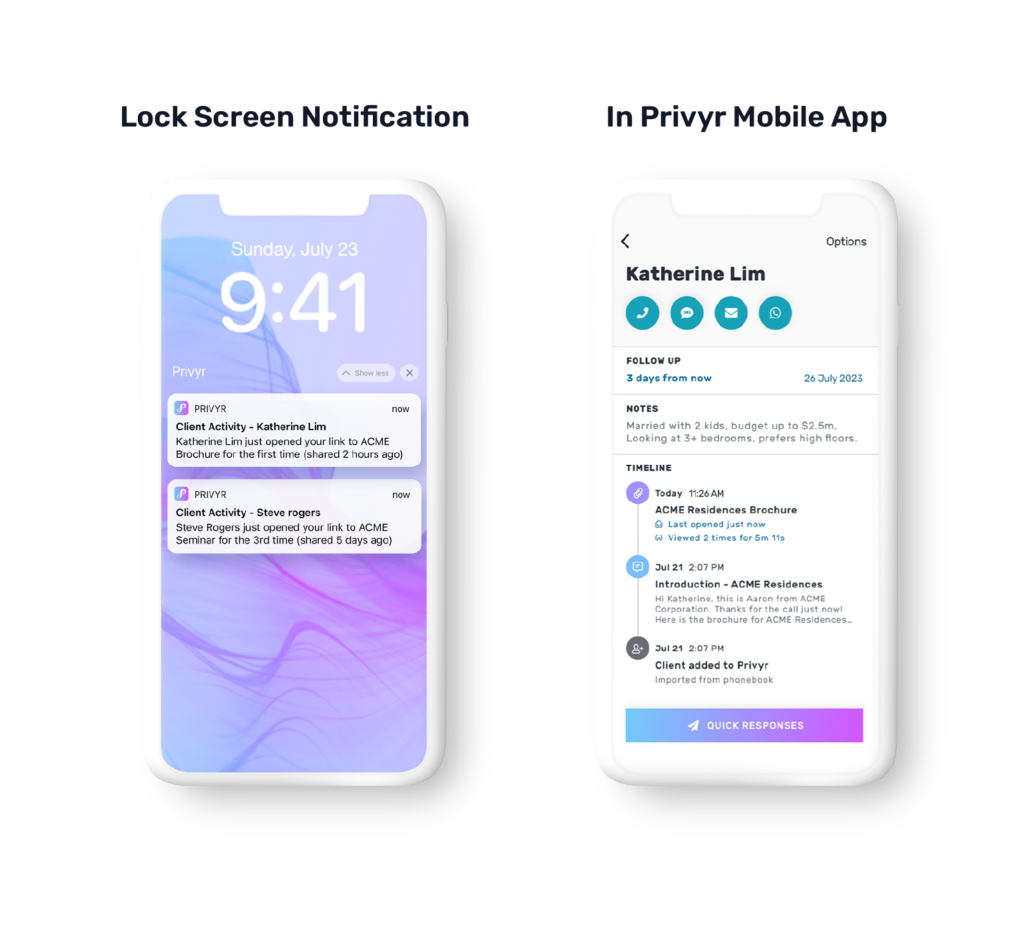 With just a few taps on your phone, Privyr automatically generates customised, trackable links and personalised content for each client. It even integrates directly with WhatsApp to actually send the message. 🙌
The app can tell you:
✅ If the client has opened the content
✅ How many times the client has opened it
✅ How long the client has spent viewing it
All of this information is easily viewable in the Privyr app and website.
Before you go about your day…👋
Links and content are a great way to share more information about your products and services. Now that you know a little more about how to see if your customers are engaging with your content, consider checking out this article on why your leads aren't clicking on your links, and how to fix it.
We lay out do's and don't's for sending links over WhatsApp, so that you can send better messages and land more sales. 🙌